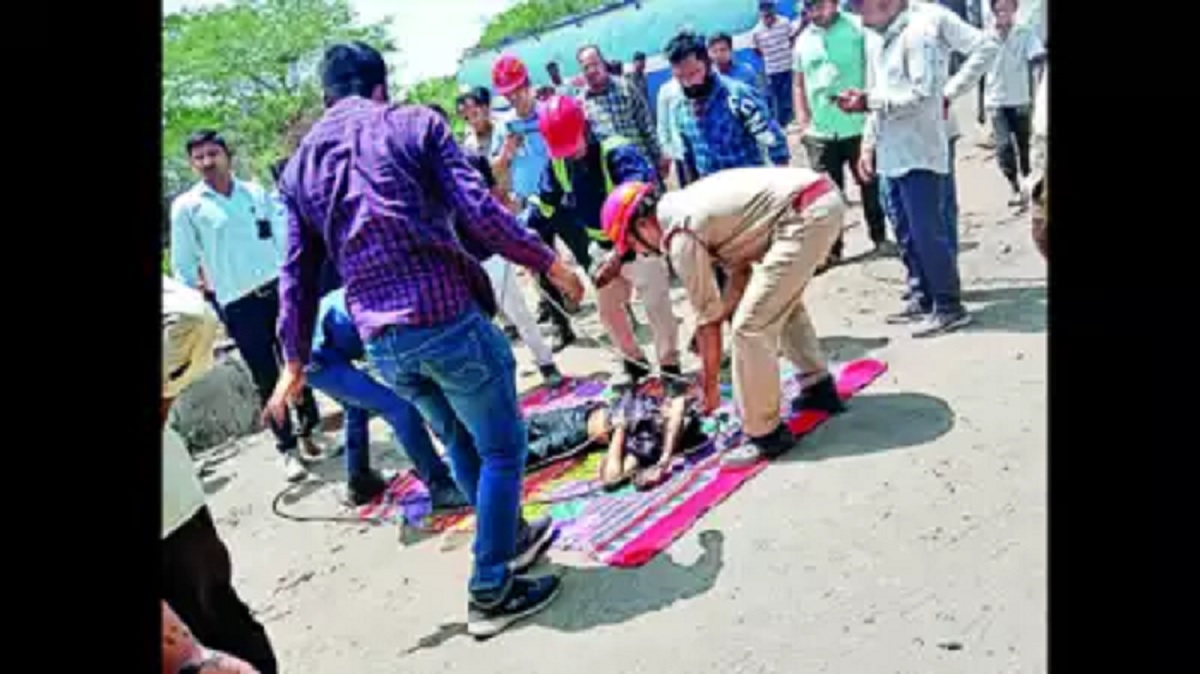 Image: Times of India
On April 5, three sanitation workers died after inhaling poisonous gases while cleaning a sewer line in the Dahej taluka of Gujarat's Bharuch district. According to Dahej police, the deceased have been identified as Gulsingh Muniya (30), Paresh Katara (25) and Anil Parmar (24)—all Dahod natives and Dahej residents. The three had entered the drain to clean it, while two workers had remained outside to help. However, when there was no movement from inside the line after a while, the two outside entered the drain to investigate.
They, too, had breathing problems as a result of the gases. They came out right away and informed the Dahej Gram Panchayat. According to R.B. Vasava, social welfare officer, these two workers were also hospitalised after inhaling toxic gases while attempting to pull their colleagues out of the sewer at Dahej village in the district.
Officials from the fire department and the police arrived on the scene and extracted the bodies from the drain. Following the post-mortem, the bodies were returned to the victims' families. The police have opened an investigation into an accidental death.
This is the second time in two weeks that workers have died as a result of asphyxiation in drainage. Previously, two people died in Rajkot in a similar manner. According to the police, on March 21, a sanitation worker and a civic body contractor in Rajkot died of asphyxiation while cleaning an underground drainage line. An official from Malaviya police station informed that Mehul Mehda (24), a sanitation worker, had entered the underground sewer in Samrat industrial area and fainted after inhaling poisonous gases. According to the Times of India, the contractor Afzal Kukur (42), who was present at the scene, immediately entered the sewer to save Mehda, but he too became unconscious. The two were rescued by the fire department and taken to the civil hospital, where doctors declared them dead, according to the official.
The Gujarat Assembly was later informed that the families of two people who died of asphyxiation while cleaning a sewer in Rajkot on March 21 were each paid Rs 10 lakh in compensation, and that departmental action had been initiated against two government officials involved in the supervision of drainage cleaning work in the ward in question. Bhanuben Babariya, Minister of Social Justice and Empowerment, informed the House that the mother and wife of Mehda and Pupar, respectively, had been paid Rs 10 lakh each as compensation in accordance with Supreme Court orders regarding the deaths that happen while cleaning sewer lines.
According to the Indian Express, the minister also stated that a criminal case has been filed in the incident under the provisions of the Indian Penal Code, the Scheduled Castes and Scheduled Tribes (Prevention of Atrocities) Act, and the Prohibition of Employment as Manual Scavengers and Their Rehabilitation Act against the late Afzal Pupar and "whoever else is found during investigation."
Data on deaths due to asphyxiation in Gujarat
On March 16, the State government had informed the Legislative Assembly that 11 sanitation workers died of asphyxiation while cleaning sewers in different parts of the State of Gujarat in the last two years. Gujarat Social and Justice and Empowerment Minister Bhanuben Babariya was responding to a question raised by Congress MLA Imran Khedawala, who sought to know the status of compensation to be paid to the kin of the deceased.
According to the data provided by her, seven persons died between January 2021 and January 2022; four lost their lives between January 2022 and January 2023. She had also informed that all urban local bodies as well as panchayats have been directed by the government to strictly follow the provisions of the 'Prohibition of Employment as Manual Scavengers and their Rehabilitation Act, 2013′, Gujarat Social and Justice and Empowerment Minister Bhanuben Babariya had said.
"Despite our best efforts to see that no worker is asked to go inside sewer lines and all guidelines are strictly followed, some private contractors hire workers from other states and ask them to enter into drains, which leads to tragedy. Even if a worker belongs to another state, we pay compensation to the kin (in case of death)," she had told the House.
Deafening silence continues on deaths due to manual scavenging
Last year, the words 'Stop Killing us,' made rounds on social media and India alike. 'Stop Killing Us' campaign called for protests across India where workers demanded due recognition and compensation for deaths in sewers, septic tanks. The slogan was in response to a call by anti-manual scavenging movement Safai Karamchari Andolan (SKA), a nationwide movement to eradicate the practice, for a 75-day campaign decrying the deaths of sanitation workers in sewers and septic tanks.
SKA Founder Bezwada Wilson, who had given this call, had accused all government of a "criminal silence" in this regard. Conversing with SabrangIndia, Wilson had said that "the government is looking at everything from the point of view of caste. Now you can tell that even today about 2000 people are dying inside sewers across the country, this is our figure, but there are many thousand such people who do not have any data after death. We told the government all the figures but still no arrangement has been made to stop it till date. They just make statements about stopping it but don't make any arrangements. It is not going to stop without making arrangements."
Although India began to outlaw the employment of manual scavengers and the construction of dry latrines (Prohibition) Act in 1993, and punishments for employing them were introduced in a 2013 amendment to the Act, the practice remains widespread. According to various activists, tens of thousands of people are involved in this demeaning work, which exposes them to prejudice and abuse.
Manual scavengers are almost always Dalits, who are at the bottom of the social hierarchy and are also known as untouchables in a caste-based society. To earn a living, they perform menial tasks such as cleaning, carrying, and disposing of human excreta, often with their bare hands. When entering sewers and septic tanks, they are rarely provided with the necessary personal protective equipment, such as breathing apparatus, and many lose their lives by inhaling harmful gases.
Despite strict laws, employers continue to illegally force employees to climb into clogged sewers and septic tanks to scoop out human waste. Workers are forced to work without protective gear or go inside a septic tank if their employers demand it, owing to a lack of bargaining power, illiteracy, social vulnerability, and poverty. This situation has persisted for decades, and the center has chosen to remain ignorant of it.
Related:
Dalit Sanitation Worker Dies by Suicide in Gram Panchayat Office in Telangana
Gujarat: 12 sanitation workers dead, but no compensation?
No death due to manual scavenging: Social Justice Minister Athawale
Protection of Manual Scavengers under the law: The real picture
Dalit man forced to enter and clean sewer in Gujarat
Dalits and Adivasis suffered violence and discrimination even in 2021
Varanasi: Sanitation worker dies after being trapped in sewer line for 18 hrs