In an attempt to woo Patidar community in the state, the Gujarat government last week has withdrawn almost 95 per cent of the cases lodged against the members of the community during and after their agitation last year.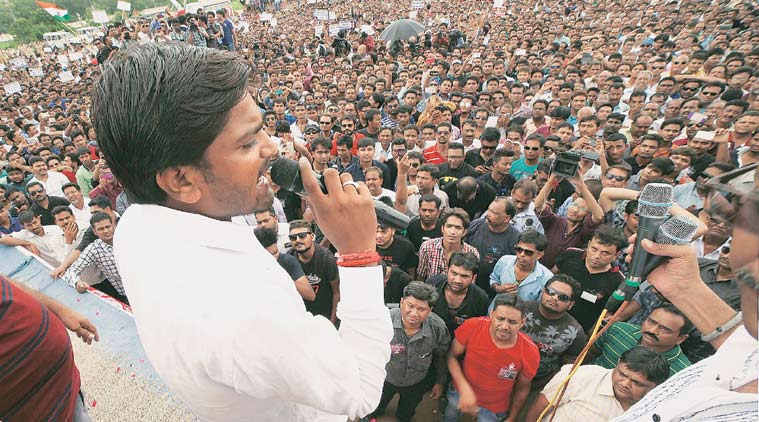 Image: The Indian Express
Earlier this year, the review committee headed by the then CM Anandiben Patel had assured withdrawal of 90 per cent of the cases after having agreed to have a discussion with the community leaders "sympathetically", according to an Indian Express report. Obviously a favoured community/caste in Gujarat, unlike the state's Muslims and Dalits, the Patidars have received this 'favour' from an otherwise government hostile to people's rights.

According to the recent news reports, deputy chief minister Nitin Patel said that out of the 438 cases registered during the Patidar agitation, 416 have already been withdrawn. "We have also decided to withdraw the remaining cases registered against the Patidars. The government is having a sympathetic view towards the Patidar community," he said.

Out of the 438 cases lodged against the members of the agitation, Gujarat Police was the complainant in 230 cases on behalf of the government.

According to police sources, the cases of violence, arson and assaults on police were registered against the Patidars during their agitation for reservations in jobs under the other backward class quota.

Times of India reported that the process to withdraw the remaining cases, which are not serious in nature, will be initiated before Diwali, according to a few sources.

A mass gathering of the Patidar community members on August 25 last year had turned violent. Patidar leader and convener of Patidar Anamat Andolan Samiti Hardik Patel was also among those arrested in connection with the vandalism. He was however, granted a bail earlier this year.
Also read: Anandiben Patel's Offer to Quit: Beginning of the End of BJP's Nearly 20-years Old Reign in Gujarat?