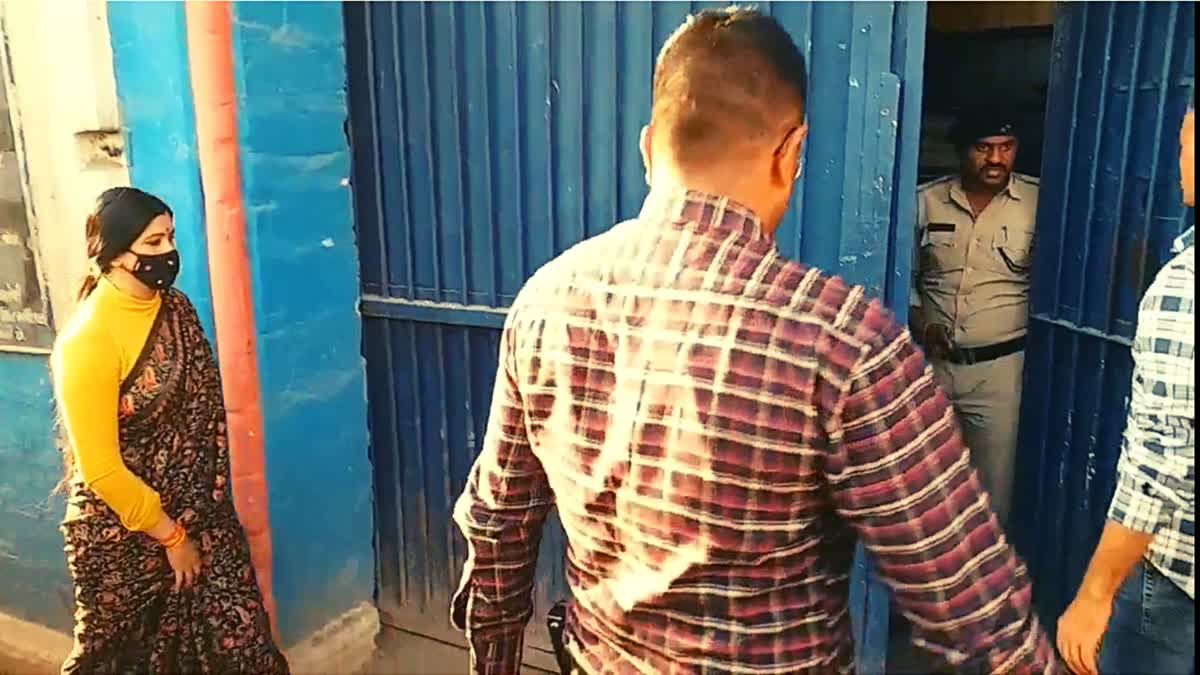 Kajal Shingala alias Kajal Hindusthani, who had been evading arrest for a week, after she had been first booked for giving a hate speech at Una town in Gir Somnath district during the Ram Navami celebrations, was arrested on Sunday, April 9, 2023, after she surrendered at the Una town police station Sunday morning. A local court sent her to judicial custody after the police did not seek any remand.
As reported by Indian Express, she was formally arrested at 11:15 am in connection with the case registered against her at Una police station on April 2. The Times of India provided that Hindustani surrendered before the local police following which she was arrested and produced before a court which remanded her in judicial custody as cops did not seek her remand. She was sent to Junagadh jail. "Her speech is already out in the public. Therefore, there is no question of remand," Shripal Sheshma, superintendent of Gir Somnath district police, said when asked if the police had sought her custody.
On the day of Ram Navami on March 30, she had participated in a congregation organized by the Vishwa Hindu Parishad (VHP) in Una town where she had delivered the speech making caustic remarks against the Muslim community. The public meeting was organised by Shree Ramkrushna Janmotsava Samiti as part of the Ram Navami celebrations on March 30. Local BJP MLA KC Rathod had also shared the dais with her. As per the information provided by the police, tension had built up after her speech as a mob of around 200 people assembled and allegedly indulged in violence by pelting stones and glass bottles at the homes of people and passersby. They vandalised vehicles as well.
According to the Siasat Daily, to diffuse the atmosphere, the police had called a meeting of leaders of the two communities on April 1, with representatives from both communities present, and appealed to them to work towards normalising the situation. The report provided that the police and local leaders listened to the grievances of representatives of the two communities and resolved their issues. It was further provided that even during the meeting, a few people from the two sides started hurling accusations at each other, which further caused tension, but the matter was resolved.
Details of the case filed in Una violence
Based on a complaint filed by RR Galchar, a police sub-inspector attached to the Una police station, the cops booked 76 people from the minority community and another 200 for unlawful assembly and rioting voluntarily causing hurt on April 1. The next day, based on a complaint by Kanti Parmar, an assistant sub-inspector posted at the same police station, Shingala was also booked under IPC Sections 195A (deliberate and malicious acts, intended to outrage religious feelings of any class by insulting its religion or religious beliefs), 153A (promoting enmity between different groups on grounds of religion, race, place of birth, residence, language, etc. and doing acts prejudicial to maintenance of harmony) and 505 (statements conducing to public mischief).
While 96 people have been held for rioting so far, Shingala's is the first arrest in the hate speech case. "We have also recorded statements of the organisers of the events. They are claiming that they had no idea that Shingala would make such a speech," NK Goswami, Una police inspector said, as provided by the Indian Express.
The speech given by Hindusthani on March 30 is as follows:
Video 1
On March 30, Kajal Shingla aka Kajal Hindusthani delivered hate speech targeting Muslim women at a Ram Navami event, where she said that Muslim women will gain a lot of freedom if married to a Hindu man. In this speech, Kajal Hindusthani says that Muslim women will benefit from marrying Hindu men, and goes on to give nine reasons for the same. The first reason that she gives is that if they marry a Hindu man, they will not have to deal with 3 other wives of his husband. Hindusthani then states that if a Muslim woman marries a Hindu man, she will not be forced to give birth to dozens for children.
Amid slogans and cheers, she further added that when the Muslim woman marries the Hindu man, she will get the protection and respect from the men in the family, and no male relative will be able to touch her. Hindusthani remarked on the burqa by saying Muslim women are free to wear any attire if converted to Hinduism and stated that "the biggest benefit to Muslim women marrying Hindu men is that they will not be required to wear Burkhas in 50 degree temperature and will get the freedom to wear whatever she wants."
According to her, the fifth benefit that a Muslim woman will get from marrying a Hindu brother is that she will be called the owner of the house that she gets married into, and if a girl child is borne, she will also get the same property right as a male child. Hindusthani then says that if a Muslim woman marries a Hindu, they will not be divorced by saying "Talaq, Talaq, Talaq". Such Muslim women will not have to go through Halala too.
On bearing children, Hindusthani said they won't be labeled as terrorists. "After marrying a Hindu man, your children will not be called 'terrorists' and such child will be called a 'desh bhakt'." Throughout the speech, the crowd cheered her.
The video can be viewed here:
Location: Gir Somnath, Gujarat

On March 30, Kajal Shingla aka Kajal Hindusthani delivered hate speech targeting Muslim women at a Ram Navami event. She called on Muslim women to marry Hindu men. pic.twitter.com/axzfJFDO8w

— HindutvaWatch (@HindutvaWatchIn) April 1, 2023
Video 2
Hindusthani further peddled conspiracy theories demonising Muslims and told the crowd to "Burn Lanka of Land Jihadis and Love Jihadis". In the said speech, she can be heard saying that when the Hindus will be united, the Lanka of Love Jihad and Land Jihad will be burnt. The crowd can be heard cheering throughout the video and agreeing with the inciteful statements made by Kajal Hinduthani.
She further stated that for the purpose of burning the lanka, a Ram army needs to be formed which will remind these people to not test the patience of Hindus, that till the time they behave as our sons, and not as our fathers, we will bear them. She then calls out to the women, and says all the Hindu women will need to get out of their houses and ensure that these "Love Jihadis" do not dare to take our daughters away. She then says that these people capture our land and commit Land Jihad, and then raise slogans of "Ladh ke liya Pakistan, hass ke lenge Hindustan". Hindusthani then brings in the issue of forced religious conversions to incite the audience further.
Hindusthani then recites an instigating, provocative and misleading poem, of calling Hindus to untie and not fear from fighting a war. She also refers to Muslims as snakes. Post the poem, she adds that Hindus need to move on from dividing themselves into different castes and should come together. She also stated that we need to stop saying "Hindu-Muslim bhai bhai" as these Muslims could not even be brothers to their real sisters, and should raise the slogan of "Hindu-Hindu bhai bhai".
In her speech, Hindusthani blames Britishers, Mughals and the Nehru-Gandhi clan for bringing in caste division amongst Hindus, and making them fight their own brothers. Inciting the Hindu audience against Muslims, the speaker spreads misinformation and make misleading claims by saying that six Hindus have been murdered in Gujarat since the last two months. She further stated Muslims are pelting stones at the Shobha Yatras, organised for Ram Navami, in Vadodara district of Gujarat, West Bengal, and other states, except for Uttar Pradesh.
Further in the speech, Kajal Hindusthani brings in many other inciteful and propaganda filled instances of Muslims disrespecting Hindu gods, and calls herself a Tantrik who removes the idea of brotherhood from the minds of the Hindu brothers. She then says that "these Maulanas say that they do not respect our tri-color flag, and to them I just to say that Hindus are proud of their tri-color flag, and the saffron flag is their identity. For Hindus, the whole of India is saffron."
The video can be viewed here:
Kajal further peddled conspiracy theories demonizing Muslims and told the crowd to "Burn Lanka of Land Jihadis and Love Jihadis." pic.twitter.com/esuYQyi369

— HindutvaWatch (@HindutvaWatchIn) April 1, 2023
On April 3, a day after police in Una, Gujarat, filed an FIR against Kajal for promoting hate between communities, Kajal Hindusthani had delivered another hate speech in New Delhi, at a Hindu Jagruti Samelan. This event was organized by Tufail Chaturvedi of Nyah Manch Trust and The Jaipur Dialogues. In the said speech, she had targeted Muslims and called on Hindus to wake up and pick arms to defend themselves. The speech is as follows:
In her speech, Kajal Hindusthani says that attack is the best strategy and the time for playing defense has gone. She further states that her target has always been clear, her fight is against the "Jihadis" who say "Ladh ke liya Pakistan, hass ke lenge Hindustan" and want to make India an Islamic nation.
In her speech, she talks about how left media, communist Islamic groups, and the Muslim population is protecting the Muslim perpetrator in Ankita murder case. She even makes derogatory statements against actor Shah Rukh Khan's movie Raees, and says that the movie glorifies a terrorist and yet, since the eco-system is such, people support him and he gets away with it.
She then makes an open call for the Hindus to take up arms and says that "the Hindus need to rise up against this ecosystem, raise arms and protect themselves. No one will come to save you. The Kishan who died in Gujarat, no one came to save him too and that is why he was murdered. Since January 18, six Hindus have been murdered in Gujarat, so no one is coming to save you. Think about it, if Hindus are struggling in a state like Gujarat, what must be happening in states like West Bengal and Kerala."
Kajal Hindusthani then makes a further provocative statement around Hindu Rashtra, saying that these Maulanas and their children will see the making of a Hindu nation just as they are watching the Ram Mandir being made and Article 370 being scrapped.
The video can be viewed here:
Location: New Delhi

At Hindu Jagruti Samelan, Kajal Shingla aka Kajal Hindusthani, a repeat offender, delivered hate speech targeting Muslims and called on Hindus to wake up and pick arms to defend themselves. pic.twitter.com/o8P2aTcvwe

— HindutvaWatch (@HindutvaWatchIn) April 3, 2023
Hindustani, who identifies herself as an entrepreneur, research analyst, debater, social activist, and nationalist and a "proud Indian" on her Twitter bio has more than 92,000 followers including Prime Minister Narendra Modi! She is a regular at events organised by the Vishwa Hindu Parishad (VHP). She is known for her communally charged and anti-Muslim statements. She even claims to have adopted a village and helped Pakistani Hindus to settle in Gujarat. It is important to note that this is not the first time that Hindusthani has made such derogatory, anti-women and Islamophobic comments. Since December of 2022, she has been making such Islamophobic statements. Even a day before this Ram Navami speech at Una, Hindusthani was at Jamnagar, Gujarat, and had delivered anti-Muslim hate speech, peddling conspiracy theories to destroy communal harmony. On March 18, at a Digital Hindu Conclave, organised in Bhopal, Madhya Pradesh, Hindusthani had said that there can never be brotherhood between Hindus and Muslims, and called out those who support secularism and peace between the two communities as a "sinking ship". She stressed that the making of the Hindu Rashtra is inevitable and no one can stop them. Before that, on March 12, 2023, she was present at a similar event at Mira-Bhayander where, in the presence of elected officials owning allegiance to the Bharatiya Janata Party (BJP) she further made hate-driven speeches in which Muslims were under target. On the occasion, she delivered a hate speech at Mira Bhayandar, Mumbai giving ferocious calls for economic boycott of the entire Muslim community while unabashedly making ridiculous claims about incidents of Love jihad, land jihad and justifying the economic boycott of Muslims. She was called as a speaker at the Hindu Jan Aakrosh Morcha where she made extremely derogatory remarks about the Muslim community in front of an audience of over 1,500 people.
Related:
Kajal Hindusthani, Kapil Mishra, amongst others, target Muslim religious minorities, calls for their "erasure" and "Ghar Wapasi" unchallenged
Echoes of Hate: Concern mounts as India grapples with hate speech
Prominent leaders Kailash Vijayvargiya and Sadhvi Prachi make statements that are derogatory and perceived as anti-women
Kalicharan endorses violence if committed for protecting religion
Under Guise of Religious Conversions, Attacks by Hindutva Groups Worsen Situation for Christians in India
#GetWellSoonGeetaJain Campaign gets off the ground, Mira Road Bhayander residents' push back against Hate