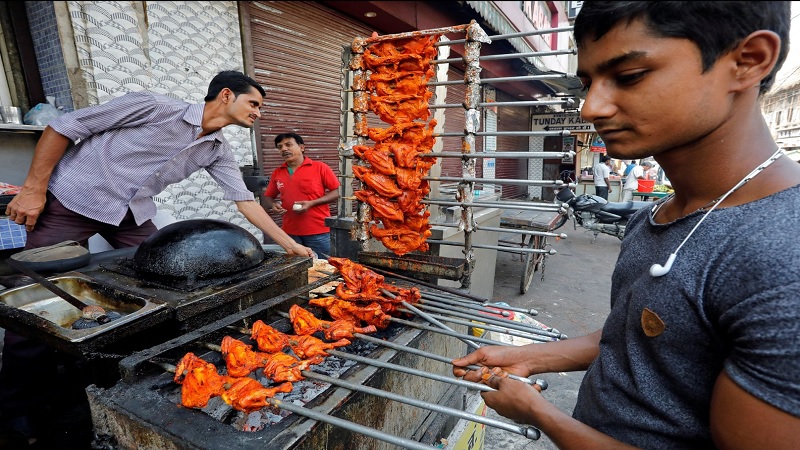 Representation Image / news18.com
Bharatiya Janata Party-led (BJP) Gujarat government sparked another controversy on November 12, 2021 when State Revenue Minister Rajendra Trivedi said open non-veg food stalls along the road serve as an act of "land grabbing".
Trivedi's statement came around the time municipal corporations of Bhavnagar, Junagadh, Vadodara and Rajkot resolved to remove non-vegetarian food selling vendors from public places so as to not "hurt religious sentiments." According to Divya Bhaskar, the Minister applauded Rajkot and Vadodara authorities for directing hawkers to either shut shop or cover the food so passers-by do not see the items.
However, shortly after facing backlash, Trivedi told Vibes of India that he was talking in the interest of walking space for pedestrians. Stating that he was not against any "community," vendors roam around and encroach roads. He claimed to have the same view towards all hawkers selling pav bhaji, mutton or eggs.
It should be noted that in 1989, the Supreme Court ruled that the right to trade or do business on street pavement cannot be denied simply because the streets are meant for walking. Acknowledging the poverty prevalent in India, it said, "There is no justification to deny the citizens of their right to earn livelihood by using the public streets for the purpose of trade and business."
Still, Trivedi in his explanation went on to say that mutton stalls that hang non-vegetarian items should be kept away from public view. Claiming to have received multiple complaints, he said that all shops should cover their food in a cloth or keep it inside the shop.
Further, emboldened by the Minister's endorsement, Rajkot mayor Pradeep Dave organised meetings with non-vegetarian food vendors and asked them to relocate from the main roads in the city, said The Hindu. Similarly, Vadodara Standing Committee Chairman Hitendra Patel asked hawkers to remove all such roadside food stalls and kiosks if they are not covered.
Meanwhile, netizens have not taken kindly to this news, with some people even calling it an "economic apartheid" as most meat stalls in Vadodara and similar cities are run by Muslims.
This is economic apartheid. Most meat stalls in Vadodara are run by Muslims. Citing illogical reasons, the authorities want to shut these stalls & snatch the livelihoods of Muslim vendors who survive on meagre income.
Let the world know what Gujarat Govt is doing to poor Muslims. https://t.co/nHTn5p6YDV

— Saif (@isaifpatel) November 12, 2021
This is new India ( New Gujarat ) where Vadodara Municipal Corporation asks the vendors of around 3000 to cover their meat and Eggs , otherwise we will close down your stalls !!! pic.twitter.com/Q1InhPap13

— Augustine Varkey (@logicalindianz) November 12, 2021
Around Diwali, a Muslim vendor in Aligarh, Uttar Pradesh was allegedly attacked and forced to chant "Jai Sri Ram" by a father and son duo. According to The Telegraph, the victim's relatives said the accused have "had a history of intimidating members of the minority community" in the area.
Related:
Anti-Muslim hate on streets: Vendors beaten, forced to chant Jai Sri Ram, boycotted, dargah desecrated
India's street vendors are micro-entrepreneurs, yet they struggle for freedom and rights
Will the HM Amit Shah share which national highway was blocked for namaz?
Hate Watch: Hindutva group raises slogans outside Muslim-owned shop