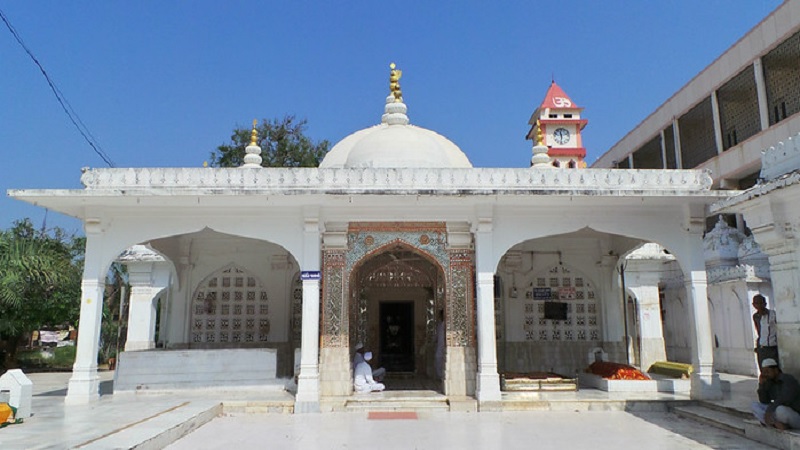 Image Courtesy:ismailimail.blog
The last time most media focussed on Pirana village, a short drive away from Ahmedabad, Gujarat was when the trust that looks after the 600-year-old dargah (shrine) of Imam Shah Baba, a figure revered by Muslims, Hindus and others, suddenly decided to build a wall between the shrine and a mosque next to it, virtually cutting off smooth passage between the two. This was seen by the minority Muslim community as a "deliberate act of aggression", and many families migrated out of the village. Nearly 500 of them were detained, and released later.
They are all now back home in Pirana, but last week, to their shock, they realised that a major transformation had taken place inside the dargah compound which had been closed until recently, as there was a massive conclave of Hindutva groups.
According to Azhar Saiyyed, one of the descendants of the Pir, who lives in Pirana, there was a programme by the Rashtriya Swayamsevak Sangh (RSS) from March 1-17, and on March 19-20, there was another program by the Vishwa Hindu Parishad (VHP) and Bajrang Dal. Entry to the dargah was restricted to all other people during this period. He told SabrangIndia, that this decision had been informed beforehand by the dargah committee, and the villagers wanted to maintain peace, so they did not object to it. However, when they visited the shrine on Saturday, to mark Shab-e-Barat they saw that there were statues of Hindu gods installed in the dargah compound!
"Even the gaddi (seat) of Imam Shah Baba was broken and a statue they say is of him was placed there," recalled Azhar. Locals shared photos showing a statue of a bearded man installed. A man wearing a saffron cap is seen putting a tilak (Hindu vermillion mark of prayer, reverence or respect) on the statue. However Muslim devotees are aghast that any such statue has been installed, as Islam does not permit idor worship or reverance of any statues.
So far, the dargah has only had the grave of the Pir or saint, and the 'seat' marking the place he is said to have sat on, prayed and met people, where respects are paid even now. "Both Hindus and Muslims prayed at this spot in their own ways, usually putting flowers and lighting diyas but there was no statue installed there, no one had ever thought of this. This statue also has a 'tilak' on it now", said Azhar adding, "This installation work has been done illegally in the 17 days when the dargah had been kept closed." Locals say the statues may have been brought in and installed at night, as no one in the village was aware of it.
More photos from the compound show Hindu dhwaja or saffron flags on the installed domes, and that a large temple flag staff has also been installed. The villagers who had not been allowed inside during those days, say they were not aware that so much activity was going on inside. According to Azhar who has regularly alerted the authorities, "The collector and police tell us to go to court, we file RTIs for relevant documents, and are rejected."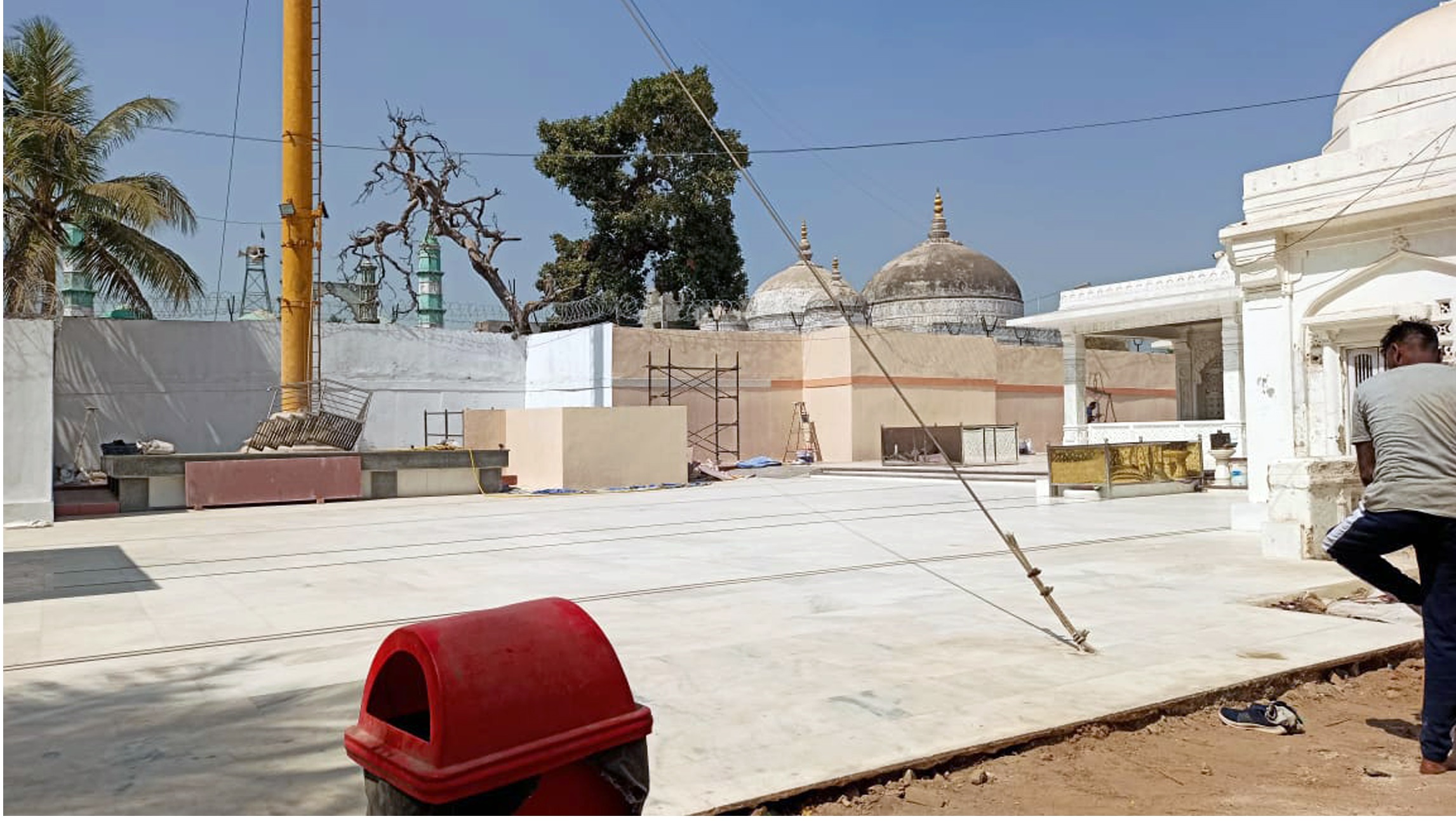 It is crucial to note that such meetings of Hindutva groups have been held before, but no such statues, or flagpoles were installed then. Locals say that police personnel have been deployed at the venue since March 1 till today March 21. Azhar and Shahebaz Saiyed, a local peace activist, who is also a descendant of the Pir's clan and a resident of the village ask, "How can such things like installation, desecration of the holy gaddi be done when there was/ is so much police deployed?"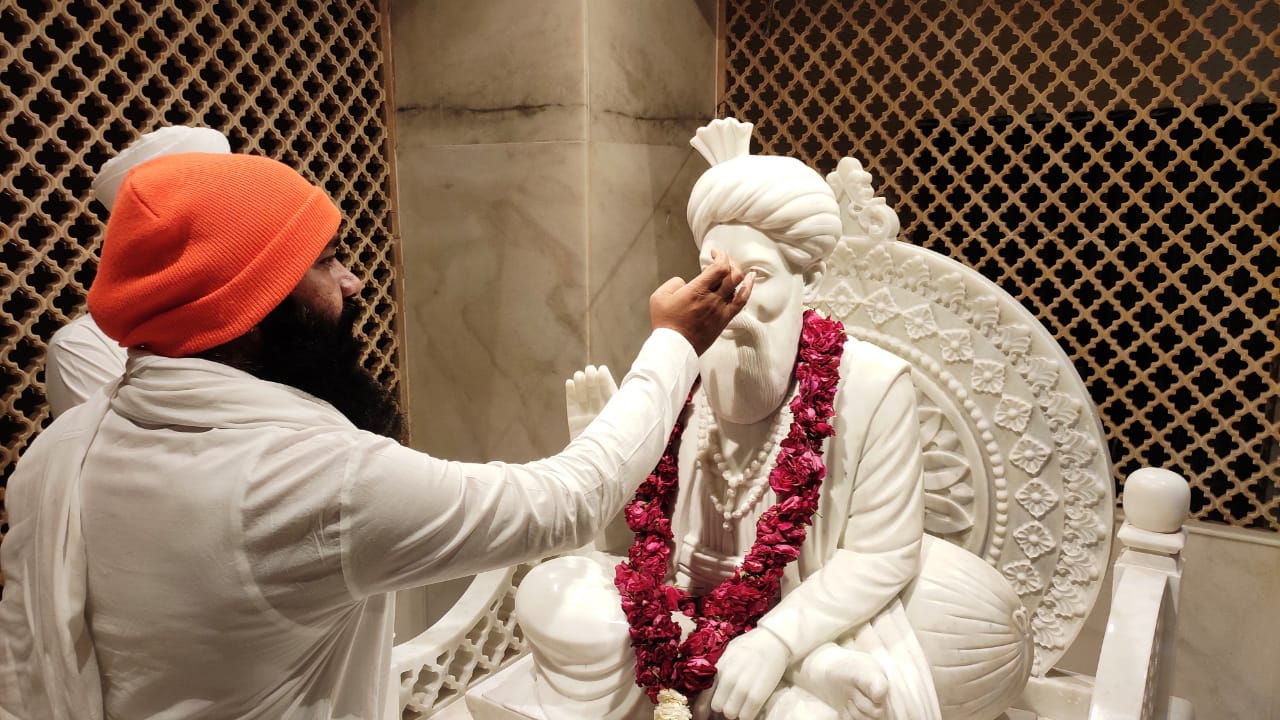 Now that the Hindutva group's meetings are over, the devotees have begun to visit the dargah again. However they too noticed a massive, and for many a disturbing change. "I went on Saturday, and realised that each Muslim devotee was shadowed or followed by some people who had sticks in their hands. They said nothing to us, just followed, stood next to us and kept looking at the Muslim devotees," said a local adding that 50 such men were in the compound. No one had seen these men before.
Azhar and others also alerted the senior police officials that so many lathi-wielding men were inside the dargah. Locals are now saying that Pirana [issue] will be the "epicentre around which the Gujarat Assembly elections will be fought." Azhar said the community had an aprehension that statues may be installed in the Muslim shrine and had written to the authorities ar various levels, once they saw the 'renovation' work going. But locals said no action was taken then. "The government has not replied to RTI applications or denied them," added Azhar.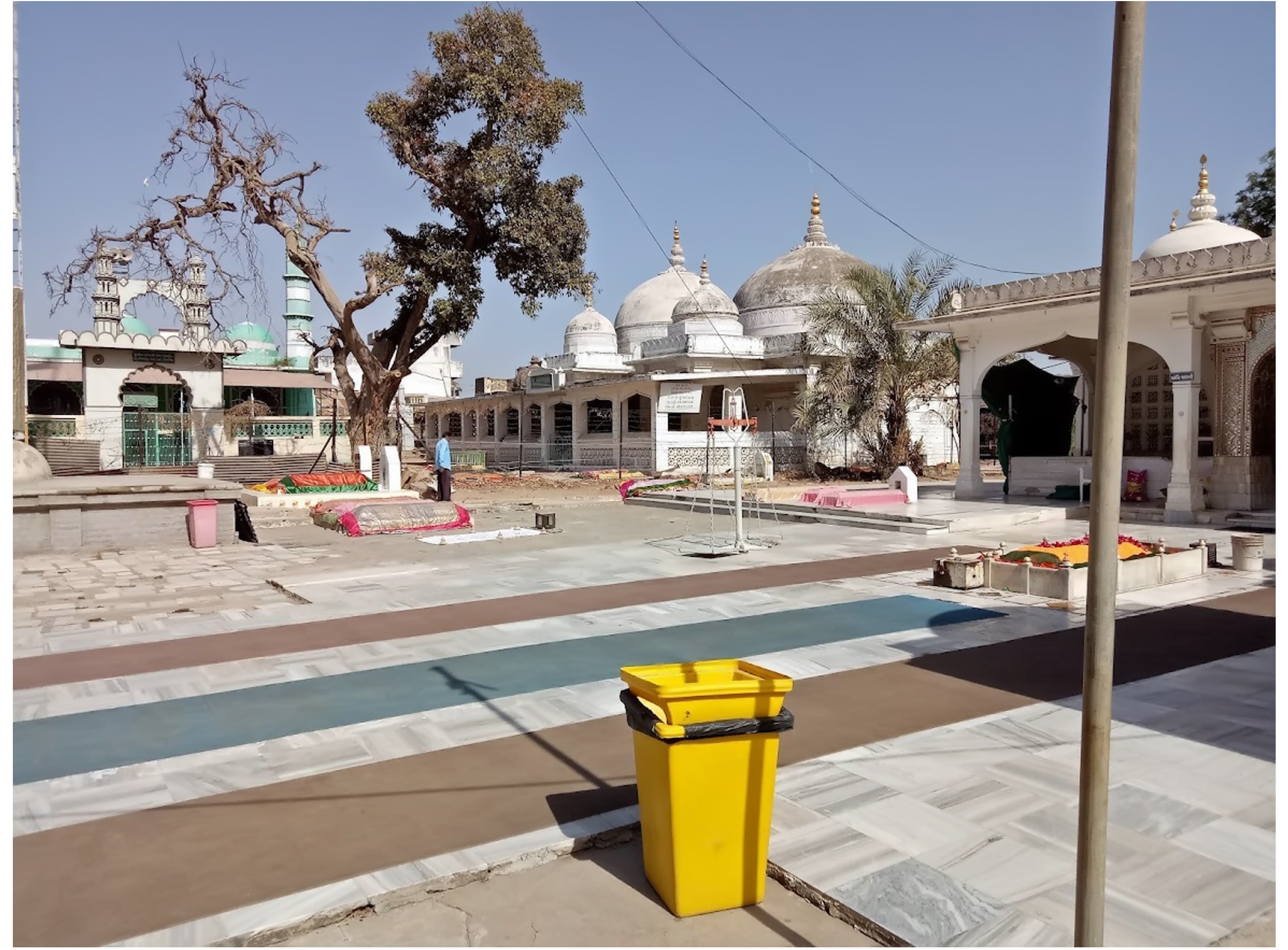 "Way back in 1994, there was a VHP convention at the dargah compound and we had expressed apprehensions that idols will be installed," recalled Shahebaz, adding that the caretaker locally called Kaka, had himself filed an affidavit in the court so that this will not happen. The Kutchi Patels, who revere this Pir and are identified as Satpanthis, say they do not follow idol worship as a norm. However, a few years ago Hindu idols and symbols were painted in the compound, then they had called it simple art.
However, in 2010 the plans for "renovation" were ready, and if you see the plan it is easy to see major changes were being envisioned even then, recalled Shahebaz who had alerted the authorities even then. However, all the red tape, delays in action, the locals say have led to the massive change they saw this weekend. For now there is peace, but there seems to be ample provocation from so far unidentified Hindutva elements. The onus to maintain the peace is once again on Muslims.
A Tense Timeline Recall
1993: Villagers were prevented from entering the dargah. They went to court, the court ordered in their favour that they should not be restricted from visiting. The stay order is still valid.
2003: The wire fencing was done again and an open FIR was registered after an altercation, anyone could be picked up for questioning against it. The villagers sat on a hunger strike in 2010 to remove the fencing. The collector called the villagers and the committee members and ordered a status quo that any changes will need a collector's order. "It stood for 11 years! We had gone to court again citing the 1993 stay order against the fencing. The court case is still pending," Saiyyed recalled.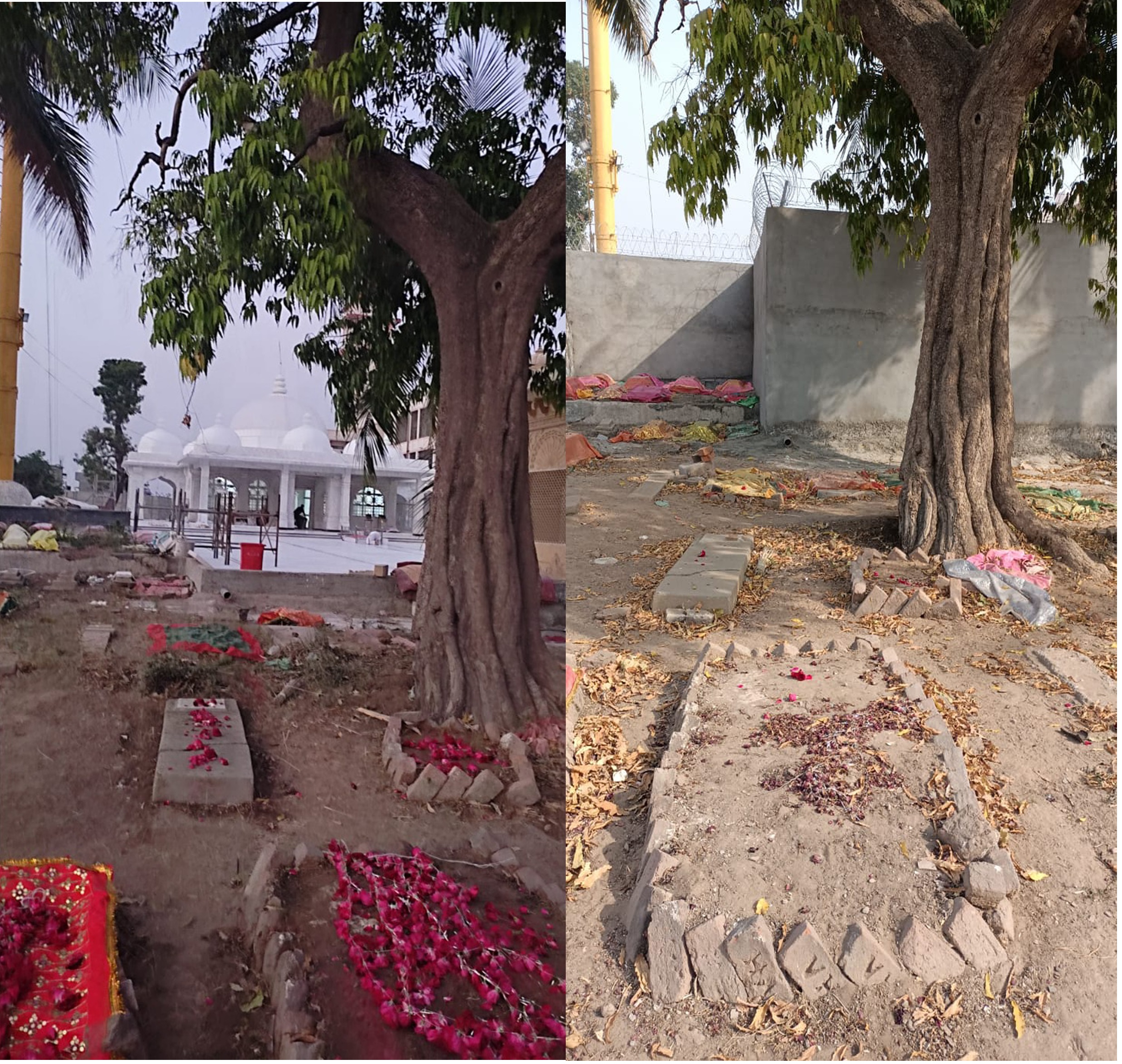 November 3, 2011: CJP led several peace activists and human rights defenders to raise concerns surrounding the Pirana Dargah being on the agenda of the Vishwa Hindu Parishad (VHP). That year, the VHP had planned to hold a three day Dharm Prasar Akhil Bharatiya Karyakarta Sammelan (or a conclave of volunteers working to spread religion) starting November 5, 2011, a day before Bakr Eid. Local news reports had begun carrying confirmation of the event, and that those attending will be staying in the premises of the Dargah. That the Hindutva stage was often used to spread communal tension, the timing of this gathering was reported as a cause of concern.
CJP's petition
CJP responded quickly to the developing situation, and wrote to Dr. Kamla Beniwal, then Governor of Gujarat alerting her about the "unnecessary and provocative attempts to provoke communal tension within the state of Gujarat" and that concern had been expressed both by local residents and the religious head of the Pirana Darga." CJP feared that VHP's intention to hold the gathering "will be used as an occasion to utter hate speech and generate tension." CJP further said, "The fact that the festival of Bakr Eid falls on November 6-7 makes these intentions of the VHP all the more worrisome and suspicious. It appears as not a coincidence that the timing of the VHP's three day convention after years of silence comes at a time when efforts of the victims of 2002 and legal rights groups to get justice for the state sponsored violence of 2002." The letter, signed by human rights defender and peace activists Teesta Setalvad, J.S.Bandukwala, Senior Advocate B .A. Desai, Mallika Sarabhai, Dr. Asghar Ali Engineer, Irfan Engineer, Fr. Cedric Prakash, Hanif Lakdawala, Sophia khan, Sukla Sen, Amita Buch, Ashoke Chatterjee, Adv Kamayani Bali Mahabal, and M K Raina, urged the Governor to act and "ensure that the permission for this is revoked, failing which strict undertakings are taken from the organisers to ensure civilised and peaceful conduct of the proceedings."
2020: The Imamshah Baba Roza Sanstha asked the collector to grant permission for repairs of the terrace; they were allowed but were told not to change the basic fundamental structure and carry out repairs.
July 16, 2021: Three graves were allegedly "broken" on the Northern side of the dargah and a platform was constructed on them.
July 23, 2021: The wall construction began. The villagers called the police who called for a peace meeting.
July 24, 2021: More graves were broken, allegedly by the Satpanthis.
July 27, 2021: An official meeting is called and word given that no more graves are to be broken. The Deputy Collectors and officials were present and told that broken graves will be repaired. The one foot high wall was to be merged with the soon to be repaired flooring. This undertaking was given in writing.
January 25, 2022: The Imamshah Baba Roza Sanstha passes a resolution at 5.30 P.M. They take it to the Tehsildar office after that.
January 26, 2022: Republic Day is a public holiday however, the Daskroi Mamlatdar (Tehsildar) Axar P. Vyas allegedly allowed construction.
January 30, 2022: The wall construction begins again, and upset families, including the Sufi's descendants decide to move en masse from the village. "Videos of our procession went viral and police detained us after 6 kms. Late at night community leaders came to the police station and asked us to stop protesting and take legal action. We agreed," says Saiyyed.
March 2022: Hindu idols installed, saffron flags raised. Sangh Parivar conclaves held.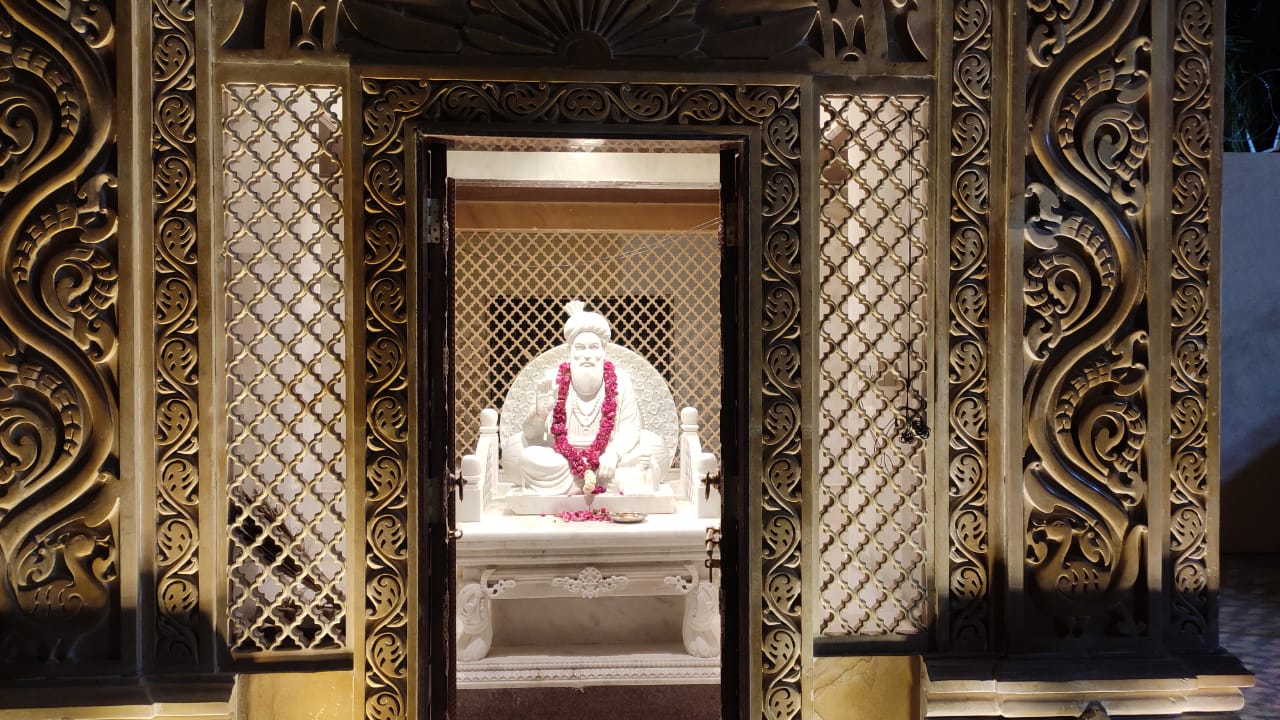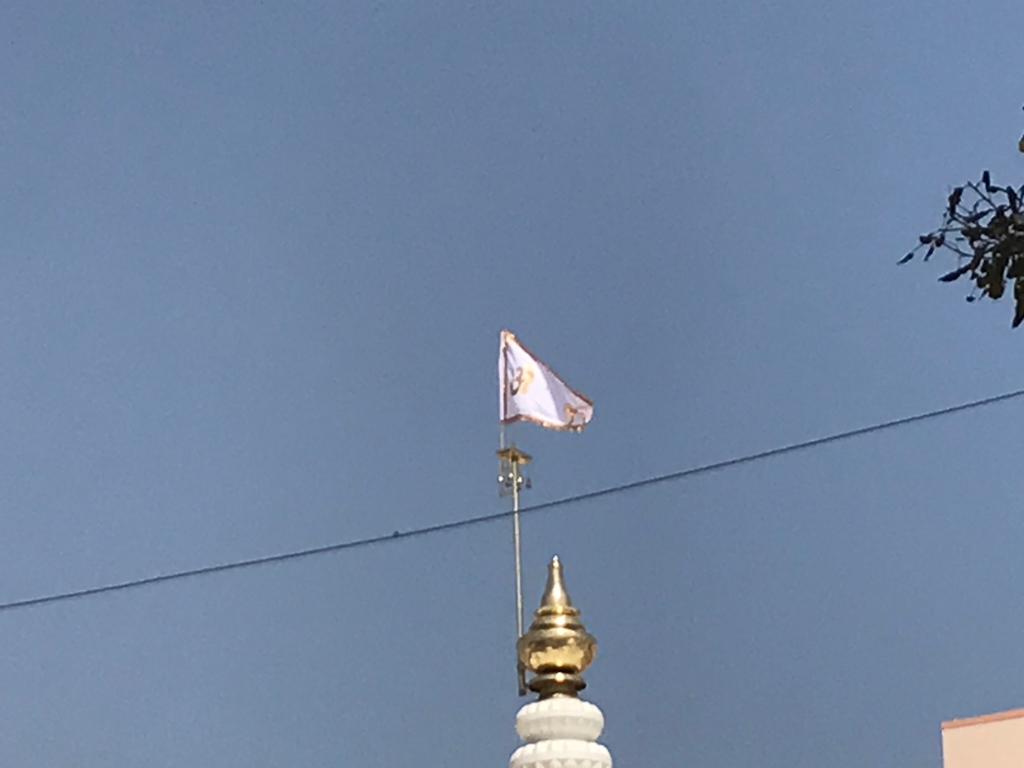 Related:
Uttar Pradesh: Dargah desecrated on the eve of Holi, Shab-e-Barat in Fatehpur
Aland Dargah appropriation: Why were only Muslims arrested?
Gujarat's people do not want communal tensions: Concerned citizens write to Governor
Direct police to apprehend criminals propagating anti-Muslim hate messages: Gujarat citizens to CM
Pirana: Attempts to erase the history of the 600-year-old dargah?