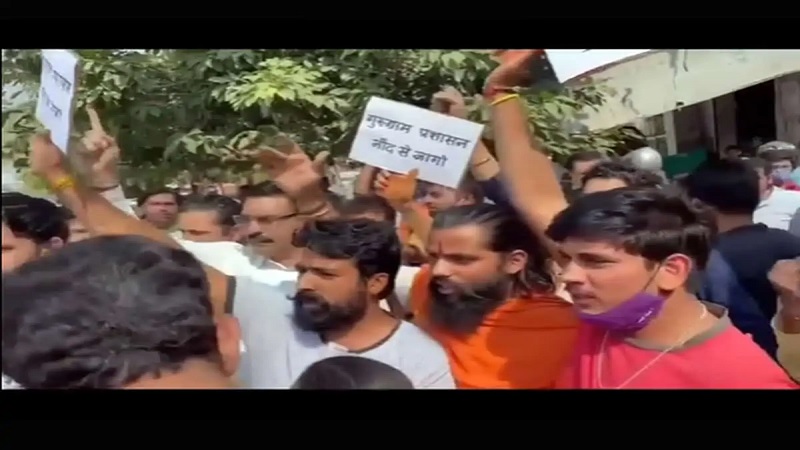 Image Courtesy:siasat.com
With chants of "Jai Shri Ram" and "Bharat Mata ki Jai", that many Hindutva groups have adopted as war cry, mobs once again set off to disrupt Friday namaz in Gurugram. According to media reports, the group of locals, supported by some right-wing groups, have done this for almost the fourth week in a row. On Friday, October 29, Gurugram police reportedly detained around 30 people.
Gurugram has designated spots where Muslims offer namaz. Of late, right-wing groups have been protesting this wherever Muslims have gathered for prayers. According to news reports, last week, Muslims offering prayer on a private property in Gurgaon's Sector 12-A "had to deal with a massive crowd that gathered shouting 'Jai Shri Ram' slogans" This week too the right-wing crowds of "protesters" chanted their slogans, taunting the local administration, to "wake up."
According to news reports, there was heavy police deployment in Sector 12-A and around 30 protesters were detained. This area had seen such right-wing protests earlier as well. According to NDTV, SDM Anita Chaudhary said, "Everything is peaceful here. We have detained people who were here to disrupt namaz. We tried to negotiate with them over the last few weeks (but) have taken swift action today," adding "People have offered namaz in 37 designated places (and) full protection will be given to people who are offering namaz."
However, no amount of official action and warning seems to have dissuaded the goons who continue to land up at namaz sites. According to reports, some residents of Sector 47 claim "mischievous elements" or "Rohingya refugees, use the prayers as an excuse to commit crimes in the area."
These residents in sector 47 chant "stop namaz in open spaces" and "offer namaz in mosque" and compelled the Police to ask the Muslims to offer namaz away from the designated site earlier this month. That incident marked the third consecutive week where such protests were carried out by the residents, reeking of communal disharmony and intention to disturb public order and peace.
The residents have even written to the deputy commissioner raising their concerns. The spot in Sector 47 is a designated site for offering namaz, and is among the 37 such sites where prayers can be offered in the open. Such arrangements were made in 2018 and have been followed since then, as some disturbances had taken place and Muslim and Hindu communities had then reached an agreement. Yet, these residents refuse to accept this and demand written proof of such agreement and argue that they were not consulted for the same.
Related:
Haryana lifts decades old ban, allows gov't employees to join RSS, Jamaat-e-Islami
Hate Watch: Gurgaon's communal side; residents oppose Friday namaz offered in open space