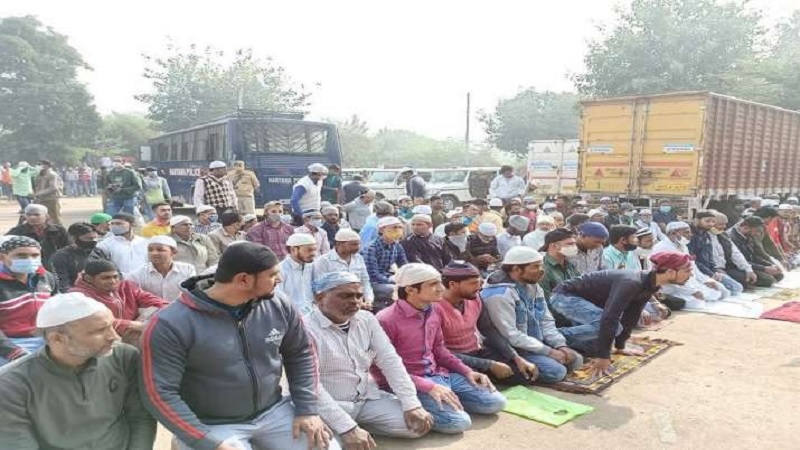 Image Courtesy:indiatvnews.com
Today, a Friday, will be yet another test if Gurugram administration will pay heed to the requests made by Members of the Muslim community of the city. Or will it once again go through the motions as Hindutva groups make another attempt to disrupt namaaz yet again?
Videos such as the following have already started appearing on social media:
Groups saying they will not allow namaz to be offered at the site. pic.twitter.com/fwOPW4rPo6

— Pavneet Singh Chadha ? ? (@pub_neat) December 10, 2021
The Muslim community recently alleged that the government authorities failed to take action against those who have been regularly disrupting the Friday namaz in the city. Community elders say Muslims of Gurugram are being denied their constitutional right to practice their religion.
Mohammad Adeeb, former Rajya MP and a member of Gurgaon Muslim Council, told SabrangIndia that the Bharatiya Janata Party (BJP), which is in power in Haryana, is whipping up the Hindu-Muslim divide ahead of elections in Uttar Pradesh next door. And that these regular disruptions in namaaz are now picking up pace due to that even though the issue of lack of spaces for Muslims to pray at, is an issue that has been discussed for years. Following the recent attacks, the community also "submitted a report to 18 political parties in the hope that they will take up the issue in Parliament and other public fora. Communal slogans and provocative speeches are being made against Muslims, and the authorities are taking no action," Adeeb added at a recently held press conference in Delhi.
However, even though the district administration has maintained that resolving the sensitive issue was being attempted, and that the city police say they were providing adequate security at all designated namaz sites, such incidents continue with impunity.
The Hindutva groups have been protesting Friday namaz in open public spaces in Gurugram since 2018. It was in the same year that the city administration had designated 37 sites for Muslims to perform the Friday prayers. However, in November this year, the number of sites was cut down to 20 after members of the right-wing outfits continued to protest and disrupt prayers.
The Muslims, however, have maintained that they were forced to use public spaces since there were not enough mosques in the city. "There is no provision made in the town planning for mosques," said Md Adeeb adding that Gururgram has expanded and even then the spaces for Muslims to build a mosque has not been provided.
That is why the congregational Juma Namaz were being offered for over two decades in open areas. The urban development body of the city (HUDA) has provided space for one mosque in Sector 57 to the Muslim Community however, that too is under litigation since 2006.
The background of Namaz disruption as shared by the Gurgaon Muslim Council
May, 2018: Sanyukt Hindu Sangharsh Samiti which claims to be an umbrella body of 22 far-right wing groups stopped the Muslim Community from reading Juma Namaz on Friday afternoon in more than 10 open areas of Gurgaon. They hurt religious sentiments of Muslims by making inflammatory statements. Representatives from the Muslim Community approached the Administration of Gurgaon to stop this far-right wing organisation from disrupting Juma Namaz at various locations of Gurgaon. During these discussions with the Administration, the Muslim Community was asked to reduce Juma sites so adequate security could be provided to those offering Namaz from unprovoked attacks. Those who negotiated on behalf of the Muslim Community with the Gurugram Administration extensively reviewed close to 108 Juma sites and offered to reduce the sites to 60 as per the request made by Administration. However, the Administration did not accept the list of 60 Juma sites and further reduced this list to 37 for Gurgaon and Manesar area collectively. This list included 3 Masjid of Gurgaon too (the Masjid should not have been in this list of open places). Those who were part of these negotiations from the Muslim Community opposed the bringing down of Juma sites to 37 from the initial list of 108 sites. Since the Administration assured that the list of Juma places can be increased once the dust settles, the Community representatives gave into the request of the Administration.
March, 2021: Post Covid-19 lockdown, incidents of Juma Namaz disruption began, led by one Dinesh Bharti who claims to be the head of a group called Bharat Mata Vahini. He allegedly leads the targeting of these 37 sites where the Administration had promised to provide security and ensure Juma Namaz happens peacefully every Friday afternoon. Intimidation, provocation and incitement to violence have been systematically used by this group to terrorize those congregating to offer Namaz. He has so far succeeded in stopping Juma Namaz at Sector 39, 40 & 43 during March & April of this year. The Muslim community registered a FIR against Dinesh Bharti on April 16, 2021 (FIR no. 0195) under Section 153-A & 34 of IPC Act 1860; however he remains undeterred.
April, 2021: Juma Namaz was stopped at these sites by the Muslim Community for the next 3 months.
September to December, 2021: From September 17, Dinesh Bharti and his group started disturbing Juma Namaz and the communal harmony of this city. From October, the umbrella body of far-right wing groups 'Sanyukt Hindu Sangharsh Samiti' joined the fresh anti-Namaz protests which became more aggressive each week. Often protestors were stopped by Police about 50-100 metres away from the Namaz location every Friday. However, since November, many protestors have managed to reach the sites and disrupt Juma Namaz. After Diwali, Govardhan Puja was performed at the spot where Juma Namaz happens in Gurgaon. The Muslim Community stated they will not pray Juma Namaz when Govardhan Puja is performed. However the right wing groups have continued disrupting namaz and instead organising pujas at the same spot.
Secular Hindus and Sikhs who offered their private spaces have also been targeted
Secular Hindus and Sikhs who offered their open spaces have also been targeted by right wing groups in various ways. An example is Gurugram businessman Akshay Yadav who offered a section of his garage/workshop for the community to offer Juma Namaz, according to sources, he has had to move his family out of the city to a safe spot, for fear of attacks from right-wing groups. Another case is of Sherdil Singh Sidhu who heads the Gurdwara Sri Guru Singh Sabha at Gurugram's Sabzi Mandi who offered the basement areas of their Gurdwaras at Sadar Bazar, Sector 39, Sector 46, Model Town and Jacobpura to Muslims for offering Juma Namaz. This too was targeted by right wing groups.
While the Muslim Community filed a Police complaint against the three men who "lead these far-right wing groups who have deeply hurt the religious sentiments of Muslims by making Inflammatory and Communally Divisive statements" it is said that Gurugram Police, is yet to file an FIR has been filed based on the complaint.
The Muslim Community of the 'millenium city' say they are "living in fear" and are "extremely hurt and upset to hear the Juma Namaz being called a site of Pakistan and the Namazi's being called citizens from Pakistan & Bangladesh". They issued a statement calling this "a sad commentary on the state of affairs in this city which is the melting pot of people who have come from far corners of the country to make a life that an entire section of hard working citizens have to live not only in fear but also face constant humiliation."
They have once again asked the Administration "to act and their action needs to reassure everyone that irrespective of religion, caste, and ethnicity Gurugram will defend the rights of all those who are suffering because of a small group of people who want to take law in their own hands. This cannot be allowed at any cost. It is the duty of the Administration to protect the Muslim community from the kind of attacks it is facing in Gurugram."
Muslims have only two operational mosques
According to the community, while "118 sectors have been added in Gurugram" Muslims have only two operational mosques. "The mosque in Sector 57 was given to us in the year 2004. Subsequently Court Case was put in Lower & High Court and stay had been obtained to further construction of Masjid. The case was granted in favour of the Muslims. After a few months, a case was filed in the Supreme Court and yet again stay for further construction of Masjid was obtained. Presently the Masjid in Sector 57 has a capacity of 300 people. Juma Namaz (Friday afternoon congregational prayers) happens 4 times at every half an hour from 12.30 pm onwards. This way at the most 1,200 people can offer their obligatory Juma Namaz in Sector 57 Masjid. The other Masjid is at Rajiv Chowk of Gurugram which got clearance from the high court 6 years back. Till date, the Muslim Community of Gurgaon is awaiting possession from the authorities in order to build our Masjid," they say.
Muslims of Gurugram are seeking that space is allotted for a Masjid and that they will pay for it. "Town Planning has allocated 42 or more temples and 18 or more Gurdwara's; however only 1 piece of land given in Sector 57 given by State Government to build Masjid. The Constitution of India grants equal rights to all its citizens for worship; hence 5 lakh Muslims staying & working in satellite town of Gurugram have a right to their place of worship. The number of allotments should at least resonate with the population requirements," stated the Gurgaon Muslim Council in its representation signed by Mohd Adeeb, Altaf Ahmad, and Mufti Saleem
Muslim groups reject sites 'proposed' by right wing affiliates
Meanwhile, Muslim groups reject sites 'proposed' by right wing affiliates as they are impracitaly far away from the city. The right wing groups continue to escalate their ongoing disruptions of namaaz in Gurugram, and the city's administraion pruning the number of sites permitted members of the Gurgaon Muslim Council and Muslim Ekta Manch met the District Commissioner on Tuesday demanding that the district administration ensure that law and order is maintained as they will continue to offer Friday prayers at the 37 sites agreed upon in 2018. Right wing groups such as the Muslim Rashtriya Manch (an affiliate of the Rashtriya Swayamsevak Sangh or RSS) and Imam Sangathan had met the deputy commissioner a day earlier and claimed they "reached an agreement to not offer Friday prayers at sites."
However, according to Altaf Ahmad, co-founder of Gurgaon Muslim Council, the community has rejected "any and all such agreements done behind closed doors, in a suspicious manner, by a handful of discredited members of the Muslim community. Muslim Rashtriya Manch is not representative of the Muslim community. We request the CM to constitute a truly representative Aman Committee and resolve the matter in a mutually consultative way."
On Monday, Sanyukt Hindu Sangharsh Samiti, which is reportedly the one leading the right wing groups' protests against namaz in the open, together with Muslim Rashtriya Manch and Imam Sangathan, had told the media that namaz will not be offered at the designated open placesbut that new spaces had been asked for "on rent from the administration to offer prayers".
On December 7, a memorandum was submitted to the Deputy Commissioner Gurugram Administration Dr Yash Garg that the Muslim groups, and citizens groups had rejected the "fraudulent attempt to stop Juma Namaaz in open spaces" and put on record that the administration had accused the community "that Juma namaaz in open public spaces will continue till the Muslim Community gets a practical and viable alternative spaces." However, there have been open threats by Sanyukt Hindu Sangharsh Samiti, stated the letter, naming convener Mahavir Bhardawaj who has reportedly said that "he will disrupt all Juma namaz in open spaces from 10th December 2021 onwards. No police or legal action has been taken against him for these open and blatant threats and hate mongering against the Muslim Community."
They reiterated that "Muslims in general do not trust Muslim Rashtriya Manch or a handful of Maulvis, and they are not the voice of genuine and reasonable Muslim citizens of Gurugram," adding that it was a "very small fringe and discredited group" that was now claiming to represent hundreds of Maulvis and thousands of Muslims. They asked if the meeting also had members of the District Administration present.
The Gurugram Muslim Council has called the right wing groups' proposal "fraudulent" and "impractical" adding that it has the potential to "create severe problems for Muslim Community citizens as well others citizens of Gurugram". The Council requested Haryana Chief Minister to constitute "a truly representative Aman Committee, and resolve this matter in a mutually consultative way" and said that the community will "continue to offer Juma namaz at all the 37 sites agreed upon in 2018, and demand that the District Administration ensures that law and order is maintained."
According to Hindustan Times, Dr Yash Garg, deputy commissioner, Gurugram, confirmed that some members of the Muslim groups met him on Tuesday and handed over a letter, adding that the proposals will be reviewed "and will try to resolve this issue at the earliest. We will ensure that sentiments and interests of every community are safeguarded." According to the report, Gurugram Police said they have not received any application or request that Muslims will offer namaz at 37 sites this Friday.
In early November, Gurugram administration had withdrawn permission to offer namaz at eight public sites. The administration has cited "objection from local residents and resident welfare associations" as the reason for doing so. There were 37 designated sites approved by administration, before some local residents backed by Hindutva groups began objecting to the congregational Muslim prayers. The cancelled sites were: Bengali Basti in Sector 49, V block DLF phase 3, Surat Nagar Phase 1, outside Kheri Majra village, near Daulatabad village on Dwarka Expressway, Sector 68 near Ramgarh village, near DLF square tower, from Rampur village to the Nakhrola road. According to news reports, there is still no decision taken yet on the designated namaz sites in Sector 47 and Sector 12-A. These two spots were the focus of the Hindutva group's 'protests'.
Gurugram administration had also formed a committee comprising a Sub-Divisional Magistrate, an Assistant Commissioner-level police officer, members of Hindu and Muslim communities and social organisations. This committee was to decide the final list of places where namaz would be offered in the city.
However, on Friday, December 3, Hindutva groups once again gathered to demonstrate against namaz at the Sector 37 site amid heavy police presence.Over seven people were detained by the Gurugram police in Sector 37 that day. The namaz site, which has been operational for years, is close to the Sector 37 police station. Protesters have been detained before, yet they return every Friday, week after week, for months now.
Related:
You know it's Friday in Gurugram, when Hindutva groups disrupt namaz!
Gurugram: Will the right-wing agenda of dividing Muslims and Sikhs over namaz space succeed?
Gurugram: Gurdwaras, Hindu shop owner, offer space for namaz
Gurugram: Hindutva leaders conduct Govardhan Puja at namaz site
Haryana: Gurugram administration withdraw permission to offer namaz at eight public sites