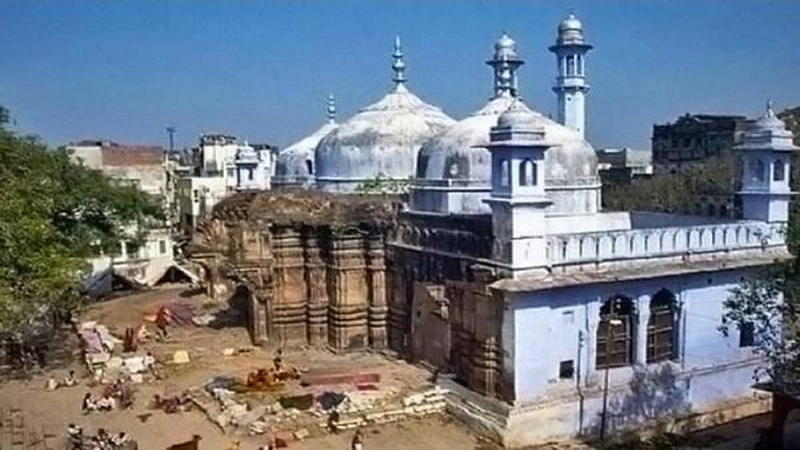 Image Courtesy:frontline.thehindu.com
The Kashi-Vishwanath temple complex in Varanasi welcomed into its complex a 'kup' or small, shallow well and a statue of deity Nandi. The move comes close at the heels of a temple restoration suit involving the temple that shares a wall with the Gyanvapi mosque.
It is alleged that Mughal emperor Aurangzeb had razed the temple in 1669, and the mosque was built on its ruins using the temple's debris. The temple was rebuilt by Queen Ahilya Bai in 1780 and has since then existed alongside the mosque in a city that has become famous for its syncretic culture.
Now, in wake of the Supreme Court judgment in the Ayodhya dispute case and then emboldened perhaps first by the regime's open support of the construction of a Ram Temple in Ayodhya as evidenced by the Prime Ministers presence at the 'bhoomi poojan' on August 5, hardliners are once again resurrecting their demand for 'liberating' Kashi-Vishwanath temple. In January, the Akhil Bharatiya Sant Samiti (ABSS), a group of monks, had demanded that "Hindu property" be returned.
In February 2021, a civil suit was filed in Varanasi, before a district court seeking "restoration of performance of rituals at the principal seat of an Ancient Temple at the Gyanvapi mosque area". According to LiveLaw, the plea reads, "That Aurangzeb, one of the cruellest Islamic rulers, was the champion in destruction of Hindu temples. He had issued 'Farmaans' in the year 1669 to destroy many temples including Kashi and Mathura, which were prominently worshipped by Hindus. The administration complied with the order and demolished a portion of temple of the Adi Visheshwar at Varanasi and later on a construction was raised which they alleged Gyanvapi Mosque, but they could not change the religious charter of Hindu temple as the idol of Goddess Shringar Gauri, Lord Ganesh and other associate deities continued in the same building complex."
According to Navbharat Times, the well and the statue have become part of the temple once again after 352 years, and devotees will now be able to offer prayers here. Plans are already in place for development of the temple complex. Temple CEO Sunil Kumar Verma told NBT that there are plans to 'extend' the temple complex. He said, "The length of the complex has been decided to be 72 meters, while the breadth will be 45 meters. The main entrance will be a 40-feet high gate. Work is already underway."
Related:
Gyanvyapi mosque case: Suit filed in Varanasi court for restoration of temple
Monk group demands Muslims return "Hindu property"
Are Kashi-Mathura mosques in the crosshairs of hardliners again?
"Temple restoration" suits on the rise; what about the Places of Worship Act?