SC Bench debates pros and cons for two hours before hearing Hadiya. After her statement, it allows her to pursue her studies.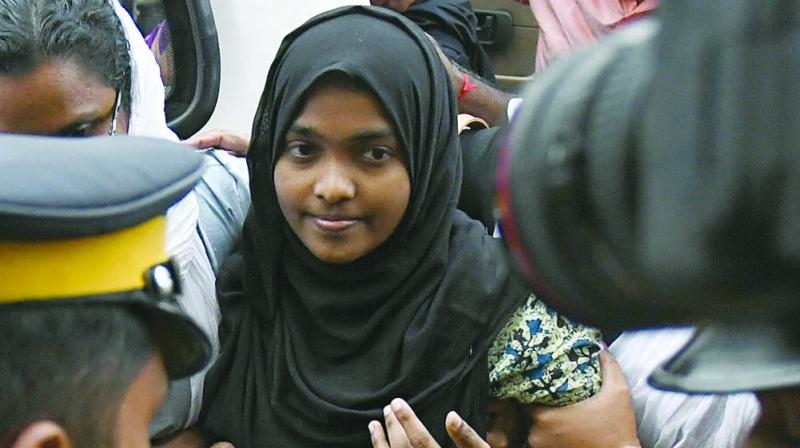 Image Courtesy: The Asian Age

On 27 November, Hadiya (formerly Akhila Ashokan), wearing red scarf, entered court number one of the Supreme Court around 2:55 pm. She had embraced Islam in 2015 and married a Muslim man Shafin Jahan. She had come to give her side of the story after it was alleged that she had been converted to Islam against her will.
The proceedings began at 3 pm. But Hadiya turn to speak out took a long time to come. It took apex court bench comprising Chief Justice Dipak Misra, Justice AM Khanwilkar and Justice DY Chandrachud a good two hours to arrive at the conclusion that they should listen to her own deposition.
When the hearing began at 3 pm, advocate Shyam Divan, representing Hadiya's father KM Ashokan, pressed his application and submitted that the court should interview Hadiya in-camera. "The purpose is to learn from her the forces behind her (conversion). There is tremendous organisational support; therefore, some degree of interaction and element of probing is necessary. The atmosphere must be closed door," he told the court.
Divan then said there was a "highly communally charged" atmosphere in Kerala. He said that there would be some threats to what she might say in the open court. "Please revisit that decision to hold a public hearing," he pleaded.
Repeating his previous arguments, Divan added that there is "well-oiled machinery working in Kerala involved in indoctrination and radicalisation of young women and converting them".
Arguing on behalf of the National Investigation Agency (NIA), which was tasked by the apex court to investigate the alleged Love Jihad case, Additional Solicitor General Maninder Singh told the bench that a wider hearing on indoctrination and its impact is needed.
He said by interacting with her in the open court, the Supreme Court cannot decide whether or not a person has been indoctrinated. "It is psychological, a result of kidnapping, and involves individual autonomy. Such indoctrination is called 'neuro-linguistic programming," he told the court.
The bench then asked the NIA, "Should we delink the larger issue of indoctrination with the specific case of Hadiya's marriage? At what stage can personal liberty be suspended by the court?"
CJI Dipak Misra asked, "If it is established that the consent of the individual is not voluntary, what should the court do?"
The NIA in its reply told the court, "We have submitted a 100-page report…before any decision, take a look at what our investigations have found."
Senior counsel, Kapil Sibal, representing Hadiya's husband, Shafin Jahan, told the bench that assuming whatever the other side says is true, she still has a right to say what she wants.
"To know whether she was indoctrinated or not, one has to talk to her. Your lordships should hear Hadiya. Her statement is more important than that of the NIA."
The CJI replied, "I have never seen such a case in my life."
Opposing the plea for in-camera hearing of Hadiya, Sibal said he was concerned about her autonomy. "In the national interest, it should be done in the open court. She may decide whatever she wants to decide," he said.
Responding to Divan's argument on communalisation, he said he was "saddened" with the "expression of venom". "I can give a communal response to communal argument," he said and asked "What has it got to do with Hadiya?"
"She has been in the custody of her parents for the past eight months, with no access to anybody else. Why do you want to communalise Kerala in this fashion," he asked.
He said Hadiya is an adult and entitled to make her decisions. "Whatever NIA says is not the gospel truth. How can I be indoctrinated if I am in custody?" he asked reminding the bench that the NIA takes U-turn in many cases.
Sibal told the bench, "If there is compelling evidence and if it persuades you that there is no choice involved in the conversion to Islam, then take action."
"Even she made a wrong decision she is entitled to go through it. If there is a break-up, so be it. After all, so many marriages break up," Sibal said.
He said even if the indoctrination story is true, she (Hadiya) says she still wants to go. "First talk to her, get prima facie idea about her, see whether there is compelling evidence to conclude. Send her to a medical facility or declare that she is exercising free choice. She is here for that purpose," the senior counsel told the bench.
Justice Chandrachud said the bench is "concerned about the danger of indoctrination". "We are sworn to do our duty," he said.
Sibal, in response, said: "So are we."
Intervening at the point, Justice Khanwilkar said, "In a normal case, we would have heard the girl and decided, but this is an unusual case."
As Sibal stressed on individual autonomy as the only factor that needed to be considered in the case, Justice Chandrachud questioned what the threshold for determining the autonomy should be. "What would be the guiding principles for the court to determine if the autonomy of an adult has been compromised? If we proceed with interviewing the girl in question, would that not amount to the court accepting that there has been no indoctrination?" he asked.
Pointing to a phenomenon called the 'Stockholm Syndrome', Justice Chandrachud said, "We are not saying that this is in your case, but there is one phenomenon called Stockholm Syndrome. Even though there is a free consent or person is a major but due to this syndrome, they cannot take their decisions freely."
"The ability of the individual to be an independent agent herself/himself is also an important aspect," he further added.
Sibal then asked, "Why did the bench call Hadiya all the way from Kerala if it was going to decide whether to hear her or not?"
When the bench could not decide for two hours, it infuriated senior counsel and former Additional Solicitor General Indira Jaising, also appearing for Shafin. "Had Hadiya been a man, would the bench have doubted her faculties?" she asked.
To this Justice Chandrachud lost cool and said "the bench treated both genders equally".
CJI Dipak Misra also asked her with displeasure, "How did the gender issue come in here?"
The battery of lawyers representing Shafin and Hadiya urged the court to at least hear the woman as she is a medical doctor and has her own mind. "If the Court did not hear after calling her, what would she think? She understands all that is going on in the court," they told the bench.
The CJI then said the bench was only exploring the sequence of steps to be taken. Justice Chandrachud said that the question was at what stage could the court step in and she could decide as an adult individual?
The lengthy arguments then followed the one-to-one interaction between Justice Chandrachud and Hadiya. The court was told that though she can communicate in English, she may not be able to effectively articulate that in the language. The court requested Advocate V Giri, who represents the State of Kerala, to assist in translating.
The range of questions that were posed by the court basically pertained to her qualifications, studies, perception of life and what she intends to do in future. In response, she told the court that she passed class 10th from Higher Secondary School in KV Puram, Viakom in Kottayam district. Thereafter, she was pursuing her BHMS (Bachelor of Homeopathic Medicine and Surgery) from Shivaraj Homeopathy Medical College at Salem in Tamil Nadu.
She told the bench, "I want freedom. I have been in unlawful custody for last 11 months. I want to be a good citizen, a good doctor. I want to live true to my faith."
The court told her she can profess her faith and be a good doctor.
When the bench asked Hadiya what your dreams are for the future, she replied she wanted freedom and to live with her husband.
She also told the Court that she intends to continue her internship, which she had left because of certain reasons, and her ambition is to become a full-fledged homeopathic doctor. She expressed her desire to stay in the hostel and complete her course in the said college, if a seat is made available.
As desired by her, the court directed that she be taken to Salem so as to enable her to continue afresh the internship, the duration of which is likely to be 11 months.
"If any formality is to be complied with, the college shall communicate with the university and the university shall accede to the same. Our directions are to be followed in the letter and spirit by all concerned," the court said in its order, a copy of which is available with the NewsClick.
When the bench asked Hadiya to name any relative or any near acquaintance as her local guardian in college at Salem in Tamil Nadu, she said only her husband could be her guardian and she does not want anyone else in that role.
Hadiya further told the court, "If I am sent back to college to complete my course I want my husband to be my guardian."
"A husband cannot be a guardian of his wife. Wife is not a chattel. She has her own identity in life and society. Even I am not guardian of my wife. Please make her understand," Justice Chandrachud said.
The CJI asked her, "Would you like to continue your studies on state's expense?"
Hadiya replied, "I want to but not on state's expense when my husband can take care of me."
The court also directed the college to treat her like any other student and she will be guided by the hostel rules, which implies, according to her lawyer, that she can meet her husband as well.
The bench ordered the dean of the college to approach the apex court if there is any problem with regard to any aspect. "'Any problem' does not mean admission in the hostel or continuance in the course," the bench clarified.
If necessary, the court said, the expenses for pursuing the course and for the hostel shall be borne by the State of Kerala.
The bench also directed the State of Kerala to make all necessary arrangements so that she can travel to Salem at the earliest.
Hadiya made a request that she should be accompanied by policewomen in plainclothes. "The state shall attend to the prayer appropriately. If any security problem arises, the State of Tamil Nadu shall make local arrangements for the same," the court directed.
(Courtesy: Newsclick)