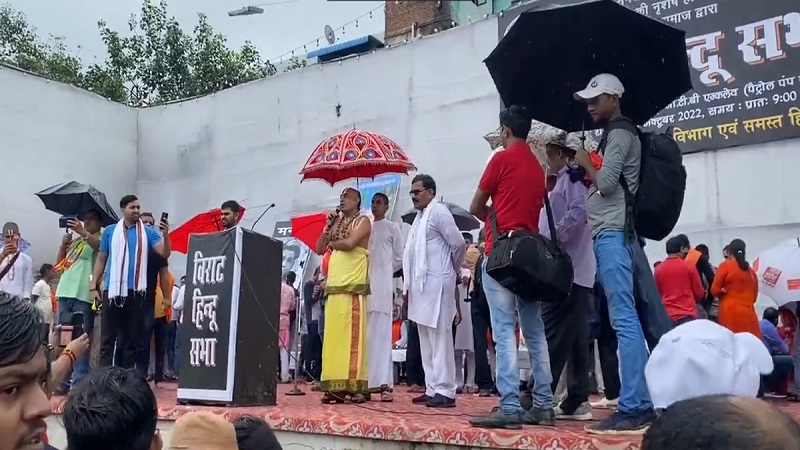 Image Courtesy: Twitter
As if an open call for economic boycott wasn't enough, two "spiritual leaders" have now urged people to bear arms and cut off hands and heads of "those who dare to point fingers" at Hindus. Mahant Nawal Kishore Das and Yogeshwar Acharya made these open calls for violence at the same public rally where Parvesh Verma had previously administered an oath to boycott members of a particular community.
Addressing a gathering at an event called Virat Hindu Sabha organised by the Vishwa Hindu Parishad (VHP) on Sunday at North East Delhi's Dilshad Garden, Yogeshwar Acharya, a spiritual leader who goes by the title "Jagat Guru", referred to the same murder case as Verma had – that of the alleged killing of a man named Manish in Delhi's Sundar Nagar area on October 1. While Verma did not specifically name the Muslim community in his comments, it was clear he was targeting them given how all the accused in the case have Muslim-sounding names. But Yogeshwar Acharya did not exercise any restraint and openly called for violence against the community.
In a video that has gone viral on social media, Acharya can be seen and heard saying, "The inhuman killing of Manish… The (Delhi) government wants such terrorists and Ma***chas (a derogatory word for Muslims) to engage in such brutal killings." Taking a dig at the Muslim population he said, "They have not one, but many children. They want to marry 14 times and have 40 children." He then gave an open call for genocide saying, "We should target and kill them."
राजधानी दिल्ली में VHP की रैली में मुसलमानों के नरसंहार की अपील

योगेश्वर आचार्य ने लोग़ों को मुसलमानों को मारने के लिए उकसाया pic.twitter.com/ExOQaBI0Dl

— Bolta Hindustan (@BoltaHindustan) October 9, 2022
Indian Express further quoted him as saying, "Agar aise log humare mandiro… ko ungli dikhayee, unka ungli mat kaato, unka haath kaato. Agar zarurat pade, to unka gala bhi kaat do. Kya hoga? Ek ko phaansi hogi, do ko phaansi hogi…Hum sab bhi iska dhyan de… inko chun chun ke marne ka kaam karen." (Translation: If such people point fingers at our temple, don't just chop off the fingers, chop off their hands. If need be, slit their necks. What's the worst that can happen? A few people will be hanged. We should be mindful, target them and kill them.)
Following the event, when media persons confronted him, Acharya appeared to defend his comments. Indian Express quoted him as saying, "Main baar baar kahunga iske liye… sanatan dharam ke liye phaansi chadne ke liye tayaar hoon." (Translation: I will say this repeatedly, I am prepared to be hanged for Sanatan Dharma.)
But the impunity with which calls of violence were made at the venue, did not end with Acharya. Another hardline Hindutva leader Mahant Nawal Kishore Das urged Hindus to bear arms. According to India Today, he said, "Get guns. Get licenses. If you don't get a license, dont worry. Those who come to kill you, do they have licences? So why do you need a licence?" He went on to declare, "If we all come together, even the Delhi Police Commissioner will offer us tea and let us do what we want."
But it did not end there either. It was then the turn of Bharatiya Janata Party (BJP) Member of Legislative Assembly (MLA) Nand Kishore Gurjar to make even more disparaging remarks about Muslims. In another video that has gone viral on social media, he can be seen and heard saying, "A pig named Akhlaq, who killed cows, was killed in Dadri. Then everyone from Rahul Gandhi to Akhilesh (Yadav) and Arvind Kejriwal cry as if their son-in-law has been killed."
"Dadri mein ek suar maara jaata hai gaay kaatne waala Akhlaq toh Rahul Gandhi se lekar Akhilesh aur Arvind Kejriwal aise rote hain jaise inka damaad mar gaya ho" –BJP MLA Nand Kishore Gurjar in Virat Hindu Sabha in Delhi today

Muslims are dehumanised even after they are lynched. pic.twitter.com/1DGuTnGdb9

— Kaushik Raj (@kaushikrj6) October 9, 2022
The open calls for violence clearly constitute hate speech, no matter what justification is offered by the speakers, their followers or supporters. The Print now reports that the Delhi Police have filed a First Information Report (FIR) under Section 188 (Disobedience to order duly promulgated by public servant), saying prior police permission was not sought for the event. However, so far, no action has been taken against Parvesh Verma, who had at the same event urged people to boycott the minority community, nor has any action been initiated against Yogeshwar Acharya or Mahant Nawal Kishore Das.
Related:
Hate Watch: Parvesh Verma calls for total boycott of a particular community