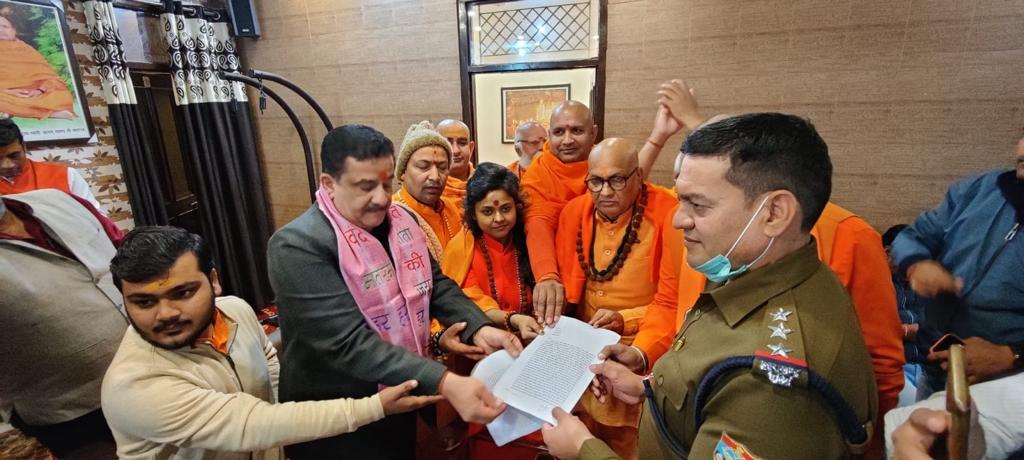 Image: Twitter
The Hindutva flagbearers and speech makers who called for Muslim genocide at the three day 'Dharma Sansad' at Haridwar, Uttarakhand, made another public display of how even the police and the state administraion are with them. The group, including those who already have an FIR registered against them, filed a police complaint against "The Quran, Maulvis of Haridwar and other unnamed Muslims" on Tuesday.
A video clip of the 'event' shared by journalist Ashutosh Bhardwaj showed how a police officer happily receives the complaint from those who have been accused of hate speech, amid applause and slogans of Har Har Mahadev. The sole woman Hindutva leader in the video, Annapurna, is heard telling the policeman 'show us that you're not biased.' Narsinghanand who is the main organiser of the Haridwar hate assembly is also heard saying, "He (police officer) is on our side."
"We are holding three more sansads in Aligarh, Kurukshetra and Shimla. This is our freedom of speech. Akhadas are an army of the religion. Islam ek hathiyarband giroh hai. You can fight them only with arms."

Today's meeting in Haridwar.
I report for @TheIndiaCable pic.twitter.com/5Obbjr1QEC

— Ashutosh Bhardwaj (@ashubh) December 28, 2021
The 'Dharma Sansad' which became a Hindutva 'hate speech' conclave at Haridwar, made global news for its calls to violence against Muslims. Many of those who spoke have flaunted close connections with the Bharatiya Janata Party (BJP) which is in power in the state, and the Centre. Eventually, following global outrage Wasim Rizvi a.k.a Jitendra Narayan Singh Tyagi and others were named in a first information report (FIR) registered by Uttarakhand Police, under Section 153A IPC, (Promoting enmity between different groups on grounds of religion, race, place of birth, residence, language, etc., and doing acts prejudicial to maintenance of harmony). On December 23, the Uttarakhand Police had announced this "action" on Twitter adding that it had taken "cognizance of the video that had gone viral on social media" which spread "hatred by giving provocative speeches against a particular religion". The case was registered against Rizvi-Tyagi under Section 153A IPC in Kotwali. However, no arrests were made, and the cops have not yet announced if they have registered an FIR "against Muslims and the Quran" as told by the Hindutva group, whose leader Yati Narsinghanand Giri, claimed the cop who received the anti-Muslim complaint "was on our side".
This police officer was identified as SHO Haridwar Kotwali, Rakendra Kathait, who recently filed the recent case naming Rizvi and later Annapurna Bharti alias Pooja Shakun Pandey and Dharm Das. Now to receive the 'anti-Muslim' complaint, the officer went to the ashram himself, and also posed for videos and photographs.
All those who spoke at the Haridwar event filed a police complaint against "The Quran, maulvis of Haridwar and other unnamed Muslims" today.

A police officer happily received it amid claps and slogans of Har Har Mahadev. pic.twitter.com/HITSIP6uqt

— Ashutosh Bhardwaj (@ashubh) December 28, 2021
According to a report by The India Cable, on Tuesday, 21 Hindu monks have now formed a committee for 'armed fight against Muslims'. They include: Swami Prabodhanand Giri, Sadhvi Annapoorna alias Pooja Shakun Pande, Pandit Adhir Kaushik, Sindhu Maharaj, and Swami Darshan Bharti. They claim to be on a "campaign to convert India into a 'Hindu Rashtra'" and will hold more such 'sansads' in the future.
Anandswaroop was quoted as saying, "We are holding three more sansads in Aligarh, Kurukshetra and Shimla. This is our freedom of speech. Akhadas are an army of the religion. Islam ek hathiyarband giroh hai. You can fight them only with arms." At Haridwar's hate assembly, Anandswaroop had said, "We will wage a war that would be more gruesome than the revolt of 1857." Niranjani Akhada's Darshan Bharti said Adi Shankaracharya had established Akhadas 1400 years ago and armed them with various weapons to save our religion from Buddhists. Akhadas were like an army of the religion. Just like Guru Gobind Singh had created this army." Darshan Bharti declared that "the Quran has provocative sections and should be banned."
According to information shared by Delhi State Committee of Communist Party Of India (Marxist), Yati Narasinghanand has also announced a 'Dharma Sansad' to be held at Dasna, Ghaziabad on January 1-2, 2022. Demanding action against Narasinghanand, the CPI(M) stated that if Narasinghanand is allowed to organise this event, then "this ceremony will also become a platform for spreading communal polarisation and hatred and will seriously endanger the law and order." The CPI(M) Ghaziabad District Committee submitted a memorandum to the Ghaziabad District Magistrate "requesting that keeping in mind the seriousness of law and order, on January 1 and 2, 'Dharma Sansad' planned at Shiv Shakti Dham, Dasna, Ghaziabad. not be allowed." Uttar Pradesh is due to hold Assembly Elections soon.
Human rights activists came together on December 24, 2021 and strongly condemned the hate speeches and call for a genocide during the 'Dharma sansad' organised by Yati Narsinghanand. Reacting to the hate speeches made at the December 17-19 event, activists demanded immediate legal action and arrest of Narsinghanand and other accomplices Swami Prabodhanand Giri, Annapurna Maa, Dharam Das Maharaj, Anand Swarup Maharaj and all who organised this event, indulging in hate mongering. Senior rights lawyer Prashant Bhushan called upon civil society organisations and personalities to speak against such instances of hate speech. "The judiciary should have taken suo motu cognisance of this. Our duty is to activate action against incidents from the judiciary," he said.
Activists, political leaders, former service staff chiefs, have already filed police complaints against the Haridwar event. Seventy-six advocates of the Supreme Court have also written a letter to Chief Justice of India NV Ramana, asking the top court to take suo motu cognisance of the calls for "ethnic cleansing" of Muslims at two Hindu parliaments in Delhi and Haridwar.
Related:
Poisoning people's minds to ensure polarisation in the coming polls
Why does the PM look the other way when BJP leaders give communal speeches?
Activists counter call for genocide with a call for secularity
Uttarakhand: Will Jitendra Narayan Singh Tyagi nee Wasim Rizvi benefit from the FIR against him, or will he be the scapegoat?
How did Uttarakhand govt allow calls for Muslim genocide in Haridwar?