As the economic slowdown plagues the state ahead of the Assembly polls, NewsClick took stock of the situation and spoke with several residents of Gurugram to understand the impact on the markets.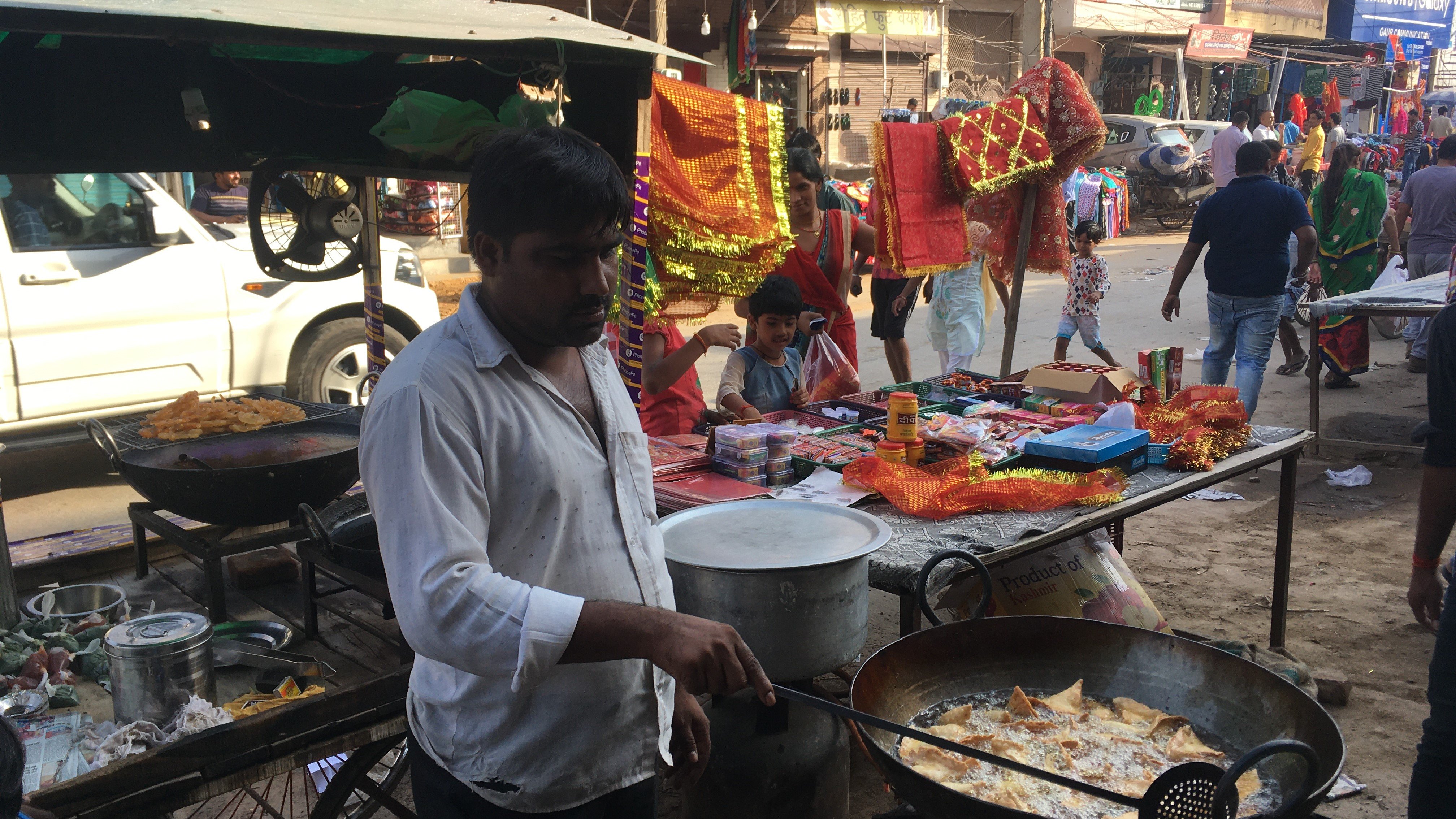 Rohtas, 36, cooking samosas for which he has reduced the price to as low as Rs. 5.

On October 4, the Reserve Bank of India revealed that the confidence of the Indian consumers in the month of September has
dropped
to a six-year low in Prime Minister Modi's tenure. The survey—conducted in 13 major cities—recorded the public sentiment on the general economic situation, where 47.9% of the households believed that it has worsened.
Nitesh, 23, an auto-driver in Gurugram was sure of this drop much before. According to him, over the recent months, the number of travellers opting for a sharing ride has increased. He says, "People are saving money wherever they can." "Even those wearing a shirt and pant [hinting towards the travellers who belong to a relatively unaffected middle-class] are ready to wait for co-passengers, as sharing rides are cheaper."
Nitesh is driving an auto since over a year now. Despite being a science graduate, he has been unable to secure a job. Now fearing that even his meagre income from driving the auto rickshaw will come under the grips of the economic ruin, he commented, "Hum sab iske shikaar honge… mazdoor aaj mar raha hai, hum kal marenge (We will all be the victims [of the slowdown]… Workers are facing the consequences today, others will face it tomorrow)."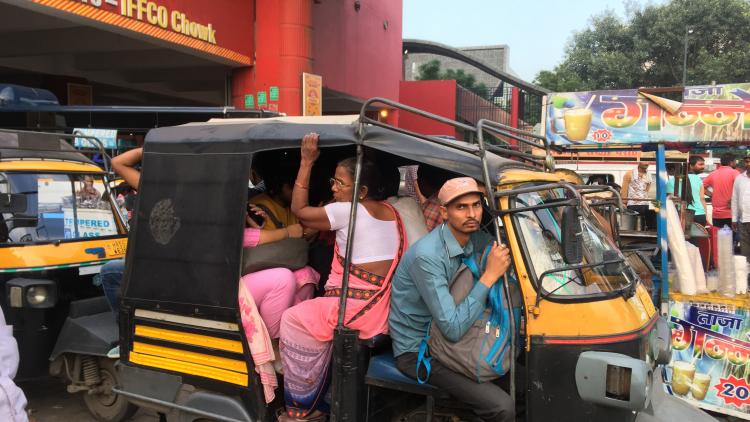 An image of a shared auto-rickshaw in front of Gurugram's Iffco Chowk Metro Station
"This is a season when a worker would take a break and return to their native village," says Bikesh, "he would obviously want to look good and would happily pay extra to enjoy this luxury at least once in a year."
However, this festive period, the wish to look good has become too difficult to afford. "People here don't have money to eat food or to pay rent," Rakesh explained, "They are going back home dejected this year." "Who would want to look good after losing his job?" he asked.
Similar apprehensions were shared by Ajay (21), a cloth shop owner in the same locality, who is also extending a helping hand to his father in running the family business. According to him, the duo has not sat free even for a minute on Sundays in the month of October. "We had to do night shifts to serve all the customers," Ajay says. However, the story is different, this October. His shop was deserted, when NewsClick approached him. Ajay agreed to explain it to us and get his photo clicked. His biggest worry was that he had 'free time' this festive season.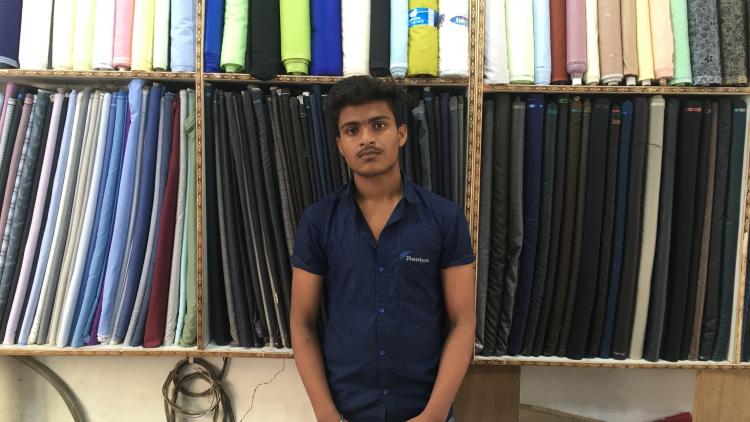 Ajay, 21, son of cloth shop owner. His biggest worry was that he had 'free time' this festive season.
In and around the Khandsa market, the roads were empty even on a Sunday afternoon. A scene so gloomy has never been observed by Amresh (21), a cyber cafe owner. He complained about not making enough commission, as fewer workers are coming to him to book tickets. As the glare turned to the rest of the market, the crisis was evident. The artisans at the jewellery stores were taking rest and the helpers at the general shops were staring at the unsold stock.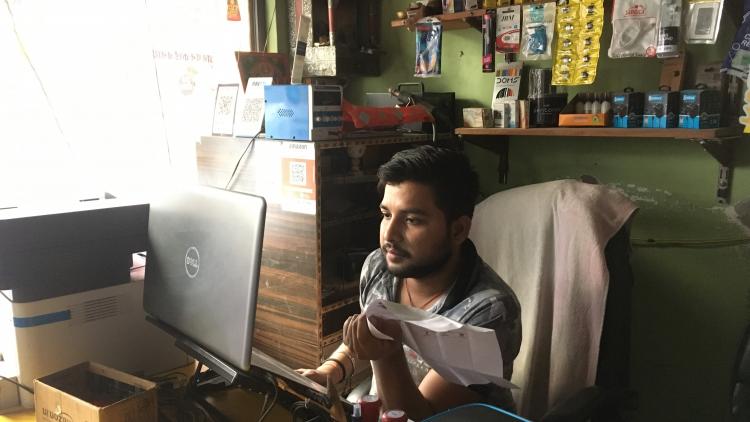 Amresh, 21, a cyber cafe owner in Khandsa village market who has never seen such a gloomy market scene on a Sunday afternoon.
The conversations of the public seem to have changed as a result of the slowdown. Lists of what items to purchase have been replaced with the items can be compromised. Luxuries have become a far off dream, when basic necessities are not getting fulfilled. To celebrate a festival has become unaffordable for the Indian citizen. The hustle and bustle of a festival market is under the clasp of the economic crisis this year and everyone, in the Khandsa market, longed for it.
Deepak Maini, general secretary of the Gurgaon Industrial Association claims that he had seen this coming. "The slowdown in the organised sector will have its shadow over the informal economy," he told NewsClick. There is no demand, and according to him, it is the "fear" that has beleaguered the consumers' purchasing behaviour.
"There are well over 10,000 factory units operating in Gurugram and a 20 to 25% production slump has been observed in all of them, across the industries," he said. He added—conveniently using the industrial vocabulary—that the workers have been thus "put on a resting period" as a reaction to the drop in the production.
Call it just a "resting period" or retrenchment, the life of myriad of workers who lost their bread and butter have been completely turned upside down. The workers, who have not, are in no better condition. One example being that of Neeraj*, a contractual worker in one of Gurugram's welding company. He has not received any bonus this year. "Earlier in our unit, 20-25 workers were employed," Neeraj said, "now, only 5-6 are left." "If I'll ask for any bonus, the gates will be closed for me as well."
Another worker who is currently employed in an auto component manufacturing unit but has felt the heat of the slowdown is Shyamlal*. For him, the slowdown has meant death by thousand cuts. "We used to work for 12 hours, which was first reduced to eight hours," Shyamlal said, "then no production days were observed and eventually 7 out of 40 workers were retrenched."
"Now, the employer is finding excuses to retrench us." "We fear to even raise our voice now," he said, adding, "though we have our jobs, they are now marred with constant fear."
Incidentally, amidst the ongoing crisis episode, two states—Maharashtra and Haryana—known for their major industries, are set to go to Assembly polls this month. Will weak public sentiment over the economic situation translate into votes? The opposition would be banking on this, while the ruling government will do its utmost to distract the voters.
Courtesy: News Click