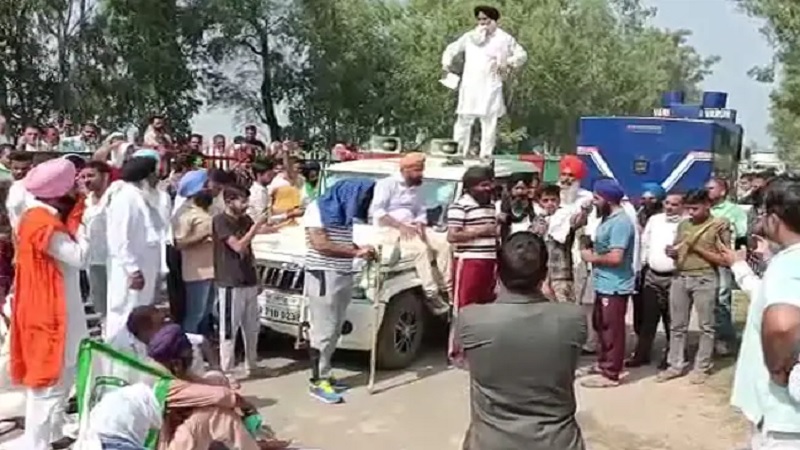 Image Courtesy:ndtv.com
Farmers had barely processed the Lakhimpur Kheri incident, when yet another BJP MP convoy allegedly drove into a group of protesting farmers in Ambala, Haryana, injuring one farmer on October 7, 2021.
Continuing the year-long struggle against the Centre's contentious farm laws, protesters assembled in the city to assert farmers' demands on Thursday. The community was already in a state of anguish since October 3 when Union Minister Ajay Mishra's son Ashish allegedly drove over and killed four farmers and a journalist.
So, imagine their ire when BJP MP Nayab Saini from the Kurukshetra constituency repeated the act when his car drove into protesting farmers.
Is this true? An epidemic of RUN DOWNS? what is going on ? #AmbalaFarmers #LakhimpurKheriViolence @ShyamMeeraSingh @PawarSpeaks @RahulGandhi @priyankagandhi https://t.co/jD7JRAKmz5

— Teesta Setalvad (@TeestaSetalvad) October 7, 2021
By evening farmers stated that one farmer Bhavanpreet Singh was severely injured in the accident. The man was rushed to a government hospital in Narayangarh where he survived but with a fracture.
However, incensed by the callous behaviour of driver Rajeev, farmers observed a chakka jam demanding that the culprit be tried with attempt to murder. While the local police registered a formal complaint against Rajeev, farmers have warned that due action must be taken by October 10.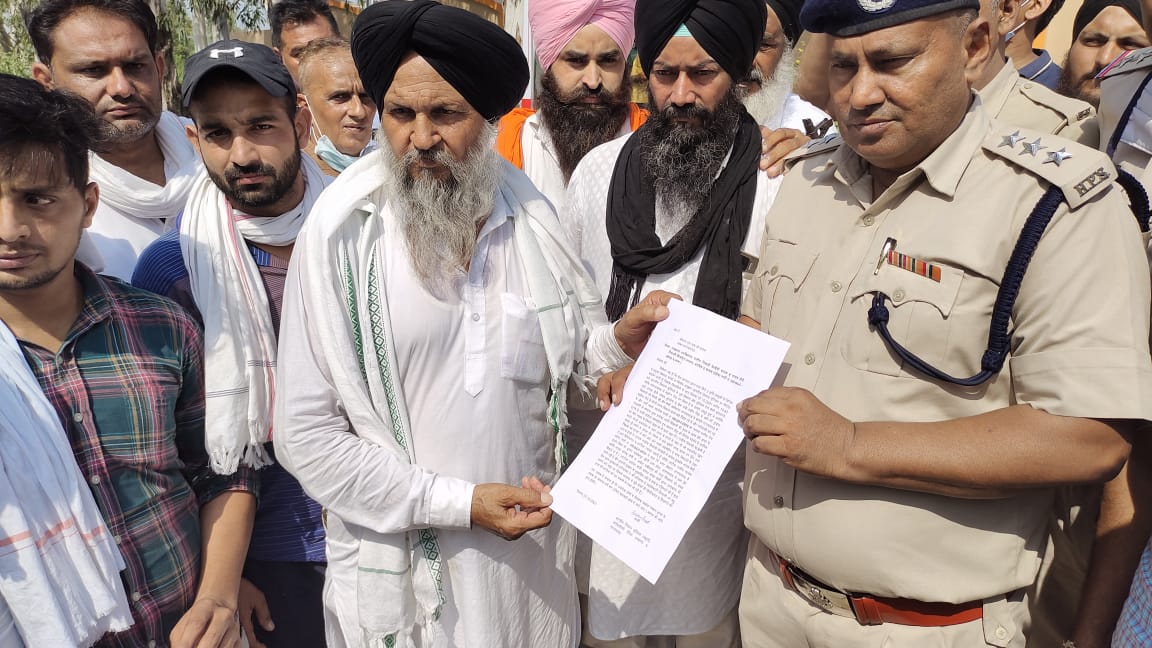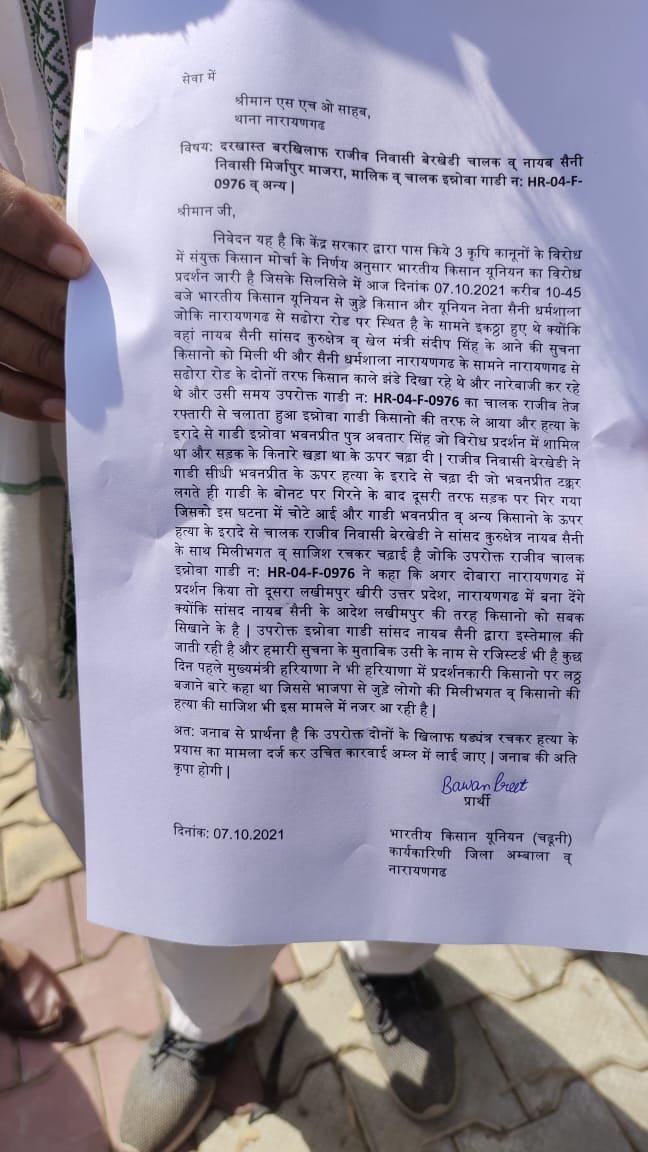 In the report, farmers claimed that Rajeev said, "If you protest again in Narayangarh then this place will become another Lakhimpur kheri because MP Nayab Saini has ordered that farmers be taught a lesson."
Haryana government's previous record
This is not the first time that Haryana farmers have suffered injuries at the hands of the administration. On August 28, former Karnal Sub-District Magistrate (SDM) Ayush Sinha instructed security personnel to lathi-charge and "break the heads" of any protester who tried to cross city borders.
The incident had resulted in the death of 55-year-old Sushil Kajal, whose family members were assured two temporary government jobs after huge protests in the city. Farmers gheraoed the District Mini Secretariat until the administration paid attention to their demands.
Later on October 1, Jhajjar farmers alleged that the administration used "ganda paani" while trying to disperse farmers using water cannons. Although no farmers were injured, days later farmers raged against a viral video of Chief Minister Manohar Lal Khattar encouraging more violence against protesters on Sunday.
This is Haryana CM Manohar Lal Khattar giving a solution to the farmer's agitation:
Encourage "new" kisan unions
Raise 500-700 members
Let them "give it back" to agitating farmers
"Uthalo lath" (armed with lathis)
"If they go to jail, on their return they wd be big leaders" pic.twitter.com/S2fYqxzd6X

— Chitleen K Sethi (@ChitleenKSethi) October 3, 2021
On Thursday, Haryana farmers warned the administration that farmers will gherao (surround) the Narayangarh police station on Sunday at 10 AM if proper action is not taken.
Related:
Haryana: Police use water cannons on protesting farmers in Jhajjar
Ayush Sinha sent on leave: Farmers call Haryana govt's move, righting of a severe wrong
Lakhimpur violence: SC asks UP Gov't to provide details of the FIR, number of arrests made
Lakhimpur Kheri: Ashish Mishra still not arrested
Lakhimpur Kheri deaths: A Timeline