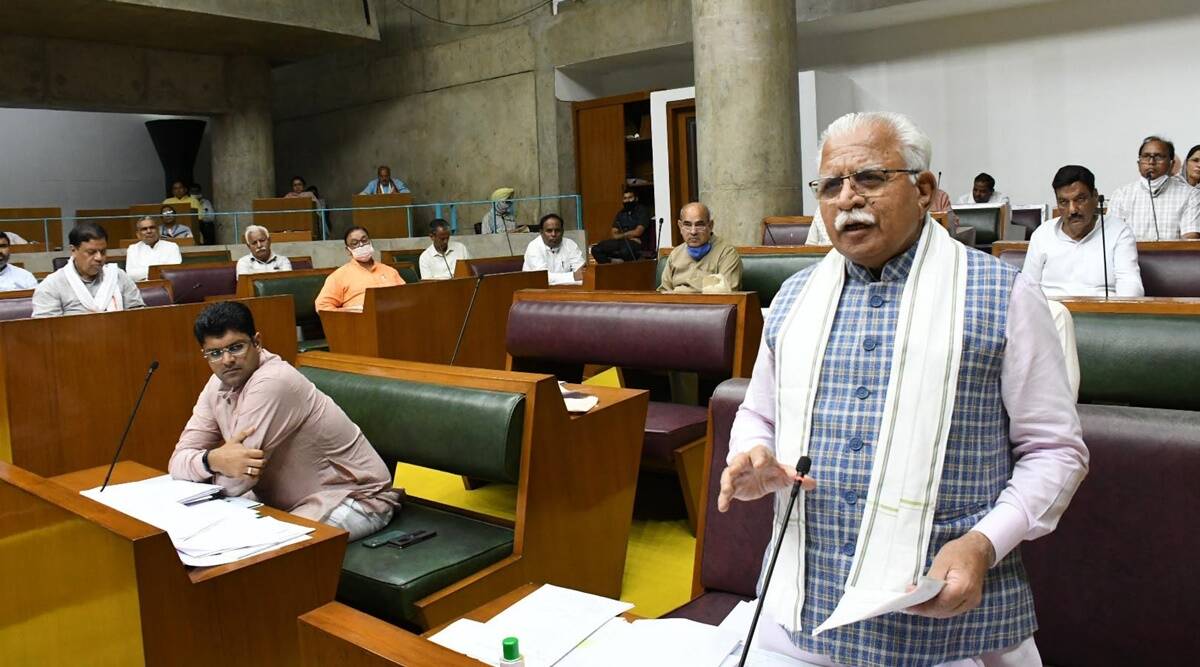 The Manohar Lal Khattar led Haryana cabinet has approved the Haryana Prevention of Unlawful Conversion of Religious Bill, 2022 which will be tabled in the Assembly's budget sessions beginning March 2. The Bill is likely to be passed by majority since the BJP-JJP coalition has a majority in the Vidhan Sabha.
In December, Karnataka government had passed an anti-conversion law thus becoming the 5th BJP ruled state to pass one. In March, Haryana will likely become the 6th such state to pass a stringent law against religious conversions on basis of a false and flimsy narrative of "love jihad" which most BJP-ruled states believe is an allurement tactic used by minority religions to lure Hindu girls by way of marriage to convert them to their religion.
The BJP-JJP led Haryana government had been mulling over an anti-conversion law since 2020. In August 2021, Chief Minister Manohar Lal Khattar had addressed a press conference declaring that the final draft of the "forced religious conversions" bill will be finalized soon.
"Law is enacted to create a deterrent for people when they start doing something wrong. Such incidents [of 'love jihad'] have started taking place in a few places of Haryana," he had said.
The said Bill is proposed to seek to prohibit religious conversions which are effected through misrepresentation, force, undue influence, coercion, allurement or by any fraudulent means or by marriage or for marriage by making it an offence. The proposed law recognises that the right to freedom of religion is guaranteed under Articles 255, 26, 27 and 28 of the Constitution of India.
However, it states that "the individual right to freedom of conscience and religion cannot be extended to construe a collective right to proselytize; for the right to religious freedom belongs equally to the person converting and the individual sought to be converted."
The state's rationale behind the bill is, "In recent past several instances came to the notice that with an agenda to increase strength of their own religion by getting people from other religions converted, people marry persons of other religion by either misrepresentation or concealment of their own religion and after getting married they force such other person to convert to their own religion."
Under the proposed law, the burden of proof as to whether a conversion was not affected through misrepresentation, use of force, under threat, undue influence, coercion, allurement or by any fraudulent means or by marriage or for marriage for the purpose of carrying out conversion lies on the accused. The bill also seeks to declare those marriages null and void, solemnized by concealment of religion.
Addressing the Press, CM Khattar said:
प्रदेश में गैर कानूनी तरीके से या जबरन धर्मांतरण पर रोक लगाने के लिए आज 'गैरकानूनी धर्मांतरण निषेध बिल-2022' को मंजूरी दे दी गई है। pic.twitter.com/Lef3D7cugI

— Manohar Lal (@mlkhattar) February 8, 2022
The Karnataka law
When the Karnataka Right to Freedom of Religion Bill, was set to be passed by the State Assembly hundreds of citizens, joined activists from around 40 socio-political organisations and marched to protest. Speaking at the protest, advocate and constitutional law expert Arvind Narrain said that the Supreme Court has recognised that individuals have the freedom to dress the way they want, eat what they want and practise the faith they want. The bill by seeking to target conversions interferes with both the human right to dignity and the freedom to practise the faith of their choice.
"The bill is anti-Christian, anti-Muslim, anti-Buddhist," said Ruth Manorama of Women's Voice as she highlighted her own Dalit Christian identity and said that as an activist with 40 years of experience working with slum residents, Dalits and women and the capacity to mobilise lakhs of people, she had not converted even one individual.
Prevailing laws challenged
Citizens for Justice and Peace (CJP) originally challenged the constitutional validity of the Uttarakhand Freedom of Religion Act, 2018 and the passing of the Uttar Pradesh Prohibition of Unlawful Conversion of Religion Ordinance, 2020. The plea was then amended to include similar laws passed by Himachal Pradesh and Madhya Pradesh as well, which was allowed by the top court.
The laws have been challenged stating that Indian citizens enjoy the Right to Privacy as a fundamental right but the Acts and the Ordinances are unconstitutional as they attempt to control the life of the residents of Uttarakhand, Uttar Pradesh, Himachal Pradesh, and Madhya Pradesh, and to not allow them to take charge of the significant decisions in their life.
The petition has also said, "Love Jihad has played over the years to divide the country with no official numbers or evidence of forced conversions and that the fears of rising 'love jihad' cases have been "baseless" from the very start. Even though the rhetoric of Love Jihad has been sold off quite often in India, especially starting from Kerala and Karnataka, the Government had admitted that the term 'Love Jihad' is not defined under the extant laws and no such case of 'Love Jihad' has been reported by any of the central agencies."
Related:
K J George pinpoints major flaws in anti-conversion Bill
Hundreds march in protest: Karnataka anti-conversion law
Karnataka becomes fifth BJP-ruled state to introduce Anti-Conversion Bill