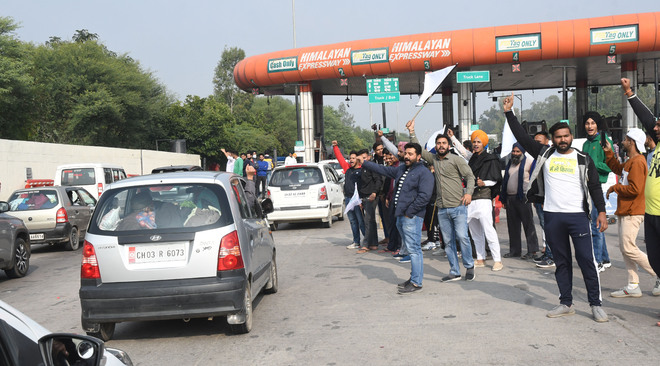 Haryana toll plaza workers agreed to keep state tolls open from December 25, 2020 to December 27, 2020 to express solidarity with farmers, Bharatiya Kisan Union (BKU) State President Ratan Mann told SabrangIndia on December 26.
Mann said that workers agreed to support farmers after observing the continued farmers' struggle in and around Delhi against the Farmers (Empowerment and Protection) Agreement on Price Assurance & Farm Services Act, the Farmer's Produce Trade and Commerce (Promotion and Facilitation) Act, the Essential Commodities (Amendment) Act and the Electricity Bill 2020.
"Farmers are observing dharnas at the side of the road for all three days that the tolls are kept open. They have not faced any problem from the police either. Every group at every point is observing a peaceful protest," he said.
He estimated around 100 to 200 protesters at every toll plaza although in certain places, the number may go up to 500 people.
According to The Tribune, farmers took over the Bastara toll plaza on national highway-44 (NH-44) and Peont toll plaza on Karnal-Jind national highway-709A (NH-709A) on December 25. Similarly, the Shambhu toll plaza and the Chaudhary toll plaza on Hisar-Rajgarh highway were kept open as well.
The report also said that BKU (Charuni) Chief Gurnam Singh Charuni rejected Haryana Deputy Chief Minister Dushyant Chautala's offer to mediate between the Centre and protesting farmers questioning where he was when farmers were facing FIRs.
Farmers, led by BKU District President Kuldeep Balana, reached the Dahar toll plaza on the Panipat-Rohtak highway on Friday to stage a protest. Following that, activists headed towards the Panipat toll plaza on NH 44 and staged a protest.
Related:
Farmer leaders call for Dec 26 as 'Dhikkar Diwas' & a corporate boycott
Jantar Mantar: Farmers' movement has reunited people of Haryana and Punjab
Boycott Ambani-Adani products, 'Thali Bajao' on December 27 during PM Modi's Mann Ki Baat.
Rajasthan julloos at par with Delhi protests! Farmers observe relay fast
Karnataka farmers stand steadfastly with protesting Delhi farmers, will reach Delhi border on Dec 25
Rural and urban Maharashtra all witness the strength of the farmers' movement