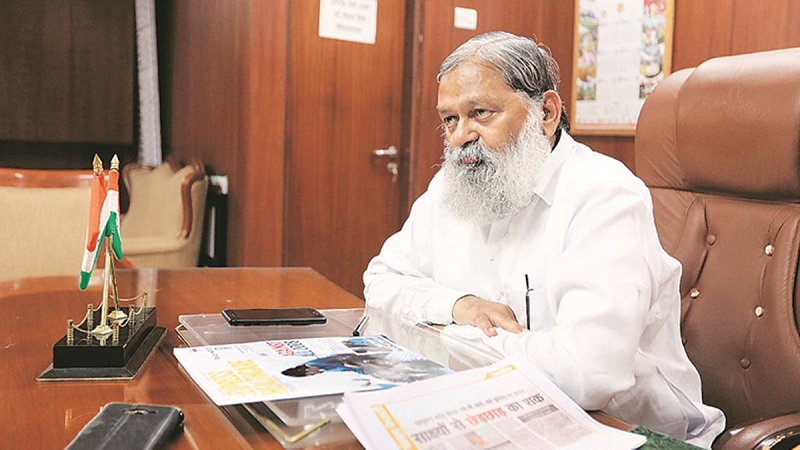 Image Courtesy:indianexpress.com
Acting upon its intention to pass a law against 'love jihad', the Haryana government has taken some concrete steps towards it. Anil Vij, the state's Home Minister stated that a committee will be constituted to draft the law.
On November 1, Anil Vij, the Home Minister had posted a tweet that stated "A law against love jihad is being considered in Haryana". He had stated that this 'love jihad' was a disease that needed a cure. "This love jihad…it is necessary to cure it, so we can save young girls," he was quoted by The Indian Express.
This quickened move to start the process of passing the law comes at the heels of an unfortunate incident that took place in Ballabhgarh, Faridabad in Haryana whereby a 21-year-old girl was shot dead by a former classmate outside her college, and the clips of the act caught on CCTV. As the assailant turned out to be Muslim, the narrative was steered from security in the state to the whimsical love jihad.
"The state government is considering bringing a legislation to deal with cases pertaining to love jihad. Attempts are being made by unscrupulous elements to force people to convert their religion through love jihad. In Faridabad's Nikita murder case too, the victim's family have alleged that Nikita was being forced to change her religion. So, we need to think about it," Vij had said.
On November 18, Vij held a meeting with Additional Chief Secretary (Home) Rajeev Arora, Haryana's DGP Manoj Yadava, ADGP (CID) Alok Mittal, ADGP (Law and Order) Navdeep Singh Virk and a few other senior officers to discuss the modalities for enacting such a law in the state, reported Indian Express. This was the first meeting and a subsequent meeting with the Chief Minister Manohar Lal Khattar is expected soon.
"With the enactment of this law, strict action will be taken against any person who is found indulging in religious conversion by pressuring, tempting someone or is involved in any kind of conspiracy or trying to do so in the name of love. Haryana will also study the laws made by other states on the same subject," Vij said, adding that the "officers of home department and Advocate General besides various other officers concerned with the subject shall be part of the committee that will be constituted soon", reported IE.
Haryana falls in line with another BJP ruled state, Madhya Pradesh, which is also in the process of drafting a law against 'love jihad'. Interestingly, 'love jihad' does not include all inter-faith marriages, but specifically, when the man is a Muslim, and intends to marry a Hindu woman. If a Hindu man and a Muslim woman want to marry, not much is said by way of 'love jihad'.
The forced conversion angle behind love jihad, interestingly, has never been proved in the courts of law. As such it will be interesting to see how these laws will define the term love jihad or forced conversion. Certainly, the offence will have a vague meaning attributed to it, leaving it to the discretion of the law enforcement personnel, giving them unbridled powers to arrest "perpetrators".
Another law to strengthen the police raj in BJP ruled states spells trouble for the weaker sections and the minority communities in these states and the radical ideologies getting legal sanction means innocent people being incarcerated as under trials in prison until they are acquitted after many years in a court of law, for lack of proof or unsubstantiated allegations.
Related:
Haryana-Uttar Pradesh politicians unite against interfaith couples
Madhya Pradesh may table anti 'Love jihad' bill in State Assembly soon!
Will they call it 'love jihad' when a Muslim girl is killed?
Girls and young women continue to get hunted in UP, Rajasthan