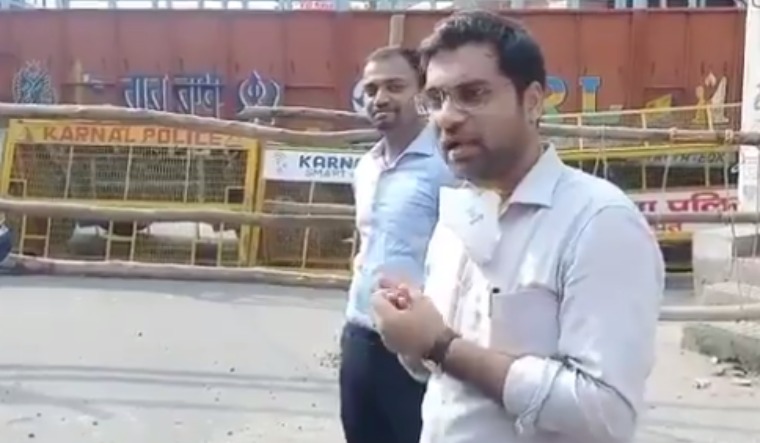 Amidst widespread farmer protests, the Haryana government transferred IAS officer Ayush Sinha from his post as Karnal Sub-Divisional Magistrate (SDM) on September 1. He will now assume charge as Additional Secretary in the District Citizen Resource Information Department (CRID). The move came three days after the Karnal lathi-charge on farmers that led to the death of a protester.
On August 28, Sinha in his power as an SDM allegedly called for a brutal lathi-charging on farmers who had assembled at the Bastara toll plaza, allegedly directing his men to "break heads" of protesters. The violence sparked the ire of farmers and civil society organisations alike, who observed demonstrations throughout India. Farmers demanded the immediate dismissal of Sinha. However, the administration just transferred Sinha along with 19 other state officers.
However, farmer organisation Samyukta Kisan Morcha's (SKM) legal cell pointed out that instead of a punitive demotion, the transfer acts more like a promotion, a reward of sorts. Earlier, Khattar also defended the lathi-charge stating that law and order must be maintained.
Meanwhile, Deputy Chief Minister Dushyant Chautala had promised strict action against Sinha. Farmers have already demanded that the former SDM be charged for the murder of farmer Sushil Kajal, whom the police didn't even allow to enter the hospital, said his mother.
Support for farmers' demand
On Wednesday, Mumbai activists and journalists gathered outside Churchgate station to denounce the violence against Karnal farmers. Over 15 organisations spontaneously started the protest to voice their anger against the bloody lathi charge.
SabrangIndia Co-Founder and Editor Teesta Setalvad, activist and NCP leader Vidyatai Chavan, CPI-M member Shailendra Kamble, independent journalist Geeta Seshu, feminist Hasina Khan, among others, participated in the peaceful protest carrying banners. Rigorous slogans were raised by young activists Suditi and others.
Members protested for over an hour, demanding: strict action against Sinha, Khattar's resignation, repeal of anti-farmer laws and legal and statutory guarantee for MSP. Overall, people condemned the anti-people policies of the BJP regime.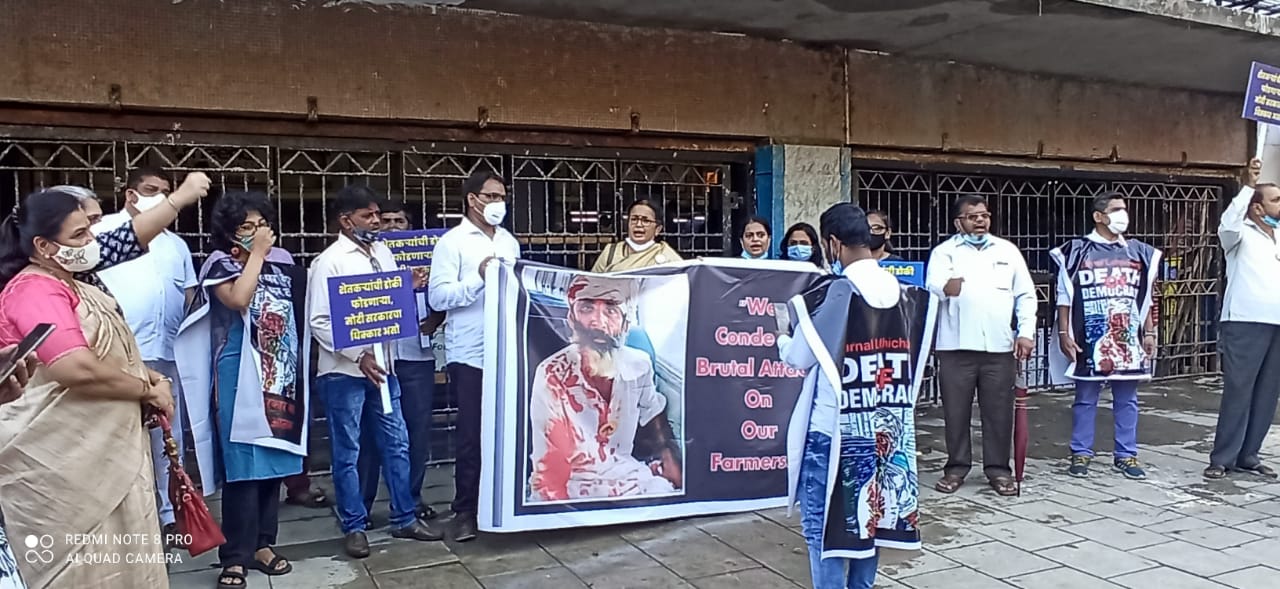 Related:
AIKS demands thorough judicial inquiry into farmer Sushil Kajal's death
What does the Law say about Lathi Charge?
SKM decries CM Khattar's defence of Karnal lathicharge
Farmers call Karnal lathicharge "Death of democracy!"
Haryana: Karnal SDM orders brutal lathi-charge on protesting farmers