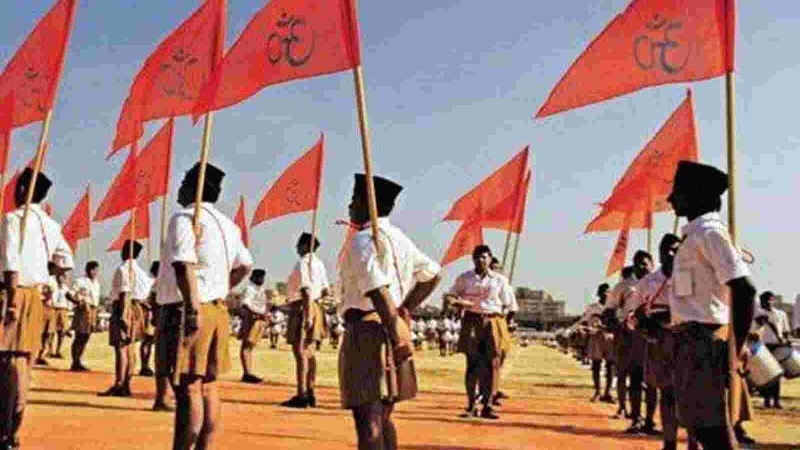 Image Courtesy:english.madhyamam.com
The Haryana government has now lifted a decades-old order that banned the state's government employees from taking part in any Rashtriya Swayamsevak Sangh (RSS) activities. The state's Chief Minister Manohar Lal Khattar, is a proud veteran RSS pracharak. His government has withdrawn the orders, issued in 1967 and 1980, which restricted government employees from participating in the activities of Rashtriya Swayamsevak Sangh (RSS).
According to media reports, the ban was lifted on Monday and the order issued stated: "With the coming into effect of the Haryana Civil Services (Government Employees' Conduct) Rules, 2016, government instructions…dated 2.4.1980 and…dated 11.1.1967 are hereby withdrawn with immediate effect as they are no longer relevant." This order was issued by the state's general administration department.
The order that prompted strong political reactions, also allowed Haryana government employees to join Jamaat-e-Islami (JeI). According to the Indian Express, Chief Secretary Vijai Vardhan issued the instructions that "the earlier issued letters in 1967, 1970 and 1980 are hereby withdrawn with immediate effect as they are no longer relevant".
Media reports recalled that in January 1967, the political and services branch of, the then chief secretary's office had stated that the government "held the activities of organisations such as the RSS and the Jamaat-e-Islami to be of such a nature that participation in them by the government employees would attract disciplinary action under service rules." Haryana government had then issued an instruction "that participation in RSS activities by government employees would invite action under the service rules." Then in April 1980, instructions were issued by the then general administration department of Haryana's chief secretary's office restraining "state government employees from any association with RSS activities. The two orders are now dust.
अब हरियाणा के कर्मचारीयों को "संघ" की शाखाओं में भाग लेने की छूट ।

सरकार चला रहे हैं या भाजपा-RSS की पाठशाला! pic.twitter.com/2SNpHXj0wR

— Randeep Singh Surjewala (@rssurjewala) October 11, 2021
Will Haryana be the next Hindutva hotbed?
The wider implications of this new order, which blurs the lines of professional conduct and socio-political affiliations, even if RSS claims it is not a political body. Recently Haryana has had a spate of communal incidents, often it is the Muslim community that has been harrased or threatend for various reasons. Vigilante groups have also voiced anti-Muslim sentiments at various Mahapanchayats or community meetings held across the state. Many of these have given calls for violence against the minority communities, and offer stages from which known communal faces make hate speeches.
An example was a call for violence given by the man better known as the 'Jamia shooter'. Well known rabble rouser Suraj Pal Amu of Karni Sena, now a Bharatiya Janata Party (BJP) spokesman in Haryana is famous for asking Haryana residents to ensure that "no Taimur, Aurangzeb, Babur and Humayun are born" and "we will not give houses here on rent to the Pakistanis… Remove them from this country…"
Then there are public communal acts such as once by a group of people, identified as residents of Gurugram, objecting to namaz being allowed in an open public space have become frequent. They alleged that "namaz" in the approved open plots spoils law and order, when the police try to inverne and diffuse the tension. They start chanting "Bharat Mata ki jai" which has unfortunately been turned into an aggressive war cry by right-wing groups.
As recently as October 13, according to social media alerts hundreds of members of the Hindutva groups Durga Vahini gathered in Haryana's Indri area, where calls to purportedly unleash communal violence were being broadcast. In the audience were young children.
On 13th October, hundreds of members of the Durga Vahini and children as young as 5 gathered in Haryana's Indri for "Shastra Poojan". Listen to the chilling message being delivered to these small children. They're exhorting children to committ targetted kilIi'ngs of the "enemy." pic.twitter.com/5UVZZXZyMv

— Alishan Jafri (@alishan_jafri) October 13, 2021
This is illegal assembly of people with weapons in the name of "Shastra-Poojan". Video is from Bajrang Dal, Jind. To fight against what and whom are they picking up weapons?@police_haryana, please take action. pic.twitter.com/bsXRy1ZHVP

— Kaushik Raj (@kaushikrj6) October 11, 2021
This is crucial to note, because such permissions, and complaints against such permissions both land up at the government offices, which may now have RSS members on the job.
Related
Hate Watch: Vigilante groups misuse Navratri as an excuse to spread communal unrest
No Garba for non-Hindus: Right-wing in MP
The bizarre colour codes of Union Bank Of India
Hate Watch: Gurgaon's communal side; residents oppose Friday namaz
Delhi: After defacing Akbar Road signboard, goons flee at the sight of cops