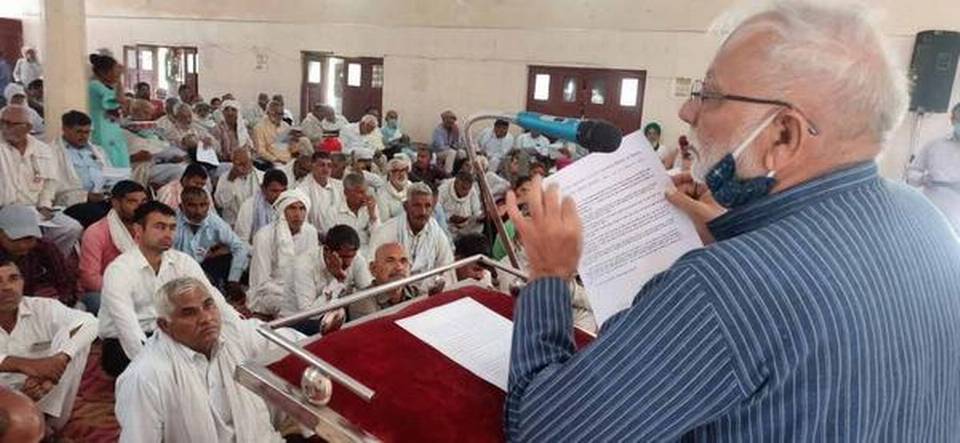 Samyukt Kisan Morcha | Image: The Hindu

Haryana's peasants and activists held a demonstration against the state government's newly enacted "property damage law" at the local Rewari bypass on April 8, 2021. Protesters called the law "an attempt to assassinate democracy that will not succeed."
Farmer organisations associated with the Samyukta Kisan Morcha (SKM), All India Kisan Khet Mazdoor Sangathan (AIKKMS) members and All India Democratic Youth Organization (AIDYO) activists participated in the event and burned copies of the law. Similar protests occurred in Matanahal, Dujana, Achhej and other areas to demand the cancellation of this law.
"This law was introduced with the objective of crushing the ongoing historical farmers movement. The government wants that no one should raise their voice against the government, no matter how much anti-people work is done by the government," said SKM leaders in a press release.
The Recovery of Damages to Property during Disturbance to Public Act, 2021 provides for property damage recovery caused by persons during disturbances to public order by an assembly, lawful or unlawful, including riots and violent disorder. The law is reminiscent of the Uttar Pradesh laws passed after anti-Citizenship Amendment Act protests.
Meanwhile, Haryana's youth farmer leader Ravi Azad received bail on Thursday. Farmer leader Darshan Pal said it has become a trend of the state government to arrest those, who talk about farmer and labour rights. "But with the rising power of the people, the government has to release them from jail. We warn the Haryana government that such behaviour should be stopped immediately," he said.
Protesters at Delhi borders have also begun preparations for the KMP highway 24-hour road blockade on April 10. The SKM emphasised that citizens will not be disturbed or harmed. At the same time, it urged common citizens to cooperate in this program in honour of farmers and to pressure the government to listen to farmers' demands.
Related:
Farmers burn farm law copies during Holika Dahan!
Haryana passes recovery of damages to property bill, amidst slogans, by a voice vote
Haryana gov't trying to trap farmers in false cases: SKM
Is UP's new Ordinance on recovery of damages an example of abuse of power?