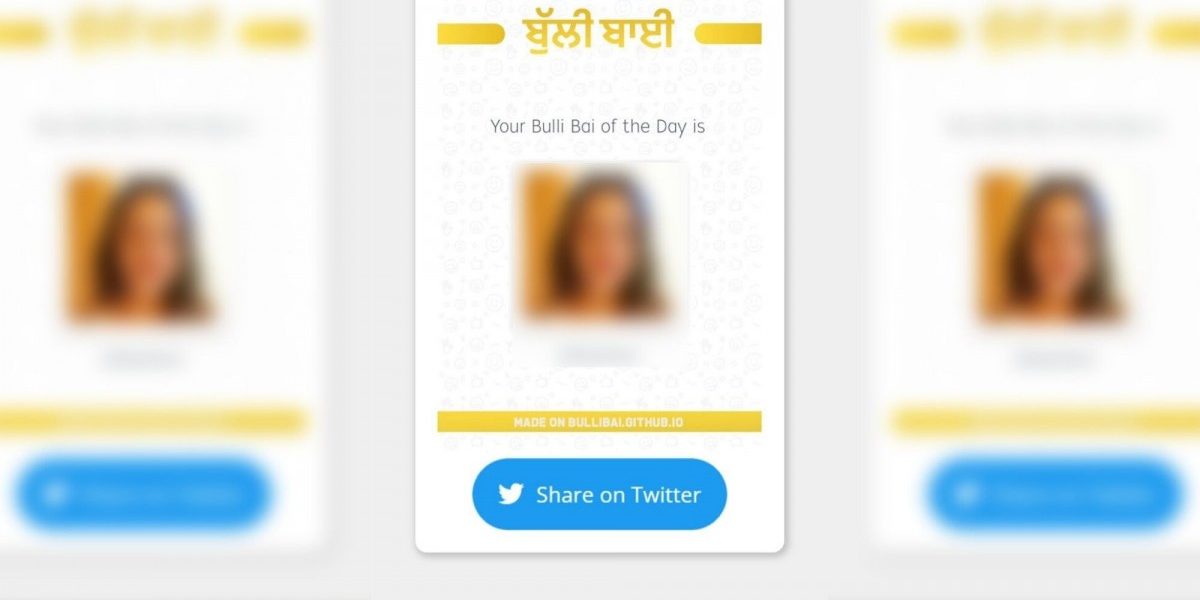 Another sickening incident has had its genesis on social media after the last instance where Muslim women were brazenly "auctioned" by using profile pictures from social media accounts, this time as well a website hosted doctored, "lewd" pictures and objectionable comments "aimed at insulting Muslim women".
Doctored photos of at least 100 Muslim women, along with lewd remarks and comments, were posted online this week. GitHub, a Microsoft-owned open software development site, subsequently removed the content, but many Twitter users tagged the women and posted screenshots of the webpage, reported IE. These women include prominent actress Shabana Azmi, wife of a sitting judge of Delhi High Court, Fatima Nafees, 65-year-old mother of disappeared student Najeeb Ahmed, multiple journalists including Ismat Ara of The Wire, activists and politicians.
In July 2021, nearly 80 Muslim women were targeted and put up "for sale" on "Sulli Deals" and this time it is over 100 Muslim women who have been targeted on "Bulli Bai". The app's interface used Punjabi language or the Gurmukhi writing script in the app. Both Bulli and Sulli are derogatory words used for Muslim women. In both cases, there was no real sale of any kind – the purpose is to degrade and humiliate Muslim women by sharing their personal images.
One Twitter User, Nabiya Khan, who was targeted the last time in the Sulli Deals incident responded to Delhi Police that they are taking action, that she was not even provided a copy of the FIR she had lodged on July 12
"All lies @Delhi Police! You have never provided me a copy of (the)FIR registered on my complaint dt 12/07/21 against the violation of my dignity and crimes committed against me re. Sulli Deals (sic). I am still waiting for it. It's been 5 months already. What action will you take this time?," she tweeted.
All lies @DelhiPolice! you have never provided me a copy of FIR registered on my complaint dt 12/07/21 against the violation of my dignity and crimes committed against me re. Sulli Deals. I am still waiting for it. It's been 5 months already. What action will you take this time? https://t.co/I8LZP4XzCa

— Nabiya Khan | نبیہ خان (@NabiyaKhan11) January 1, 2022
Cognizance
The Minister for Electronics and Information Technology, Ashwini Vaishnaw, quick to take action I this regard, had tweeted on Sunday that GitHub, the coding platform on which the said app was hosted, had blocked the user, and Cert-In and police were "co-coordinating further action".
Govt. of India is working with police organisations in Delhi and Mumbai on this matter. https://t.co/EOLUb0FlQe

— Ashwini Vaishnaw (@AshwiniVaishnaw) January 2, 2022
There are also separate FIRs that have been registered in Delhi as well as Mumbai and the latter has already booked certain Twitter handles that disseminated the content on charges of stalking, defamation, promoting enmity, and posting lewd comments, reported Indian Express.
Even the National Commission for Women (NCW) has written to Delhi Police Commissioner Rakesh Asthana seeking expeditious investigation and action int his matter.
@NCWIndia has taken cognizance of this incident. Chairperson @sharmarekha has written to @CPDelhi to immediately register FIR in the matter. The process must be expedited so that such crime is not repeated. https://t.co/ph83jpIHKi

— NCW (@NCWIndia) January 2, 2022
"The action taken in both the cases must be apprised to the Commission at the earliest. A copy of the letter has also been sent to Dy Commissioner of Police CyPAD, Delhi," NCW has said on Twitter.
So far Twitter has suspended only one account that had been sharing links to the app hosted on GitHub, as per IE.
Even the Delhi Commission for Women (DCW) wrote to Delhi Police seeking details of the accused in this case and the progress of the investigation in the July incident of 'Sulli Deals'
पहले सुल्ली डील हुआ अब बुल्ली बाई! दोनो में मुस्लिम लड़कियों की ऑनलाइन बोली लगायी गयी।दिल्ली पुलिस अगर सुल्ली डील के दोषियों को अरेस्ट करके कड़ी सज़ा दिलाती तो आज बुल्ली बाई नही होता।

मैंने साइबर सेल को कमीशन में पेश होके बताने को कहा है कि दोनो केस में कितने लोग अरेस्ट हुए! pic.twitter.com/8tOxI3G2ZR

— Swati Maliwal (@SwatiJaiHind) January 3, 2022
Maharashtra Minister of State for Home (Urban) Satej Patil wrote on Twitter, "Digital platforms like these are rife with misogyny and communal hatred aimed at women. This is very disturbing and shameful. Maharashtra Govt. is taking strong actions against such platforms. I have instructed @MahaCyber1 for the same & they are on it."
The targets
An FIR has also been lodged by activist Khalida Parveen in Hyderabad as she was also targeted on the said website hosted on gitHub
Registered a FIR today against #BulliBai and #SulliDeals in hyd #CCS.Both @CPHydCity ji and #ACP Assured that they will investigate and try to find the culprits.
Thank you sir @hydcitypolice @SQMasood @syedmohammedd @zoo_bear @darab_farooqui @Human4Justice @ZakirAliTyagi pic.twitter.com/KMX2AKIjcS

— Khalida Parveen (@kparveen2005) January 3, 2022
Parveen insisted that Bulli Bai targeted women who have vociferously criticised the Bharatiya Janata Party (BJP) government at the Centre. Among those targeted are women who have criticised the Haridwar conclave where Hindu 'godmen' reportedly called for violence against Muslims in the country, she told The Quint. "Bulli Bai appeared soon after several Muslim women, men and other activists spearheaded an online campaign against Narsinghanand. The app was meant to divert attention from this campaign," she added.
A student of Jamia Milia Islamia has also been targeted, as she posted a screenshot of the same on Twitter
After #SulliDeals, the next one has come up – #Bullibai.This one has also been made via the GitHub platform.The policemen who took no action on the complaints filed against Sulli Deals too are perpetrators of this ongoing hate crime. pic.twitter.com/Xax9OCq1br

— ️Ladeeda Farzana (@ladeed
On January 1, Quratulain Rehbar, a journalist from the Kashmir Valley, woke up to see herself listed for an "online auction". Her photograph was sourced without her permission and uploaded on an app for "sale", reported Al Jazeera.
Ismat Ara also lodged an FIR in Delhi
UPDATE: An FIR has been registered by Cyber Police (South East Delhi) on the basis of my complaint with IPC sections 153A (Promoting enmity on grounds of religion etc), 153B (Imputations prejudicial to national-integration), 354A & 509 for sexual harassment. #BulliDeals pic.twitter.com/dJ1mspyiGI

— Ismat Ara (@IsmatAraa) January 2, 2022
Another Twitter user, Sidrah filed an FIR in Mumbai
Registered my complaint at the @MahaCyber1 BKC branch. I have faith that the perpetrators will be bought to justice and that this shameful act will not go unpunished. I can not thank the Maharashtra Vikas Aghadi govt and @MumbaiPolice @MahaCyber1 for their constant support.

— Sidrah | سِدرَة (@SidrahDP) January 2, 2022
Fatima Zohra Khan, a lawyer based in Mumbai whose name figured in both the apps had also filed a ocmpaint with Mumbai Police in July 2021. "We got no response from Twitter, GitHub and Go-Daddy [web hosting company] despite Mumbai Police themselves requesting them to reveal data. These websites refuse to share information unless a court warrant is produced," she told Al Jazeera.
"Bulli Bai takes hate crimes in India to another dangerous level where Muslim women are being virtually violated and made a free-for-all for a bigoted mob," renowned journalist, Rana Ayyub, told Al Jazeera.
A 2018 Amnesty International report on online harassment in India showed that the more vocal a woman was, the more likely she was to be targeted – the scale of this increased for women from religious minorities and disadvantaged castes.
Online violence against women is essentially an extension of the offline violence directed at women owing to their gender – it targets their sexuality, reduces them to sexual objects and reinforces gender stereotypes. Online violence often leads to women being silenced or self-censoring of their opinions because of fear of backlash. Therefore, such violence and abuse act as barriers to women being able to exercise their rights to equality and freedom of expression," wrote Mariya Salim, a women's rights activist for The Wire.
Sulli Deals
When this kind of loathsome auction had taken place in July 2021, a similar outrage had emerged, however, this time the cognizance taken by authorities including the Union Ministry is to be taken note of. Cognizance is only the first step and unless the culprits are brought to book, such incidents will continue to occur.
Back then an anonymous Twitter handle that went by DesiSulliDeals was putting up picture(s) for auction. Another account by the name of Sullideals101 was also indulging in similar targeting. "These people are placing bids to own me and this handle claims that I have been sold to someone. He says 'enjoy brother'," Hasiba Amin a national coordinator for the Congress party, had told Article14 in July last year.
At that time, Citizens for Justice and Peace (CJP) had complained to Twitter against user accounts that promotes material that was not only pornographic but also glorified sexual violence against Muslim women. The accounts in question shared hundreds of pornographic videos of women in hijab every day, with inflammatory captions presenting Muslim women as objects, meant to be sexually exploited. Photoshopped pictures of Hindu men and pregnant women in saffron hijab were also widely shared by these accounts. In response, Twitter had suspended 21 such accounts
Noor Mahvish gets vocal
A law student, Mahvish, was targeted in the Sulli Deals incident and she had given a first person account to CJP on "Being a Muslim woman in India: A story" whereby she narrated, "When I first saw my picture on Sulli deals, I was completely at a loss for words. It took me three days to come forward and even file a complaint at the police station because my hopes (for justice) were too low. Not a single main-stream media outlet is ready to highlight the issue about this auction of Muslim women consistently because it is not a matter of wider concern."
"Shocked to see that Muslim women are being "auctioned" by this Sulli Deal App, I checked out the app myself and was shocked to find a few of my social media friends also derogatorily portrayed there. It was on July 5, 2021, a day later, that I got to know that I, too, am listed in the app as a "Sulli Deal". Sulli is a derogatory term which is used against women and on Sulli Deal, Muslim women were portrayed as "loose" and "available" women, much like a piece of chocolate or a material object which is being auctioned by the host. Clearly, people were actually enjoying this," she said.
"I was completely shocked to find myself on the list. I have faced Islamophobia in my school days. I was a hijabia (woman wearing the hijab) from a very early age because I love wearing it. I come from a town near Allahabad city and have experienced targeted humiliation: a few bikers coming by shouting slogans like "Pakistan bhej denge" (will send you to Pakistan). I actually wanted to become a doctor, but this incident impacted my life so deeply that I changed direction completely and took up the challenge to uplift and fight for community rights, and equality, and non-discrimination, against the fascist regime.," she added.
Internet: Not a safe place for Muslim women
On May 13, 2021 a livestream began on a YouTube channel called "Liberal Doge", which has 87,000 subscribers. The owner of the channel posted photographs of Pakistani women, saved without permission from their social media accounts. The channel's audience then "rated" the women, "auctioned" them off to each other, and posted sexually charged comments on their looks and clothes, reported News Laundry. Reportedly, the man behind the livestream was Ritesh Jha, a 23-year-old resident of DLF Phase 2 in Gurugram who is originally from Bihar who runs several social media accounts under the names "Liberal Doge" as well as "Secular Doge".
However, no action was taken against Jha and few days after his horrendous act on Youtube, the Sulli Deals was gradually uncovered. Given that this was on similar lines to what Jha was doling to Pakistani women, he should have been acted against to possibly draw a link, however no such action was taken.
Nabiya Khan tweeted about her ordeal after having been targeted the second time in such an act, "I have been trying to gather some strength to write something about #BulliDeals. Just when I thought I had left the trauma of #SulliDeals behind me, it came to haunt us(me along with more than 112 Muslims Women) again with an updated version, as a new year present. This is how we are greeted and treated in India on the first day of the new year, while other people in my country have fun, joke and party. Yes everyone's got the right to have fun and party, but nobody deserves to be attacked, humiliated, bought and sold."
"We will take the fight to its end even if it takes generations. Not fighting is not an option we have. To all my fellow muslim women whose name is on the list, it's okay to feel vulnerable and weak," she added.
It remains to be seen how seriously will this brazen incident be taken by the police authorities and the political class alike, to bring the perpetrators to book and bring justice to the Muslim owmen who have been repeatedly targeted and humiliated by such heinous acts.
Related:
Being a Muslim woman in India: A story
I'm a vocal Indian Muslim woman, not an object to be auctioned
CJP approaches Twitter over sexually violent content against Muslim women