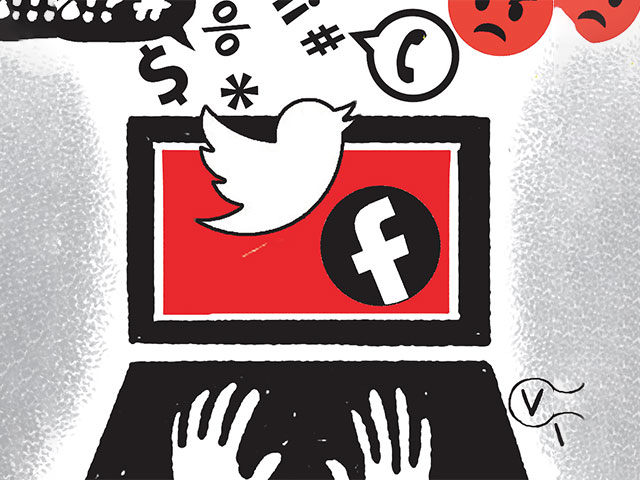 Recently a report by Wall Street Journal exposed how Facebook is allegedly going easy on hate speech by leaders and supporters of the Bharatiya Janata Party (BJP), India's ruling party at the center. This prompted the Indian National Congress (INC) to write to Facebook founder Mark Zuckerberg pointing out the social media giant's alleged bias driven purportedly by business interests in the country. Later a FIR was filed against Anki Das, Facebook's Policy Chief in India.
Hate speech, malicious, vicious, fallacious, incendiary, derogatory; these problematic terms are not new to Indians as we are good at finding absolute freedom in social media virtual spaces. When it comes to religious freedom, we find social media as a platform to eagerly share our thoughts which may or may not hurt others' spiritual view point.
On August 11 amid a fresh Coronavirus spike a riot broke out in Karnataka's IT hub of Bengaluru. Violence erupted following a derogatory post about Prophet Mohammed's family on social media. The controversial Facebook post was made by P. Naveen, the nephew of Congress MLA of Pulakeshi Nagar, Akhanda Srinivas Murthy. This connection between the alleged offender and a political party helped add further fuel to the communal fire.
It can't be undone as three people were killed and over 100 injured in the violence. Around 60 police personnel were also injured while trying to get the situation under control even as a mob pelted stones at a police station and the MLA's residence.
Supporters of Naveen and his controversial post claim that the attack on Prophet Mohammed was in a response to a Muslim man named Adyar Basheer. His post that wrongfully depicted a Hindu goddess with Narendra Modi and later on Lord Krishna allegedly triggered emotions of Hindus who then went on to use social media as a counter attack weapon.
A day later, Alt News published an article that crosscheck the reality behind Basheer's post and Naveen's comment as response. Alt News claims that Basheer's post was two years old, he made the post on June 16, 2018, and found out that Basheer got arrested at that time and later released.
From the circulating post in Basheer's name, it is clear that the photo is cropped to hide the date and year of publishing the post in Facebook. So, it is an old Facebook post which was subsequently deleted.
Is Facebook allowing the spread of communal hate in India?
Hate posts on Facebook are not new. For example, the Facebook account of Naveen is full of Islamophobic content and even has hateful comments about other religions. Now we know that hate spreads when the content is shared by other users. So, the questions we need to ask are: why can't Facebook remove all such content before it provokes communal hatred through sharing? Why can't Facebook implement awareness programs on community standards? Can Facebook add measures to help users distinguish between free speech and hate speech?
Did Facebook fuel anti-Rohingya and anti-Muslim riots in Srilanka?
In February-March 2018 and later in May 2019, anti-Muslim violence broke out in Sri Lanka. Facebook was allegedly used to spread hate speech and even incite violence against Rohingya Muslims. Fake news and false claims were allegedly circulated through Facebook, including the rumour that Rohingyas planned to attack Buddhists. A malicious video titled "A Muslim restaurateur admitting of mixing sterilization pills in to the food of Sihala Buddhists" went viral and rioters used social media giant as a platform to mobilise more people to perpetuate violence. Though Facebook apologised for its role in anti- Muslim riots in Srilanka, it has still not been completely successful in taking down the virulent content that fueled the attacks.
Sacrosanct but bleak 'Community Standards'
Facebook has its own community standards that protect public safety, human rights and technology. Facebook claims to offer a place for expression and thereby giving people a space to raise their voice. According to its Community Standards, Facebook considers the public interest value against the risk of harm. It specially mentions that expressions that threaten people are not permitted that if it will remove language that incites serious violence. If there is any physical harm or indirect threat to public safety, the social media giant claims it will remove the content and work with law enforcement. But management of the fine balance between free speech and hateful or inflammatory speech requires a greater understanding of India's diversity, the religious sentiments of people of different faiths and the country's questionable track record when it comes to communal violence.
Digital literacy and Facebook's algorithm
Digital literacy is not just about a person's ability in finding, composing and evaluating information in digital media platforms. Accuracy and trustworthiness are two main pillars of digital literacy. It is clear Facebook is being misused by vested interests for furthering nefarious communal and / or political agendas.
At the same time, Facebook's algorithm sets the limit for users by drawing a 'Lakshman Rekha' in user's privacy. The algorithm decides what posts users see. Does the algorithm then have the power to control and put a check on spreading hate? Why can't the algorithm work to prevent the spread of misleading information and fake news?
One cannot deny that Facebook wields a huge influence over society. Perhaps it's time Facebook leveraged this power to bring harmony by helping cultivate an appreciation for diversity rather than empowering vested interests in spreading hate and violence.
Related:
Denounce anti-Muslim bigotry: Facebook employees
What is the BJP's latest status update on Facebook?
Facebook protects hate speech by 'regime favourites' of ruling BJP?