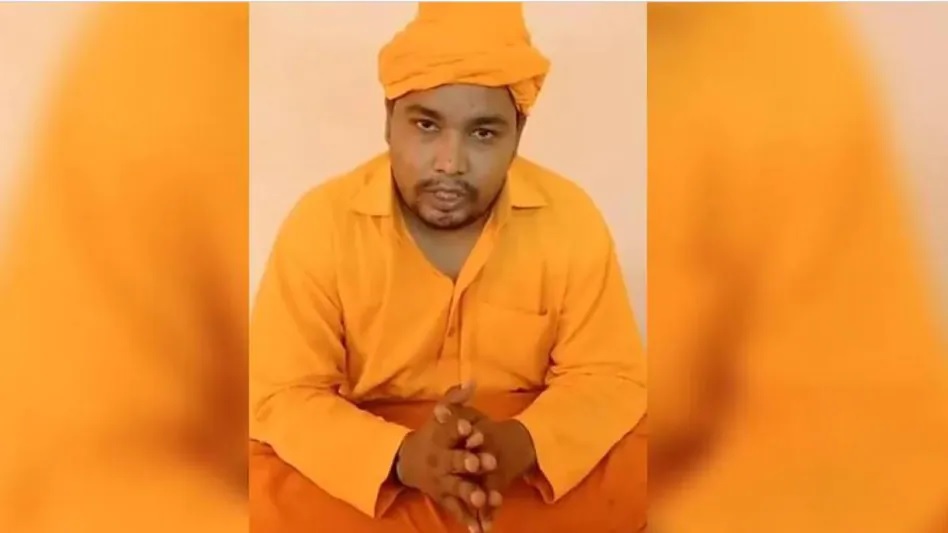 Bajrang Muni Das, the 'Mahant', 'Hindutva' leader and the head of Maharshi Shri Lakshman Das Udasin Ashram in Khairabad, UP was arrested by the police on April 13, 2022 from Sitapur, 100 km from state capital Lucknow.
In a 2-minute viral video on Twitter, Das was seen openly threatening Muslim women on April 2, 2022, with sexual assault while addressing supporters from his vehicle parked outside a mosque in Sitapur. Das's audience comprised people who were part of a procession on the occasion of Hindu New Year. Much like many such processions being taken out recently, they made it a point to halt outside a mosque. This is where Das spoke into a microphone connected to loudspeaker and said, "If you tease a single [Hindu] girl, I will abduct your daughters and daughters-in-law from your house, and rape them in public." The vile rape threat was filmed on video and went viral online shortly thereafter.
Taking cognizance of the offence and seeking arrest of the accused, National Commission for Women (NCW) reportedly stated, "The NCW has come across a Twitter post enclosing video of a priest Bajrang Muni threatening to kidnap and rape Muslim women while addressing a gathering in Sitapur district of Uttar Pradesh. It has been reported that police personnel were also present at the location; however, none of them stopped him from making such an outrageous statement against women." NCW Chairperson Rekha Sharma told a news agency, "People talking like this in public about raping women of a certain community is not acceptable. We have written today itself to UP DGP and I'm going to take up this matter personally with him; whether they are religious godmen or anybody, they should be taken to task."
On April 8, 2022, the Uttar Pradesh police had filed a First Information Report (FIR) against Das, six days after the incident. As reported by The Print, the said Hindutva leader was charged under sections 298 (utterance or gesture in the sight of that person or places with the deliberate intention of wounding the religious feelings of any person), 354 (sexual harassment, making sexually-coloured remarks) and 509 (using word, gesture or act intended to insult the modesty of a woman) of the Indian Penal Code (IPC). UP ADG (Law and Order) Prashant Kumar reportedly stated that stringent action will be taken against the accused.
In yet another shocking video on Twitter, Das is seen to be threatening violence against Muslims in the presence of a police officer. Openly intimidating them he says, "Jo bhi Hindu ki taraf aankh uthaakar dekha toh har hind uke ghar se laathi nikalne chahiye… agar humlog bate rahenge toh yeh humko kaat te rahenge." He claims that he has been reincarnated by God only for the destruction of Muslims. He firmly states that he will exhort Hindus to a point where even if he is killed by the 'Jihadis', the Hindus will remain riled up for the next 50 years so much so that Muslims won't even be able to raise their eyes at Hindus. He encourages the crowd to commit violence if there is any brawl with the Muslims. He also claims that if any Muslim raises eyes at a Hindu, he will pull out such Muslims from their homes and mosques and physically assault them.
The viral video has been shared on Twitter and may be viewed here:
((TRIGGER WARNING: COMMUNALLY OFFENSIVE CONTENT))
"Har mulle ko ghar se aur uske masjid se kheench ke maarunga jo bhi Hindu ki taraf dekha toh"– one more video of Bajrang Muni threatening violence against Muslims. But @sitapurpolice has still not arrested him.

Video by TV9. pic.twitter.com/42N94t0EIp

— Kaushik Raj (@kaushikrj6) April 13, 2022
Hatemonger Swami Anand Swaroop jumps to Bajrang Muni's defence and claims that if he were to be arrested then there will be huge protests against it. He even urges UP Chief Minister Yogi Adityanath to protect hate offender Bajrang Muni at all costs.
That video was also shared on Facebook and may be viewed here:
((TRIGGER WARNING: COMMUNALLY OFFENSIVE CONTENT))
As reported by Hindustan Times, Das claims that the video has been "distorted" to frame him under "false charges". According to FirstPost, Bajrang Muni Das is not a first-time offender, and has previously been involved in a land grabbing case causing injuries.
Related:
Bajrang Muni Das openly threatens Muslim women with sexual assault
Supreme Court directs Uttarakhand Govt to file status report on FIRs in 'Dharam Sansad' meet
Right-wing's dangerous obsession with mosques and dargahs peaks during Ramzan
Why is this 'Sangeet Som Sena' allowed to roam free in UP?