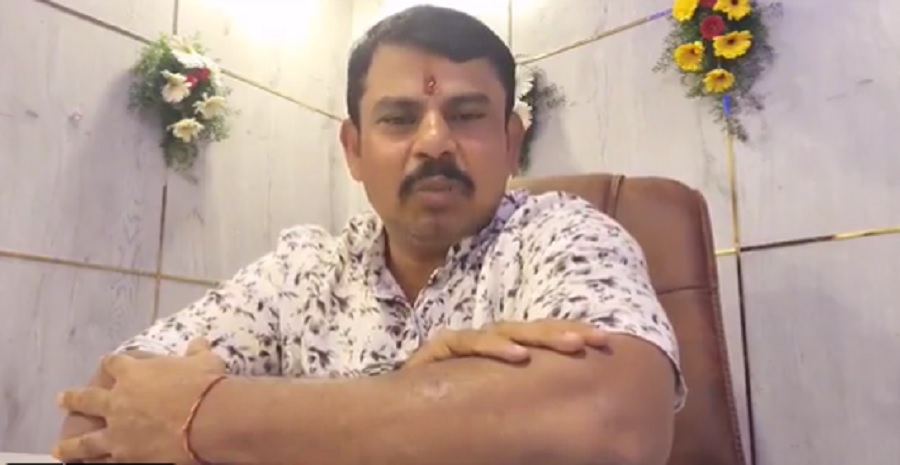 Around February 15, 2022, a video of Bharatiya Janata Party's T. Raja Singh, an MLA from the Goshamahal Assembly of Hyderabad, Telangana, threatening Uttar Pradesh's Hindu voters to re-elect the Adityanath-led BJP government circulated widely on social media. He was heard and seen warning the voters that if they do not vote for a "Yogi-government" then their houses will be identified and destroyed with bulldozers and JCBs.
"जो लोग भारतीय जनता पार्टी को वोट नहीं करते उन लोगों से कहना चाहूंगा कि योगी जी ने हज़ारों की तादाद में बुल्डोजर मंगा लिया है"

तेलंगाना के BJP MLA टी राजा ने हिन्दू वोटरों को संबोधित करते हुए धमकी भरी भाषा का इस्तेमाल किया है। क्या UP के लोग इन जैसों की धमकी से डर कर वोट देंगे? pic.twitter.com/MW4iif0iFH

— Umashankar Singh उमाशंकर सिंह (@umashankarsingh) February 16, 2022
It is crucial to note what exactly the BJP MLA Singh, a serial hate offender has said,"jo log Bharatiya Janata Party ko vote nahi karte unko mai kehna chahunga ki Yogi ji ne hazaron ki sankhya mein JCBs, bulldozers mangwa liye hai. Uttar Pradesh ki awr nikal chuke hai. Election ke baad mein jo jo log Yogi ji ko support nahi kare, unn sabhi areas ko identify kiya jayega. Aur pata hain na JCBs aur bulldozers kiske liye use mein aate hai? Toh mai Uttar Pradesh ke un gaddaaron ko kehna chahunga, jo ye chahte hai ki firse Yogi ji mukhya mantri na bane, toh beta agar Uttar Pradesh mein rehna ho toh Yogi-Yogi kehna hoga, nahi toh Uttar Pradesh chhod ke tumlogon ko bhaagna hoga."
(To those who do not vote for Bharatiya Janata Party, I want to say that Yogiji has asked for thousands of JCBs, bulldozers. They are on their way towards Uttar Pradesh. After the elections, those areas which did not support Yogiji will be identified. You do know what JCBs and bulldozers are used for, right? So I want to tell those traitors of Uttar Pradesh who want that Yogiji should not become chief minister again, that kids if you want to stay in Uttar Pradesh, you will have to chant Yogi-Yogi… or else you people will have to run and leave Uttar Pradesh.). This constitutes an open threat, ostensibly telling Hindu voters that they will be severely punished if they do not vote for BJP in the coming elections.
"Vote for Yogi in UP polls or face JCB & bulldozers. Your home will be crushed."

This is an open threat of T Raja Singh, Hyd BJP MLA, to the UP people. This is happening under your protection. @ECISVEEP pic.twitter.com/dH1VclTRTY

— Mission Ambedkar (@MissionAmbedkar) February 15, 2022
Election Commission issues notice, but extends deadline for reply
Once this video went viral on social media, the Election Commission issued a notice to T Raja Singh, for his statement. Issued on Wednesday, the notice put on record that Raja was seen and heard in the video clip saying, "Those who do not vote for the BJP, I would like to tell them that Yogiji has arranged thousands of JCB bulldozers…" The ECI told Singh to give his explanation within 24 hours on why action should not be initiated against him for allegedly violating the model code of conduct, the Indian Penal Code, and the Representation of the People Act. "Now, therefore, you are hereby called upon to show cause within 24 hours from the receipt of this notice as to why appropriate penal action under criminal law should not be initiated against you and also as to why appropriate action for violation of the model code of conduct should not be taken against you," stated the show-cause notice which was quoted in media reports.
However, soon the ECI gave the BJP MLA additional time to respond to its notice that had said Singh was "prima facie" in violation of the MCC as well as provisions of the Indian Penal Code and the Representation of the People Act.
T Raja Singh is following his tried and tested way of going viral on social media via video clips of hate speeches. In 2020 Raja Singh was among the central figures named in an August Wall Street Journal report that claimed Facebook ignored hate speech by BJP leaders to protect its business interests in India. By March of this year, they concluded Singh not only had violated the company's hate-speech rules but qualified as dangerous, a designation that takes into account a person's off-platform activities. By March 2021, when Facebook finally concluded that Raja Singh had violated its own Community standards (Objectionable Content) and Violence and Criminal Behaviour rules, he was removed from FB. However, it now seems that while his Facebook account was taken down that year, but now it seems to be back online as an unverified account, it has also had repeated instances of communal posts. His hate words are also spread via so called "fan pages" named Tiger Raja Singh Fan Cluband T Raja Singh Samarthak Jalgaon PRK Group which collectively have lakhs of followers.
Citizens for Justice and Peace has continuously tracked hate offenders
Citizens for Justice and Peace (CJP) has continuously tracked, and complained about this hate offender for years. In February, a whole 18 months before the famed Wall Street Journal Report, 2019 CJP's Hate Watch team had identified how one false rumour has proliferated, and prompted a hate-filled speech by Raja Singh that was broadcast via Facebook. The CJP had highlighted Singh's influential position as a sitting member of the Telangana Legislative Assembly as well as a party whip in the state, noting that he had half a million followers on Facebook. This incident took place right after the BJP-PDP alliance in Jammu and Kashmir collapsed, and ahead of the Amarnath Yatra scheduled for July-August.
In 2018, Singh had posted on his Facebook account explicitly asking his followers not to buy anything from the "terrorist Kashmiris" for the annual Amarnath Yatra. By July 2019, the video had been viewed 3,00,000 times. Singh has also had FIRs registered against him for promoting enmity between groups but Facebook continued to entertain his account harbouring venomous content. CJP had also discovered in 2019 that his page which was supposedly taken down, was not the case and his official page was active. The CJP was invited to a Roundtable on Online Hate Speech: Facebook Community Standards, on February 5, 2019 where during the question answer session with Facebook's Varun Reddy, CJP through its Secretary Teesta Setalvad and its sister publication- SabrangIndia writer Amir Rizvi showed examples of hate speech, like the page of Raja Singh, which was not taken down even after repeated reporting.
Why did Singh use the bulldozer threat?
T Raja Singh seems to have drawn inspiration from Uttar Pradesh Chief Minister Adityanath who too had recently said that "the BJP government believes in development but also has bulldozers for the mafia and that is why women in the state feel safe". According to news reports the incumbent CM was addressing an election meeting in Shahjahanpur's Kant, and targeted the opposition Samajwadi Party, saying it only built boundary walls for graveyards in the name of development but his BJP government keeps "development on one hand and a bulldozer on the other. This bulldozer is used to run over the mafia. For this reason, women in the state are safe, and the girls are going to schools."
Recently his party colleague, Brij Bhushan Singh, Bharatiya Janata Party's Member of Parliament in Lok Sabha from Kaiserganj, has also said "Uttar Pradesh has trigger happy/ shooter Baba and bulldozer baba's government, your 'Inshallah' be damned," in a communal hate campaign in Uttar Pradesh. These intimidating words –that clearly constitute hate speech–were spewed by Singh when he was addressing a public meeting in Basti, UP.
With the third phase of the elections in UP scheduled for tomorrow and elections to Punjab, Uttarakhand and Goa also underway, it is clear that the ruling BJP's major propaganda tool is the use of hate speech and intimidation, never mind what Indian criminal law, election law and the Constitution says.
Related
Hate Watch: How is BJP MP Brij Bhushan Singh getting away
Under fire from SC, UP gov't withdraws damage notices against anti-CAA protesters
Why is the Right-Wing so obsessed with the Taj Mahal?
Ghaziabad: Police beat up Muslim women protesters, claim 'scuffle', but viral video shows otherwise