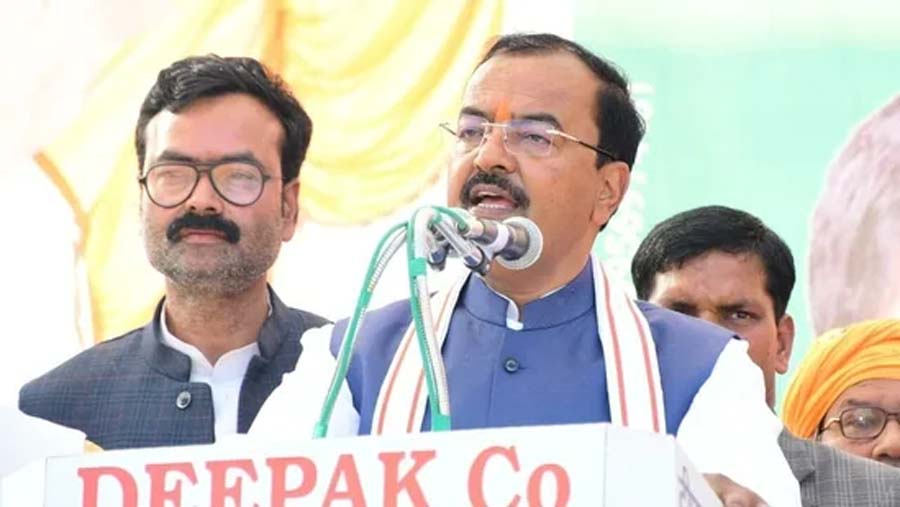 Image courtesy: Hindustan Times
"The people are winning, goondaism is losing," the now former Deputy Chief Minister of Uttar Pradesh, Keshav Prasad Maurya had posted around the time when the counting of votes began. In an ironic twist, his post proved to be prophetic when Maurya, a serial hate offender who had contested from Sirathu, was trounced by Dr Pallavi Patel of Apna Dal (Kamerawadi).
Sirathu is a constituency in the Kaushambi district, which the Bharatiya Janata Party (BJP) was hopeful that Maurya will retain. But a canny alliance between Apna Dal (K) and the Samajwadi Party, shot down his divisive agenda.
सिराथू विधानसभा क्षेत्र की जनता के फ़ैसले को विनम्रतापूर्वक स्वीकार करता हूँ,एक एक कार्यकर्ता के परिश्रम के लिए आभारी हूँ,जिन मतदाताओं ने वोट रूपी आशीर्वाद दिया उनके प्रति कृतज्ञता ज्ञापित करता हूँ,

— Keshav Prasad Maurya (@kpmaurya1) March 10, 2022
जनता जीत रही है गुंडागर्दी हार रही है

— Keshav Prasad Maurya (@kpmaurya1) March 10, 2022
However, Maurya's attitude as a politician is unlikely to fade from public memory. In January this year, Keshav Prasad Maurya had walked out of a BBC interview and lashed out at the senior journalist, Anant Zanane, even pulling his Covid mask off. This was Maurya's response when he questioned the BJP leadership's complete silence over Haridwar dharma sansad's hate speeches. Maurya went a step ahead and defended the right of expression of the Hindutva leaders. The BBC sent an official complaint to the National President of the BJP, the State President of the BJP and the Chief Minister of UP about the incident, but no action was taken against Maurya.
Keshav Prasad Maurya is also known for his anti-Muslim speeches, and in the recent past has called Muslims "lungi chaap, jaalidaar topi goondas" and during one of his election campaign public meetings, said that before the 2017 Assembly elections, "They were roaming the streets with revolvers in their hands and threatening businessmen." He asked the crowds to tell him who these "goondas" were, and the BJP supporters replied "lungiwale".
Maurya had also announced that "preparations were underway for the construction of a grand temple in Mathura" along the lines of what was being done in Ayodhya and Varanasi. He said, "A grand temple is being constructed in Ayodhya and Kashi, preparations are on for Mathura next." Mathura in western UP is revered as the birthplace of Hindu deity Krishna. It is also home to the Shahi Idgah, which is next to the Krishna janmabhoomi (the place where the deity is believed to have been born).
The religion based campaign however, did not translate into a win for Maurya. He has of course accepted his defeat now, and it is yet to be seen what his political gurus have planned for him.
Related:
Why did UP's Deputy CM defend Haridwar hate speech?
SC issues notice in plea urging criminal prosecution in Dharam Sansad case
Apps auctioning women fuelled by a TRADition of Hate
Hate Offender: Meet Kalicharan 'Maharaj' aka Abhijit Dhananjay Sarag