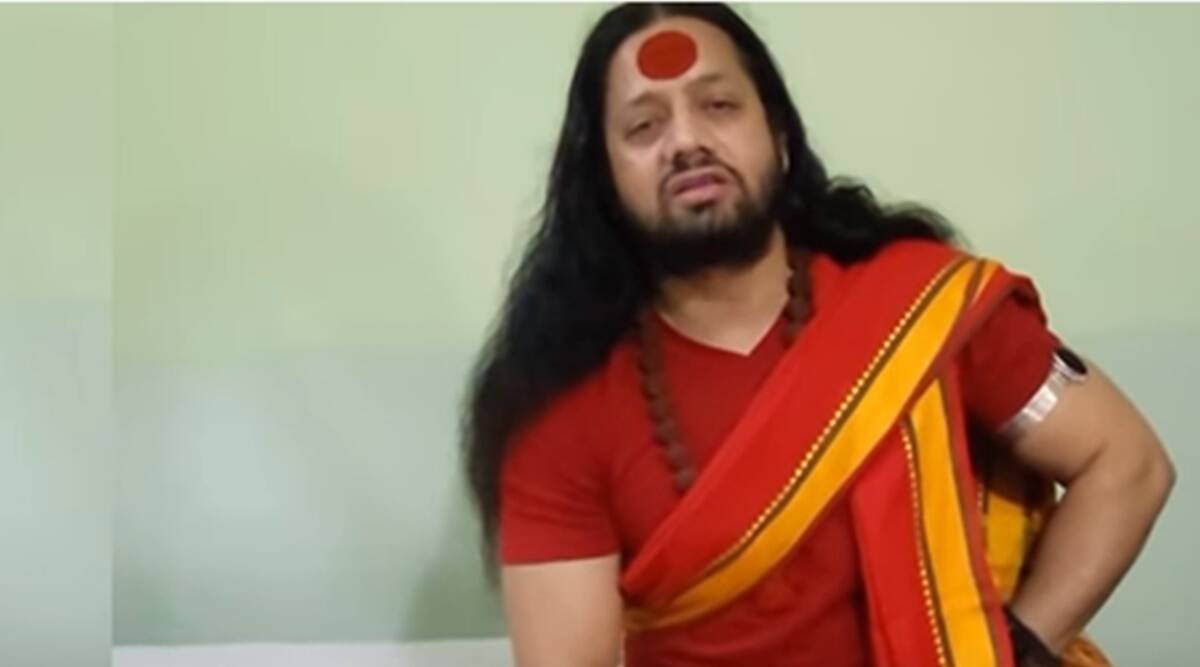 On Friday January 8, 2022, a Pune Court granted bail to Kalicharan Maharaj, alias Abhijit Dhananjay Sarag, who was arrested by Pune police for a hate speech case from December 2021 where he allegedly spoke against Muslims and Christians. The court directed that Kalicharan be released subject to furnishing a bail bond of ₹25,000 and ordered that he should mark his presence in the concerned police station once a month till the filing of chargesheet.
He had been remanded in judicial custody in the case on Thursday and was then sent to jail in Raipur in Chhattisgarh where he has been charged under various IPC provisions for abusing Mahatma Gandhi during a religious event held there on December 26. Kalicharan was among those booked by Pune's Khadak police station and accused of making inflammatory statements during a 'Shiv Pratap Din' event, organised on December 19. After the alleged remarks came to light the Khadak police station registered an first information report (FIR) on December 28, under IPC sections 295 (A) (outraging religious feelings), 298 (deliberate intention of wounding religious feelings), and 505 (2) (false statement, rumour made in place of worship, etc, with intent to create enmity).
According to Indian Express, the event was organised by Samasta Hindutva Aghadi at Natubag in Shukrawar Peth to mark the killing of Adilshahi General Afzal Khan by Chhatrapati Shivaji Maharaj in 1659. Along with Kalicharan, police had also booked Hindutva leader Milind Ekbote, Nandakishor Ekbote, Mohanrao Shete, Dipak Nagpure and Captain Digendra Kumar. Interestingly, Digendra Kumar retired from the Army in 2005, and was awarded the Mahavir Chakra (MVC) in 1999 for his act of bravery during the Kargil war, reported IE. However, Kalicharan is the one who remains in the spotlight for various reasons. He had been brought to the city after Pune police took his custody from Chhattisgarh police.
Who is Kalicharan?
Wearing a large red bindi on his forehead, clad in bright red robes, Kalicharan had become a social media sensation when videos of him singing the 'Shiva Tandav Strotra' at the Bhojeshwar Shiv Temple in Madhya Pradesh went viral. Soon his videos began popping up on other platforms, of him performing religious rituals, singing, or giving discourses. However, what kept him in the limelight was his opinion on the concept of "akhand Hindu Bharat" and how his idea of a 'Hindu nation' was in danger. He of course added nations that have been a part of the mythical 'akhand Hindu Bharat' according to the 'Whatsaap university of fake news'. He validates his claim by declaring that "Kashmir was almost 'lost'" but Prime Minister Narendra Modi 'saved it'.
One of the best speech of #KalicharanMaharaj Ji ?pic.twitter.com/f1FR6wj0WG

— Chota Don (@choga_don) December 31, 2021
Kalicharan has once again regained his Whatsapp and social media followers with the latest comments against Mahatma Gandhi, and his arrest was closely followed and condemned by the right-wing. According to reports, he had contested a civic poll in 2017 but lost. His followers had also spread rumours in 2019 that he would contest the Lok Sabha elections that year.
Kalicharan's real name is Abhijit Dhananjay Sarag, and he is a resident of Shivajinagar in Akola in Maharashtra. He reportedly dropped out of the Shivaji Nagar Parishad School after class eight. According to a report in the Afternoon Voice, he hails from the Bhavsar community and his father Dhananjay Sarag owns a medical shop at Jain Chowk. His parents "sent him to Indore" to his aunt's place because he was "not interested in studies", added the report. Soon he "started visiting Bhayyuji Maharaj's ashram," and eventually "took Diksha" and came to be known as 'Kalicharan Maharaj' after that.
Playing cops and robbers?
According to the report Kalicharan then moved to an ashram in Mudumalai, Tamil Nadu, and claimed to have "seen a vision of Rishi Agastya". As his social media popularity grew so did the invites from various Hindu and Hindutva organisations to come and speak at religious events, as well as at events aimed at targeting minority communities. It was one such 'Dharm Sansad' event in Chhattisgarh where he verbally abused Mahatma Gandhi and praised his assassin Nathuram Godse.
Kalicharan had said, "I salute Nathuram Godse that he killed Gandhi" adding that the "target of Islam is to capture nation through politics." He asked people to elect a "staunch Hindu king (leader) in the government irrespective of any party (he/she) belongs to…The women of our houses are very good and civilised and they do not go to vote (in election). When there will be gang-rapes then what will happen to women of your houses (families)…(Mahamurkho) Idiots! The target of Islam is to capture nation through politics. In front of our eyes they had captured in 1947 (referring to partition)…They had earlier captured Iran, Iraq and Afghanistan. They captured Bangladesh and Pakistan through politics."
Kalicharan was subsequently arrested by Raipur Police even though he tried hard to dodge them by booking a guest house in Khajuraho but instead, hiding out at a place 25 km from Khajuraho. According to reports, all his close aides had also switched off their phones" to evade police tracking. However he was nabbed after the police were tipped off by an informer.
According to news reports, even then Kalicharan tried to make calls to his sources, but eventually had to surrender to the police. He did get a public reaction from none other than Madhya Pradesh Home Minister Narottam Mishra who said "the Chhattisgarh Police violated inter-state protocol by arresting Kalicharan from the state without informing local police and asked the Madhya Pradesh police chief to take up the matter with his Chhattisgarh counterpart."
Now, it is to be seen how Kalicharan will behave after his jail stint. Will he lie low, or will he try once again to claim a place in the line up of Hindutva mascots and spew more communal hate? He now has a jail spell added to his bio data, while the others accused at the Haridwar hate event are yet to be arrested.
Related:
"Godman" who insulted Mahatma Gandhi arrested
Hate Speech: The worst words of 2021, we hope do not spill over into 2022
Poisoning people's minds to ensure polarisation in the coming polls
Why does the PM look the other way when BJP leaders give communal speeches?
Activists counter call for genocide with a call for secularity
Uttarakhand: Will Jitendra Narayan Singh Tyagi nee Wasim Rizvi benefit from the FIR against him, or will he be the scapegoat?
How did Uttarakhand govt allow calls for Muslim genocide in Hari