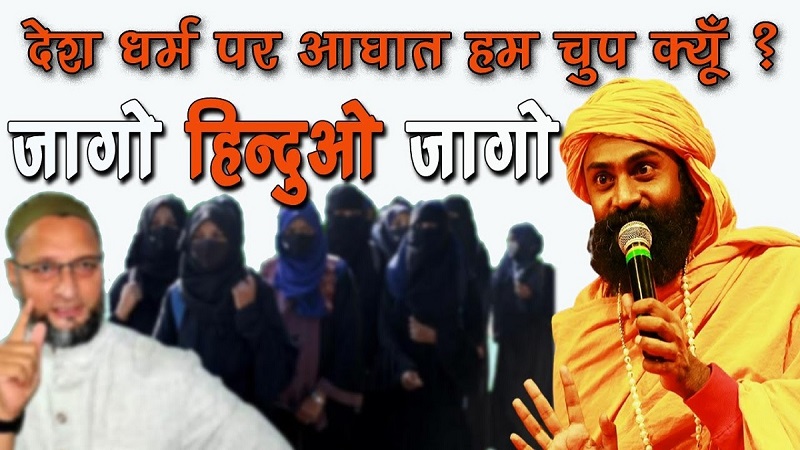 Image Courtesy: Youtube
Concerned with the overall atmosphere being generated through the systematic and perpetrated use of hate speech in the country, CJP wrote to the National Commission for Minorities (NCM) on June 7, 2022, bringing their attention to the brazen statements made by Swami Jitendranand Saraswati calling for the lynching of pregnant women and unborn babies in what seems to be a religious conclave at an unidentified location.
Here is the hate instigating video uploaded by him on his Youtube Channel called 'Swami Jitendranand Saraswati Ji Maharaj' dated 17.02.2022:
The complaint highlights how Swami Jitendranand Swami in the hate speech video called "देशधर्मपरआघातहमचुपक्यूँहै" (Why is the country silent on the attack on religion?) on his Youtube channel says, "Aisa singhnad karo ki desh virodhi mahila ki kokhmein koi gauhatyara, koi rashtravirodhi pal raha ho to kokh phaadkar gir jaaye. (Translation: Roar like a lion, so that if there is a 'cow killer' or an anti-national, being nurtured in the womb of an anti-national woman, your slogans should result in the unborn baby falling out of the ripped open womb.)" In the video he invokes his fantasy of an 'Akhand Bharat' or undivided India, and claims, "Our forefathers have made a lot of mistakes and we are bearing the fall out… Afghanistan etc was all akhand bharat then it disintegrated and we were left with this small piece … and secularism."
The complaint describes how he goes on to explain his supposed encounter with a Jewish woman at Mumbai Airport who allegedly confessed to him that she has come to seek refuge in India and claimed that her mother was gang raped until death while her 13 year old sister was sold for $2. Equating all people following Muslim religion with the Taliban, he says that these people are so cruel that I do not even have the words to describe. He claims that these people who marry and rape 2 year olds will enter your house also tomorrow. He warns the crowd that they are in danger and asks them to say, Ab humko bolna hai watan ki fikra kar naadaan, museebat aanewaali hai. Tere barbaadiyon ke mashware asmaano mai…. Naa samjhoge toh mit jaoge hindustaanwaalo…. Tumhaari dastaan tak nahi hogi daastano mai. Toh aap sabhi log jaagruk ho jaiye. Aap sabhi log khade ho jaiye dharma ke prati. Apna dharam sikhata hai ke maa ko maa maan. Dusro ke beti ko behen maan. Duniya mai ek stri ke alawa sab teri maa aur behen betiya hai. Lekin who kya sikha rahe hai? Chaar shaadiya karo, dusro ke patniyo ko loot lo, dusro ke betiyon ko cheen lo, dusro ke dharam ka ant kardo, dusro ke pooja karnewaali guy ko kaat ke fek do.(Translation: Now we have to worry about the country, trouble is about to come. Be aware. All of you should stand up for our religion. Our religion teaches that consider mother as mother, daughter of others as sister…. In the world except one woman, all mothers are your mother and other's daughters are your sisters. But what are they teaching? Do four marriages, rob the wives of others, take the daughters of others, put an end to the religion of others, cut and throw away the cows worshiped by others.)
At the end of the speech he also claims to set a flag on fire and at the end of the video he expresses his wish to turn India into a 'Hindu rashtra' while seeking support from his viewers. The complaint then draws a link between Swami Saraswati and his close aid of Haridwar, hate offender and genocide monger 'Yati Narsinghanand' who got away when he gave genocide calls at the Dharma Sansad in Hardiwar, Uttarakhand in 2021.
The complaint informs the Commission that presently the matter is in the Hon'ble Supreme Court of India and presses upon the fact that CJP's experience with tracking hate demonstrates how this could have been contained if Yati Narsinghanand had been first acted upon, when in 2018 he started mis-using the social media (facebook etc) to threaten violence and urge the arming of 'Hindu society.'
The complaint also brings to light that this is not the first time Swami Saraswati has engaged in such act of hurting religious sentiments of Muslims. Two months ago in March, he had brought a trishul to The Kashmir Files screening in March where he openly issued calls to violence, and made hate speeches. His words were aimed to incite communal violence and anti-Muslim hate among his audience that included children and women as seen at the movie screening. In the video, he can be heard saying, "You think that you are safe here but you are not. You have no preparation… They're everywhere, not just in MP. They're a threat to the whole world."
Haridwar genocide monger, Yati's aide, Swami Jeetendranand says THIS IN FRONT OF KIDS:
"You think that you are safe here but you are not. You have no preparation… They're everywhere, not just in MP. They're a threat to the whole world." pic.twitter.com/vMfL38nhNq

— Mohammed Zubair (@zoo_bear) March 22, 2022
Concerned with the blatantly abusive behaviour of Swami Jitendranand Saraswati is spearheaded with impunity by right-wing extremists and socio-culturally influential members of the majority community, the complaint further lists down the legal provisions violated by Swami Jitendranand Saraswati and relies upon the judicial precedents set out by the courts excluding the hate speech from the purview of freedom of speech and expression.
Sadly, Muslims are subject to an orchestrated right-wing campaign which is made worse with the tacit complicity of the government of the day that harbours a hate-filled ideology and holds undisputed sway and power. CJP has already reported this hate speech to YouTube, as soon as it was spotted but more calls have gone out on social media for his arrest and many users shared his hate speech videos tagging the handles of government authorities, asking that the hate offenders be put behind bars.
The Complaint may be read here:
Related:
Pandit Ravi Sonkar threatens to behead worshippers at Gyanvapi mosque, CJP moves DGP UP
CJP Impact: YouTube responds to CJP's complaint, takes down hate filled content!
CJP's next step in countering Online Hate: YouTube urged to take action against hateful content
CJP Impact: Twitter suspends 21 accounts threatening Muslim women with sexual violence
CJP approaches Twitter over sexually violent content against Muslim women
Facebook refuses to act on CJP's complaints against Ragini Tiwari
CJP Impact: NCM acts on CJP's complaint against Hate Offender Pravin Togadia
CJP moves NCM over Pravin Togadia's communal oath at Trishul Diksha even
CJP moves NCM over Haribhushan Thakur Bachaul's anti-Muslim genocidal speech