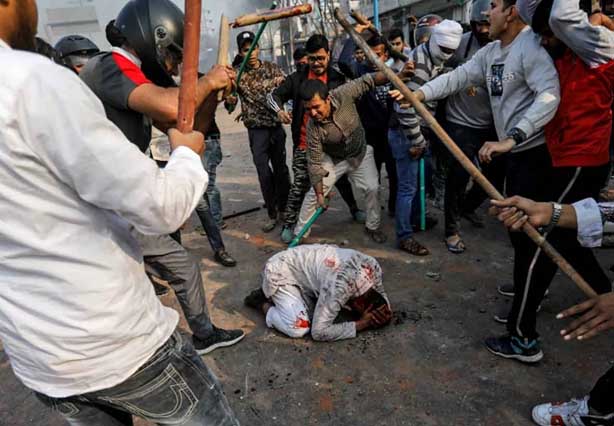 Zubair being attacked by mob (The Indian Express/Danish Siddiqui)

The factfinding report of the Delhi Minorities Commission is now out. Officially now there are two contesting versions of the chronology and build up to the mass targeted violence that engulfed the national capital from February 23, 2020 onwards. In the run up to the Delhi state elections –a high stake battle that had the Union Minister for Home, Amit Shah conduct street rallies, with violent and incendiary speeches being commandeered by the ruling BJP, had compelled the Central Election Commission from banning two leaders of the BJP from being star campaigners.
The 134-page report of the DMC has crucial chapters on this build up (pages 26-32). Sabrangindia, apart from embedding the entire report is carrying this section to highlight this continuing trend in mass communal violence: the role of hate (incendiary speech) and writing against which the Indian system has yet to provide a comprehensive Rebuttal
Excerpts:
"Delhi Legislative Assembly elections 2020: Incendiary campaign speeches and the fanning of communal sentiments in Delhi
Campaigning by political parties in the run-up to the elections to the Delhi Legislative Assembly, scheduled on February 8, 2020, began shortly after protests against the CAA-NRC spread across the country including several parts of Delhi.
By January 2020, openly communal statements were being made by politicians of the Bharatiya Janata Party (BJP), with reference to people protesting against the CAA, and often in the midst of "pro-CAA" rallies which had risen in a counter to the anti-CAA protests. In one example, on 3 rd January, Shri Somasekhara Reddy, a Member of the Legislative Assembly of the BJP from Karnataka "cautioned" Muslims against participating in anti-CAA protests and warned of serious repercussions in blatantly divisive and dangerous terms, at a pro-CAA rally in Bellari district saying:
It's just a caution for those who are protesting against the CAA (Citizenship Amendment Act). We are 80 per cent and you (Muslims) are 18 per cent. Imagine what will happen if we take charge…Beware of the majority when you live in this country. This is our country. If you want to live here, you will have to, like the Australian Prime Minister said, follow the country's traditions…So, I warn you that CAA and NRC are made by Modi and Amit Shah. If you will go against these acts, it won't be good…If you wish, you can go to Pakistan. We don't have any issues. Intentionally, we would not send you… If you will act as enemies, we should also react like enemies.[1]
Similarly in Delhi, several elected leaders of the BJP, including those holding Cabinet positions such as the Union Home Minister Amit Shah, Minister of Animal Husbandry Giriraj Singh, Former MLA of Karawal Nagar and BJP leader Kapil Mishra, the Chief Minister of Uttar Pradesh, Yogi Adityanath among many others, made provocative, threatening speeches against the protestors. BJP leaders raised the pitch to the extent of calling the Chief Minister of Delhi a "terrorist".[2]
The Election Commission of India banned BJP MP Parvesh Verma from campaigning for 24 hours for using this term to describe the Chief Minister. [3] The violence which broke out in North East Delhi was clearly preceded by a number of speeches by BJP leaders openly maligning anti-CAA protestors and questioning their motives with no basis, making derogatory remarks laden with communal undertones and open threats of violence, and to cast the Shaheen Bagh protests, particularly, in a negative light to build an "anti-Shaheen Bagh" narrative. It must be noted that none of these political leaders had ever visited the anti-NRC protest sites and thereby had no first-hand information of the kind of speeches and messages being promoted at these sites. Excerpts from some of the more prominent speeches follow and speak for themselves in exposing the harmful violent content:
Mr Anurag Thakur, Member of Parliament, Hamirpur Lok Sabha Constituency and Minister of State for Finance, Government of India, raised a slogan in an election rally in Delhi on the January 20, 2020 where he incited the public present to repeat: "Desh ke ghaddaron ko, goli maaron saalon ko" (Shoot down the rascals/the traitors to the country).
Captured widely in print and electronic media, it is clearly shown and heard how he shouted the first part of the slogan, and directed the listening crowd to respond with the second half. This amounted to asking an entire election rally to fire bullets at the country's "traitors" within the oblique but not unmasked reference to a particular minority community.
On January 27, 2020, the Home Minister of India, Mr Amit Shah, addressed an election rally saying that people should press the EVM button on 8 February with such anger that the protesters in Shaheen Bagh should "feel the current". He said "Your vote to BJP candidate will make Delhi and the country safe and prevent thousands of incidents like Shaheen Bagh."[4]
On January 28, 2020, in a televised interview, Mr Parvesh Verma, BJP MP, made these derogatory remarks against Muslim men in particular:
The people of Delhi know that the fire that raged in Kashmir a few years ago, where the daughters and sisters of Kashmiri Pandits were raped…caught on in UP, Hyderabad, Kerala, the same fire is raging in a corner in Delhi. Lakhs of people gather there. This fire can reach the residences of Delhi anytime. People of Delhi will have to decide wisely. These people will enter your houses, rape your sisters & daughters, kill them. There's time today, Modi ji & Amit Shah won't come to save you tomorrow[5]…

On January 28, 2020, while addressing a crowd at a community center in Ranhoula village which falls under the Vikaspuri Assembly constituency in West Delhi, Mr Parvesh Verma publicly threatened to demolish all mosques in his constituency if the BJP win power: "If in Delhi, BJP come, then after 11th give me one month, how many ever masjids have been built on government land in my Lok Sabha constituency, I won't leave even one of them standing".[6]
On January 29, 2020, Mr Tarun Chug, National Secretary, BJP, tweeted the following[7]: "We will not let Delhi become Syria and allow them to run an ISIS-like module here, where women and kids are used. They are trying to create fear in the minds of people of Delhi by blocking the main route. We will not let this happen. (We will not let Delhi burn). #ShaheenBaghKaSach."
30.01.2020: "aaj yeh tukde-tukde gang ka head office ban chuka hai shaitanibagh, aur ye log Bharat ko, delhi ko, Syria banaana chahte hain, hum banne nahin denge (This dividing gang today has its head office in Satan-bagh and these people want to turn India and Delhi into Syria which we will not let happen)."[8]
MrTajinder Pal Bagga; a candidate in Delhi Assembly election of BJP in public remarks on 30 January 2020 threatened violent actions to wipe out the ShaheenBagh protest site if the BJP came to power: "In ShaheenBagh, claims are being made that the Indian Army kills its own people. Indian Army is being equated with the Pakistani army. ShaheenBagh has become a hub of anti-nationals. And on 11th February, after the results, a surgical strike will be done on this adda [den]." [9]
On February 2, 2020, Mr Ajay Bisht (popularly known as 'Yogi Adityanath'), the Chief Minister of Uttar Pradesh, addressed an election rally in Delhi of 15000 persons in support of BJP candidates in the Delhi Assembly elections and also alluded to violent actions: "(Arvind) Kejriwal and his mandali (clique) are trying to fan unrest and anarchy by tacitly supporting the ShaheenBagh protests. These protests are nothing but a way for some section of people to show their objections against the scrapping of Article 370 and the construction of Lord Ram's grand temple in Ayodhya," He asked voters to install a BJP government in Delhi, which would promote all religions, but added that where "boli" (words) don't work, "goli" (bullet) does.[10]
On February 5, 2020, MrTejasvi Surya, BJP MP, in a speech in Parliament, equated the ShaheenBagh protests to religious fundamentalism:
What is extremely disappointing, what is extremely troubling is that the opposition of this country, knowing fully well that these legislations, especially the citizenship amendment act, have nothing whatsoever to do with taking citizenship away from anyone, has gone around the country indulging in a campaign of lies, campaign of slander, misguiding the people of this country……what is happening today in ShaheenBagh in Delhi is a stark reminder that if the majority of this country is not vigilant, if the patriotic Indians do not stand up to this, the days of Mughal Raj coming back and revisiting Delhi is not very far away. Sir, what is happening in ShaheenBagh is fanatic Islamism, masquerading in the garb of constitutional secularism. Sir, and therefore we must exercise vigilance to ensure that this country is on the path to true secularism". [11]
ShriAbhayVerma, the then sitting MLA representing Laxmi Nagar constituency in East Delhi on February 25, 2020 repeated the slogan in public: "deshkegaddaronko, golimaarosaalonko" (The country's traitors, shoot them rascals).[12]
On January 29, 2020, the Election Commission of India ordered the removal of Union Minister of State Anurag Thakur and BJP MP ParveshVerma from the BJP's list of star campaigners for the Delhi Assembly Elections after finding that they made "statements/speeches contents of which were in violation of the letter and spirit of the various provisions of the Model Code of Conduct for Political Parties and Candidates".[13]
1.4.5 Attempts at harm and intimidation of ShaheenBagh and other protest sites, including direct violence
In tandem with the public remarks and speeches being made by leaders of a political party during in January and February 2020, there were visible attempts by Hindu right-wing groups and/or their supporters to intimidate and harm anti-CAA protestors in Delhi. These include two shooting attempts at protestors, in full public view.
On January 30, 2020, one RambhaktGopal fired his gun, in full view of Delhi Police personnel, at protestors at the gates of JamiaMillia University which had turned into a site of continuous protests, injuring one student.[14]
On February 1, 2020, one KapilGurjar entered the ShaheenBagh protest site with a gun and opened fire.[15]
Following these, the right-wing group, Hindu Sena, planned a large mobilisation on 2 February 2020 with a call to their supporters to "remove" all protestors from ShaheenBagh by force. After intervention of the Delhi Police, they called this off.[16]
These indicate the criminal actions taken by these groups/individuals to harm the lives and safety of the people protesting peacefully, and point to the serious threats against peaceful protestors by this time.
1.4.6 Kapil Mishra's speech on 23rd February 2020
An incendiary public speech by BJP leader and former MLA Kapil Mishra on February 23, 2020 clearly incited violence in words and intent. Women-led peaceful protests were ongoing in North East Delhi at Jafrabad from January 2020, with over a hundred women sitting in protest near the Jafrabad Metro Station and another at Kardampuri near MaujpurChowk Road.
On February 23, Kapil Mishra put out a call on social media to his supporters and subsequently led a rally in Maujpur, less than a kilometer away from the site of the Jafrabad sit-in protest. At about 5:30pm, Kapil Mishra addressed the gathering in the presence of the Deputy Commissioner of Police for North East District VedPrakash Surya, in fact with the DCP standing right next to him in full riot gear. In his speech, he said:
This is what they wanted. This is why they blocked the roads. That's why a riot-like situation has been created. From our side not a single stone has been pelted. DCP is standing beside us. On behalf of all of you, I am saying that till the time [US President] Trump goes back [from India], we are going to go forward peacefully. But after that, we will not listen to the Police if roads are not cleared after three days. By the time Trump goes, we request the Police to clear out Jafrabad and ChaandBagh. After that, we will have to come on the roads. Bharat mataki jai! VandeMataram!" [17]
1.4.7 Responses to statements/speeches made during election campaign: Election Commission of India and High Court of Delhi
The Election Commission of India took swift action against two BJP leaders with reference to their speeches/statements. On January 29, 2020, the Commission ordered the removal of Union Minister of State Anurag Thakur and BJP MP ParveshVerma from the BJP's list of star campaigners for the Delhi Assembly Elections after finding that they made "statements/speeches contents of which were in violation of the letter and spirit of the various provisions of the Model Code of Conduct for Political Parties and Candidates".[18] In notices sent to Thakur[19]and Verma[20], the Commission cited clauses from Part 1 of the Model Code of Conduct, and Sections 123 and 125 of the Representation of the People Act 1951, stating the Commission's, prima facie, view that the statements they made have the potential of "disturbing communal harmony and aggravating the existing differences between social and religious communities" and thereby violated the provisions of the Model Code and RP Act cited. Among others, the statements of "deshkegaddaroko, golimaarosaaloko" were specifically cited by the Commission. The provisions of the Model Code and RP Act seek to prevent actions or statements by candidates that create divisions, or promote feelings of enmity or hatred between different citizens on the grounds of religion, caste, community or language.
As the violence escalated in the days following Kapil Mishra's speech, the High Court of Delhi on February 26, 2020, while hearing a petition seeking the registration of a First Information Report against BJP leaders Kapil Mishra, Anurag Thakur and ParveshVerma for their speeches that led to incitement of violence among other prayers, asked the Delhi Police to take a "conscious decision" to register an FIR in 24 hours. Justice Muralidhar expressed "anguish" that the city is burning and questioned the Delhi Police on the delay and its lack of acknowledgment of the speeches themselves as crimes.[21]
Solicitor General of India, Tushar Mehta, appearing for the Delhi Police, repeatedly asserted that FIRs will only be "registered at an appropriate stage". However, the matter reverted to a different bench for the hearing on 27 February and the Court gave the Union of India four weeks to file a counter-affidavit in response. To date, no FIR has been registered against the BJP leaders. While the Election Commission initiated some steps to acknowledge and penalise the harmful content of the speeches pointed to, the initial decisive actions of the Delhi High Court did not materialise into the initiation of prosecution against the BJP leaders for inciting violence through their speeches.

2. Testimonies
Within hours of the Kapil Mishra's speech on February 23, 2020, violence broke out in various parts of North East Delhi, including Shiv Vihar, KhajuriKhas, Chand Bagh, Gokulpuri, Maujpur, Karawal Nagar, Jafrabad, Mustafabad, Ashok Nagar, Bhagirathi Vihar, Bhajanpura and KardamPuri.
The official number of deaths recorded is 53, at least 250 injured persons who had to be hospitalised, and an unknown number of missing persons (see Annexure 1 to report). The violence has led to huge financial losses due to the looting and arson of homes, shops, businesses and other properties.
The entire report of the Delhi Minorities Commission may be also read here
---