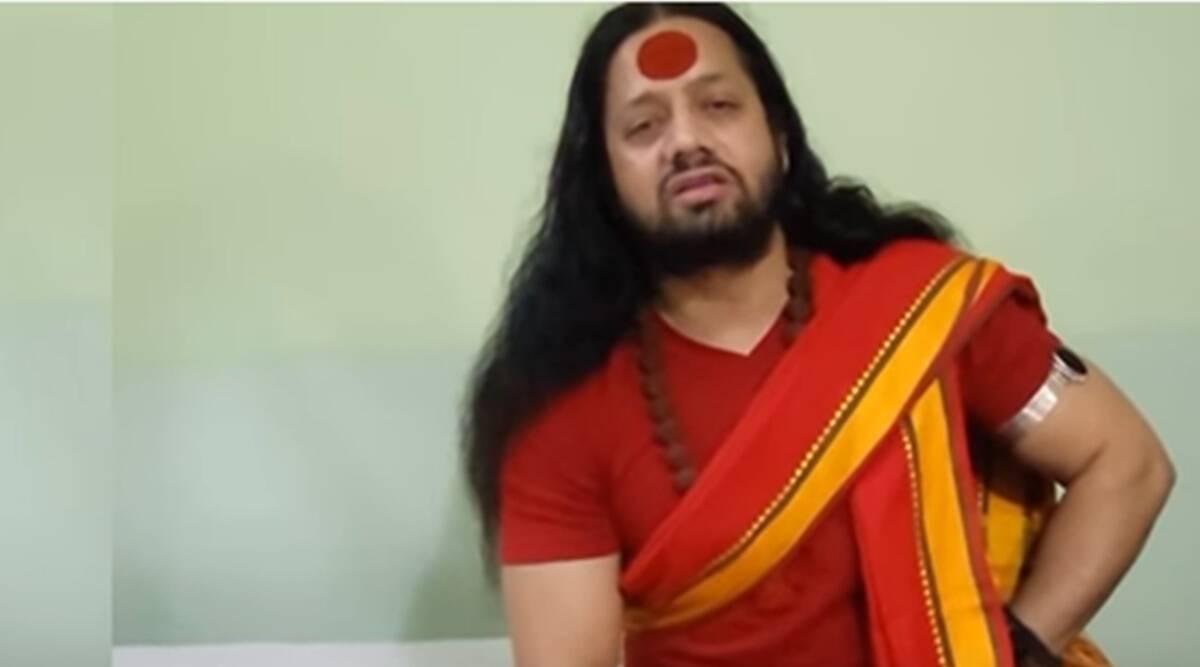 On December 14, 2022, a protest titled the Hindu Jan Aakrosh Morcha was organised by a Hindu right-wing extremist outifit, Sakal Hindu Samaj, in Ahmednagar, Maharashtra. This was one of many that have dotted the state over past weeks. This protest was organised with the aim of demanding that a "love-jihad" law is enacted by the Maharashtra state government. While this conspiracy theory of the impending "threat to Hindus in India" has never really gone away, it has recently re-surfaced, intensified with more hate after the tragic, Shraddha Walker murder in Delhi. Shradha was murdered and then dismembered by her live-in partner, Aftab Poonawalla. During this protest, inflammatory and Islamophobic speeches were delivered by the notorious hate offender Kalicharan aka Kalicharan Maharaj, alias Abhijit Dhananjay Sarag.
Kalicharan, a so-called religious leader, espouses a hard, exclusionist ideology, and can be seen delivering an incendiary and inciteful speech through which he has targeted the religious minorities of our country, especially the Muslim community. In his speech, videos of which have gone "viral" and reached hundreds of thousands, he has made strange and offensive claims unsupported by facts or data.
The excerpts of the speech mentioned below have been taken from a report published by the Newslaundary, "'A burning issue': How the Sangh family is spearheading protests in Maharashtra for a love jihad law", and another report by tv9hindi.com, "Soak pig teeth in water and feed it to daughter, brain will come to a standstill, baba claims on love jihad."
In his video, reported by the two websites above, Kalicharan has reportedly alleged that "40,000 cases of love jihad happen in India on a daily basis. There have been 35 cases of girls in Delhi. Girls are subdued. Ghosts are born in the stomach of those who go to lay their heads on tombs and tombs. They do vashikaran, black magic on these girls."
Continuing with his strange claims, Kalicharan then suggests that "there is a way to counter this black magic – keep the tooth of a wild boar in water overnight and give that water to a girl stuck in a love jihad case. Make her drink it and she will be immediately out of black magic."
Continuing with his communal diatribe, he warned his enthralled audience that Christianity and Islam are "not religions", and that Muslims have an "800-year-old plan" – the Ghazwa-e-Hind – to "convert India into a country of Muslims".
In another burst of targeted hate speech, Kalicharan can also be heard saying, "Kalicharan Maharaj further said that the meaning of religion is the same – Sanatan Dharma. No Maulana will call Islam a religion. They have been trending in madrasas since childhood. What are you being taught? All terrorists are Muslims. 5 lakh temples were demolished. When Sardar Vallabhbhai Patel was the Prime Minister, India would have become a Hindu nation.…..They want to produce kids in large numbers and, within 10 years, they want a Muslim to be prime minister of India…They get Rs 7 lakh per case to trap Hindu girls."
He has further reportedly said, "Dr Babasaheb Ambedkar had said don't trust Muslims. Every day 1 lakh cows are killed. Hindus do not harbour hatred, but now hatred is also flourishing in the minds of Hindus."
Furthermore, he can be heard saying to the audience, "we are becoming weak due to casteism. We cannot tolerate the provincial people, but forget that Chhatrapati Shivaji Maharaj was the king of all Hindus and not just Marathas."
It is important to note that Kalicharan hasn't provided any supporting evidence for the statements he's made. Even then, his audience can be heard cheering and clapping for him.
The video can be watched here: https://youtu.be/FVNQjd_YI98
Hate protests dot the Maharashtra landscape
Over the last 30 days, several affiliates of the Rashtriya Swayamsevak Sangh (RSS) have led high-intensity protests across Maharashtra. They all have a single demand – the enactment of a "love jihad" law in the state. This demand has been legitimised by the state government, with deputy chief minister Devendra Fadnavis stating on the floor of the assembly on December 20 that the Maharashtra is "ready" to enact such a law "to ensure long-term protection to women". He hastened to add that the state isn't against "interfaith" marriages, but love jihad happens "as part of a larger design".
What is 'Love Jihad?'
"Love jihad" is a Hindutva supremacist bogey that claims Muslim men seduce Hindu women with the express purpose of converting them to Islam. This theory, always a sub-text of right wing propaganda, has resurfaced anew after the Shraddha Walker murder in Delhi; she was murdered and then dismembered by her live-in partner, Aftab Poonawalla. Those participating in and leading the protests overflow with warnings of Muslims performing "black magic" on Hindu girls and how Bollywood encourages such behaviour.
So far, protest marches – organized by outfits with names like Hindu Jan Aakrosh Morcha, Hindu Jangarjana Morcha, Virat Hindu Morcha and Bhavya Aakrosh Morcha – have taken place in Ahmednagar, Nanded, Nashik, Dhule, Pimpri Chinchwad, Patan and suburban Mumbai. Most of the protests were under the banner of one Sakal Hindu Samaj, an RSS affiliate, with the active participation of other RSS organisations that include the Vishva Hindu Parishad, Bajrang Dal and Bharatiya Janata Party. Smaller groups – the Hindu Janajgruti Samiti, Vishwa Shriram Sena, Shri Ram Pratishthan Hindustan and Sanatan Sanstha – also participated in the protests.
What should worry the law and order machinery is that these marches saw the participation of thousands of participants, waving banners and chanting slogans. Some of them include speeches by purported leading personalities to add fuel to their fire.
Previous instances of hate speech by Kalicharan
Significantly, Kalicharan has made news for his derogatory remarks earlier too. In December 2021, speaking at a "Dharma Sansad" or religious meeting in Chhattisgarh's Raipur, Kalicharan had praised Nathuram Godse for assassinating the Father of the Nation in addition to verbally abusing Mahatma Gandhi.
In the said speech, Kalicharan had said, "I salute Nathuram Godse that he killed Gandhi" adding that the "target of Islam is to capture nation through politics." He asked people to elect a "staunch Hindu king (leader) in the government irrespective of any party (he/she) belongs to…The women of our houses are very good and civilised and they do not go to vote (in election). When there will be gang-rapes then what will happen to women of your houses (families)…(Mahamurkho) Idiots! The target of Islam is to capture nation through politics. In front of our eyes they had captured in 1947 (referring to partition)…They had earlier captured Iran, Iraq and Afghanistan. They captured Bangladesh and Pakistan through politics."
Kalicharan was subsequently arrested by the Raipur Police even though he tried hard to dodge them by booking a guest house in Khajuraho but instead, hiding out at a place 25 km from Khajuraho. While the FIR was earlier registered under Sections 505(2) (promoting enmity among classes) and 294 (obscene act in public place) of the IPC, the Raipur Police said sections related to sedition (124A) and outraging religious feelings (295A), among others, were added during investigation. He was then granted bail in January, 2022. The video of that speech can be viewed here: https://www.youtube.com/watch?v=kz9VGIEwlFs
In another instance, in May 2022, Kalicharan was heard saying that "80 crore women were gang rape in 800 years, 5 Lakh mandirs were demolished in the last 800 years and mosques were constructed in its place. We have lost Iran, Iraq, Afghanistan, Bangalesh, Australia, Indonesia, Combodia, Tibet, Half China, Nepal, Bhutan, Sri Lanka and Pakistan, as all the people there turned Muslims….. Stop being scared of politics and start working towards establishing "Hindu Rashtra." Continuing with his hate spewing, he then asks the people to vote for "kattar Hindu" politicians so that every politicians starts wearing a "tilak and jinehu" and call themselves "kattar Hindu." Furthermore, he warns the audience that those who do not vote for the kattar Hindu politicians, they were be harmed. He said, "thukayi hogi."
The video of the speech can be viewed here:
https://www.youtube.com/watch?app=desktop&v=Vmc4L-oHE6c
Even his rise to fame appears to be on the basis of his inflammatory and Islamophobic speeches. In July, 2020, Kalicharan was seen in a video wearing a large red bindi on his forehead, clad in bright red robes. Kalicharan had become a social media sensation when videos of him singing the 'Shiva Tandav Strotra' at the Bhojeshwar Shiv Temple in Madhya Pradesh went viral. Soon his videos began popping up on other platforms, of him performing religious rituals, singing, or giving discourses. However, what kept him in the limelight was his opinion on the concept of "Akhand Hindu Bharat" and how his idea of a 'Hindu nation' was in danger.
The video for the same can be viewed here: https://www.youtube.com/watch?v=pcpK2fDQ5rE
Who is Kalicharan?
Abhijit Dhananjay Sarag, well known by his stage name Kalicharan, resides in Shivajinagar, Akola, Maharashtra. After eighth grade, he reportedly left the Shivaji Nagar Parishad School. He is a member of the Bhavsar group, and his father, Dhananjay Sarag, runs a medical store in Jain Chowk, according to a report in the Afternoon Voice. According to the article, his parents "moved him to Indore" to live with his aunt because he was "not interested in studies".
Measures being taken by the Maharashtra Government to impose restrictions on Inter-Caste marriages
On December 14, the Eknath Shinde-led Maharashtra government issued a Government Resolution (GR) to the effect that a Committee will be constituted to acquire "detailed information about couples in interfaith and interc-aste marriages and maternal families of the women involved, if they are estranged," under the direction of the state's Minister for Women and Child Development and BJP leader Mangal Prabhat Lodha. The resolution stated that the Committee will also supervise district-level activities for women in such marriages who might be estranged from their maternal families so that support can be given, if needed.
On December 16, within two days of issuing a GR for forming a committee to get "detailed information about couples in interfaith and inter-caste marriages", the Maharashtra government has conveniently removed inter-caste marriages from its scope. This move by the state shown their real intentions.
Speaking to The Indian Express, Deputy Chief Minister Devendra Fadnavis had said, "The state government is encouraging inter-caste marriages and there is also a plan to give financial rewards to those who do it. But cheating in interfaith marriages has increased in the past few years and some aspects have come to light in the Shraddha Walkar murder case," he added. He also said that, "It is alarming that there has been an increase in cases of cheating in interfaith marriages in some parts of the state. Therefore, fraud in the name of love jihad has to be stopped".
Related:
M'tra Govt's move to set up "Commission" on inter-caste, interfaith marriages strongly opposed by women's groups, Opposition
Three States have demanded caste census, says MHA
State has no business to know if a person has changed religion: Deepak Gupta former SC Judge
Uttarakhand further amends its 'anti-conversion law, maximum sentence up to 10 years
"Godman" who insulted Mahatma Gandhi arrested