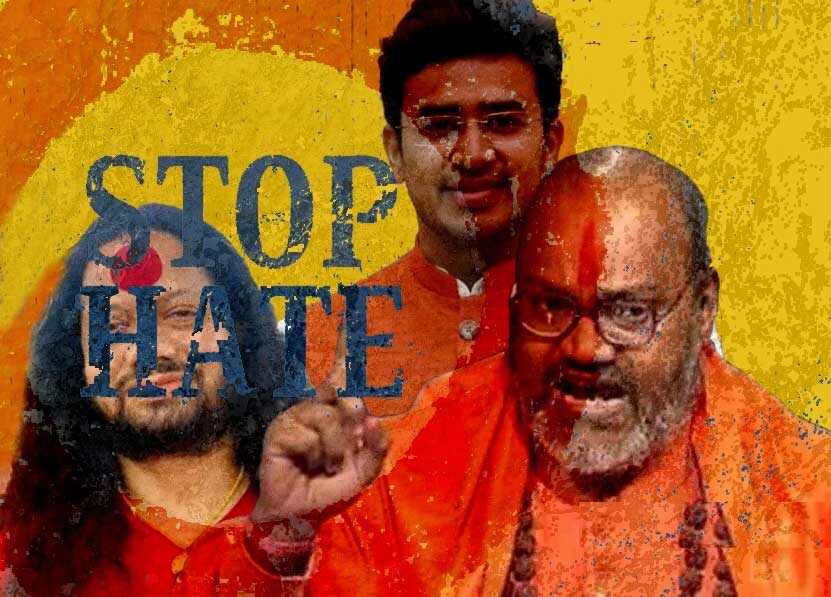 Politicians, religious leaders, cult leaders, fanatics, all indulged in speeches peppered with words, some carefully crafted, others more directly targeting Muslims, and Christians as well as anyone they see as the "other". They came, they saw, they spewed hate, and hoped that it would divide, fuel violence, and polarise. Unfortunately, some of those words did hurt as much as sticks and stones, and some others were seen as signaling by those seeking to manifest hate into real time. However, it is important to put those words on record, so history bears witness to the year that was. Here are the most recent ones, the tip of the hate speech iceberg.
Narendra Modi, Prime Minister: "आतातायियों ने इस नगरी पर आक्रमण किए, इसे ध्वस्त करने के प्रयास किए! औरंगजेब के अत्याचार, उसके आतंक का इतिहास साक्षी है। जिसने सभ्यता को तलवार के बल पर बदलने की कोशिश की, जिसने संस्कृति को कट्टरता से कुचलने की कोशिश की! लेकिन इस देश की मिट्टी बाकी दुनिया से कुछ अलग है। यहाँ अगर औरंगजेब आता है तो शिवाजी भी उठ खड़े होते हैं!" (Translation: Terrorists have invaded this city, tried to destroy it! History has borne witness to Aurangzeb's atrocities and terror. He tried to change civilization with the might of his sword, he tried to crush culture using extreme methods. But the soil of this land is different from that of others. If Aurangzeb comes here, Shivaji stands up to him!)
Tejasvi Surya, BJP's Member of Parliament, Karnataka: "We should convert the Muslims of Pakistan to Hinduism. We have to prioritise ghar wapsi. Pakistan is included in the idea of Akhanda Bharath. Mutts and temples should take leadership in this regard."
Araga Jnanendra home minister Karnataka: "There are mistakes on both sides. If they were not doing forceful conversion, then they wouldn't be stopping them and creating ruckus. On one hand, yes, fringe elements and on the other hand there are illegal conversions."
Pradipsinh Vaghela, BJP: "Congressmen say that if one Afzal Guru is killed, more will be born. But I am saying that if more are born, we will kill them all!"
Yati Narsinghanand, religious leader from UP: As an organiser of the Haridwar Dharam Sansad on December 19, Narsinghanand announced, "If any youth worker is prepared to become the Hindu Prabhakaran, then before anyone else, I will give him Rs 1 crore… if anyone takes on the responsibility to become the Prabhakaran of the Hindus, I will give Rs 1 crore, and if he continues for one year, I will raise at least Rs 100 crore to give."
Annapurna, Hindu Mahasabha: "I will raise swords, to save my Hindu dharma, will rip them with my tigress like nails. If we give a call, it will not be Islamic Bharat, Hindu rashtra will be declared… ready to kill 20 lakh of them [Muslims]."
Dharamdas, religious leader from Bihar: "If I was present in the Parliament when PM Manmohan Singh said that minorities have first right over national resources, I would've followed Nathuram Godse, I'd have shot him six times in the chest with a revolver."
Ravindra Narayan Singh,Vishwa Hindu Parishad: "When India was partitioned on the basis of religion, we had given a separate land for Muslims. Ye samjhiye ke hum apne desh se us cancer ko nikalna chahte the (It was akin to removing that cancer from our country). But, unfortunately, this did not succeed."
Keshav Prasad Maurya Uttar Pradesh Deputy Chief Minister: "[Muslims are] lungi chaap, jaalidaar topi goondas.They were roaming the streets with revolvers in their hands and threatening businessmen."
Manohar Lal Khattar, Haryana Chief Minister: Offering namaz in open will not be tolerated!
Sadhvi Saraswati of Vishwa Hindu Parishad: Across the world Gau Mata (mother cow) is respected, but in Karnataka, the cow is killed for meat. Such slaughterers have no right to live in this country. Cows are being stolen from the cowsheds of Hindus showing arms. We all should carry swords to save the Gau Mata.
Ashwini Upadhyay BJP leader: One of the organisers of a Hindutva rally called for Muslim genocide with "Jab M***e Kate Jaenge Ram Ram Chillaayenge (Muslims will scream "Ram Ram" while they are hacked to death.) He was arrested, and released on bail. At the 'Dharma Sansad' which became a Hindutva 'hate speech' conclave at Haridwar, that has now made global news for its calls to violence against Muslims lawyer Ashwini Upadhyay unveiled a "Hindutva" edition of the Constitution saying, "I got a "Bhagwa Samvidhan (Saffron Constitution)."
Kalicharan Maharaj, religious leader: "Elect a staunch Hindu king… When there will be gang-rapes then what will happen to women of your houses (families)…(Mahamurkho) Idiots! The target of Islam is to capture nation through politics. In front of our eyes they had captured in 1947. They had earlier captured Iran, Iraq and Afghanistan. They captured Bangladesh and Pakistan through politics."
Wasim Rizvi aka Jitendra Narayan Singh Tyagi: "Islam is a terror cult. [I] chose the holy day of December 6 to convert to Hinduism as on this day, the Babri mosque was demolished in 1992…"
"26 verses of the Quran should be removed… some verses that are used to promote terrorism, violence, jihad."
Kangana Ranaut, actor: "Woh azaadi nahi thi, woh bheek thi. Aur jo azaadi mili hai woh 2014 mai mili hai (That [India's Independence in 1947] wasn't freedom, that was alms. We got real freedom in 2014.)"
Ranaut also allegedly labelled the Sikh Community as 'Khalistani Terrorists'.
Mar Joseph Kallarangatt, Bishop of Pala diocese: "Non-Muslims are being targeted with 'Narcotic Jihad' in Kerala, drugs used to lace soft drinks and juices to make non-Muslims addicts."
Ajju Chauhan of Antarrashtriya Hindu Parishad, Rashtriya Bajrang Dal: "Santa [Claus] does not come bearing any gifts, his only goal is to convert the Hindus to Christianity. If this is not stopped, then there will be agitations at missionary schools…. If any missionary is found doing this, the Antarrashtriya Hindu Parishad and Rashtriya Bajrang Dal will take strict action against him."
Narendra Singh Pahari, Politician: "Christianity is not acceptable here. We are not disrespecting Jesus Christ but we want to tell the future generations to remember him if they want and do it legally but not fall for attempts of religious conversion. It can destroy Indian culture."
DG Vanzara, Ex-IPS officer: "India be declared a Hindu rashtra by establishing dharma satta (reign of religion). Till India remains a secular state, Hindus will never be able to become owners of this country like Christians and Muslims, who have their own countries, which are ruled according to their religion… Even in a state like Gujarat, Hindus are not safe."
Suraj Pal Amu, Karni Sena, BJP spokesman: "If India is our mother, then we are the father of Pakistan, and we will not give houses here on rent to the Pakistanis [meaning Muslims]… Remove them from this country. If you want to make history in this country, if you don't want to become history, neither will Taimur be born, nor will Aurangzeb, Babur, Humayun be born. We are 100 crore, and they are 20 crore."
Rakesh Kumar Pandey, Associate Professor, Delhi University: "Love planned to help spread your religion is 'Love Jihad' and Marks distributed to help spread your ideology is 'Marks Jihad'."
Ayush Sinha, Sub-District Magistrate: "Split open the skulls of any person [Farmers] who tries to cross the barricades."
Related:
Alienation and apathy: Assam government's 2021 agenda?
Why does the PM look the other way when BJP leaders give communal speeches?