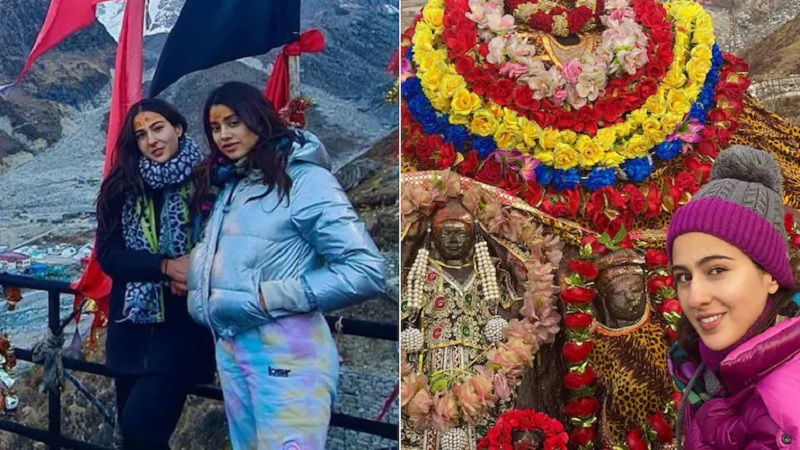 Image Courtesy:indiatoday.in
Actor Sara Ali Khan was trolled for her visit to the Kedarnath temple by cyber bullies as soon as she shared photos of the trip on Instagram. The actor visited the temple with her friend and colleague actor Janhvi Kapoor, and shared many photos of the two at the temple and around. In one they were seen with forests anointed as done traditionally after seeking blessings at the shrine.
Sarah, who hails from a multi religious family, was now trolled for visiting a Hindu temple even though she has both Hindu and Muslim parents. Interestingly, the trolls bore both, Muslim and Hindu names, and went at Khan with all kinds of vile comments. Sara Ali Khan had captioned the photos "Back to where it all began
#jaibholenath#grateful #blessed", a throwback to her movie Kedarnath that put her on the Bollywood map.
She had earlier been trolled after she posted birthday greetings for Home Minister Amit Shah on October 22.
Warmest birthday wishes and regards to the Hon'ble Union Home Minister @AmitShah ji.

— Sara Ali Khan (@SaraAliKhan) October 22, 2021
Now, she was trolled and reminded that "You are a Muslim, so what are you doing, Astagfirullah (sic)" another wrote, "Laanat hai tum jaise musalmano pee…awww tm muslim ho bh nh sakte tm jase log (sic)."
And then there was a third category of right-wing handles who stated that the actor was "embracing her Hindu roots".
THOSE LIBERALS WHO WERE OUTRAGED AT RAPE THREATS ((RIGHTLY SO)) ARE SILENT AS ISLAMISTS BRUTALLY ATTACK SARA ALI KHAN

Merely because she visited Kedarnath & wished @AmitShah ji on his birthday

YEH GIRA INKA DOUBLE STANDARDS AUR TOLERANCE KA BURKHA https://t.co/qLDiSEdNg6

— Shehzad Jai Hind (@Shehzad_Ind) November 3, 2021
Why aren't we talking about the abuses that Sara Ali Khan has been facing for embracing her Hindu roots?

— Rashmi Samant (@RashmiDVS) November 3, 2021
Vicious Attacks by Islamists on Sara Ali Khan for visiting Kedarnath and Farhan Akhtar for celebrating Diwali. Still no outrage by Left Liberals because Propaganda Ooncha Rahe Hamara!

— Monica (@TrulyMonica) November 3, 2021
Related:
Hate Watch: Twitter user threatens Virat Kohli's infant with rape, deletes accounts
Hate Watch: Bajrang Dal threats force Munawar Faruqui to cancel shows in Mumbai
Hate Watch: Hindutva group raises slogans outside Muslim-owned shop in Gujarat