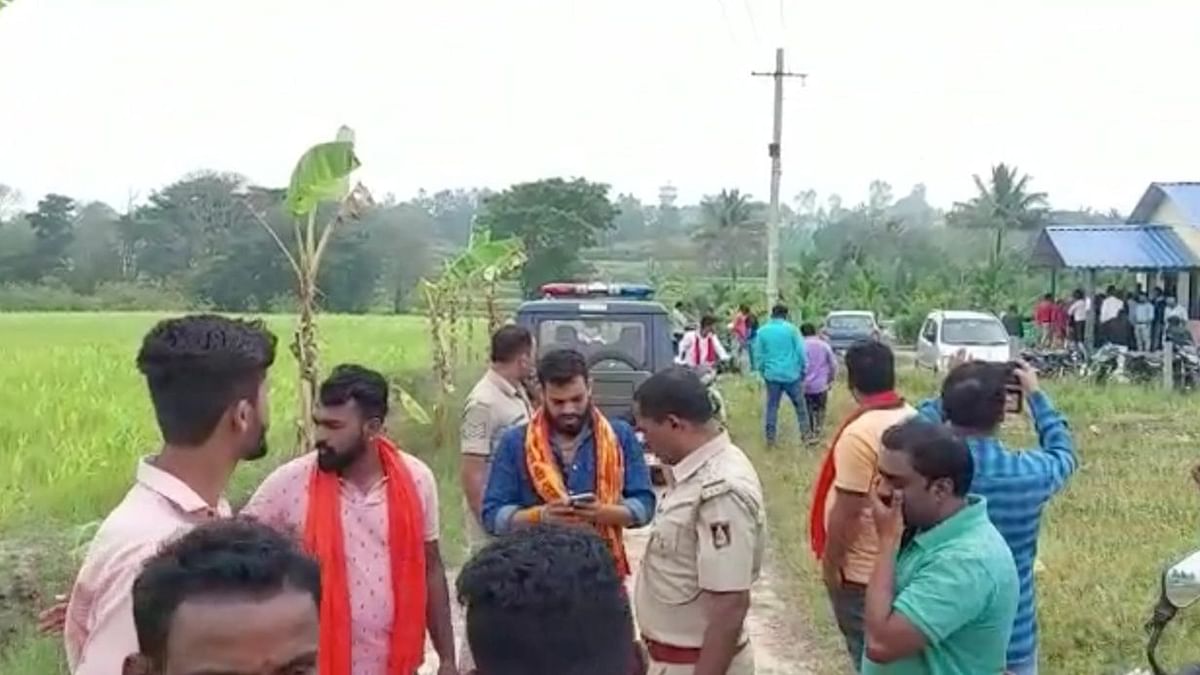 The Karnataka government is likely to introduce its Anti-Conversion Bill in the legislature session in Belagavi that begins on December 13. However, communal mobs, claiming affiliation to the right-wing organisations of the Sangh parivar such as the Bajrang Dal and Vishwa Hindu Parishad (VHP) have been targeting the Christian and Muslim communities in the state.
Most recent was an incident that reportedly took place on Sunday in Belur in Hassan district. A video that has been going viral on social media showed a group of men claiming to be members of the Bajrang Dal disrupting worship at a Christian prayer hall. They reportedly stopped the Sunday worship service mid-way and forced people out of the prayer hall.
It was just a group of brave women who came forth and questioned the saffron scarf wearing men. According to The Indian Express, Belur police officials have confirmed the incident and said no complaint has been filed by either side. Someone can be heard in the video telling the women something to the equivalent of 'calm down and please go inside'. According to the IE report inspector K M Yogesh inspector said, the police "reached the spot and warned both sides." According to news reports, the Belgavi Police had issued a 'friendly warning' telling Christians to avoid prayer meetings, for fear of being attacked by right-wing groups.
#BajrangDal disturbed a #Christian prayer meet at #Belur #Hassan alleging #Hindus are being forcibly converted & prayer hall constructed is illegal. Women at the church fought back saying who are they to question them.Cops had to intervene to stop further escalation. No case regd pic.twitter.com/hF97yvlXKe

— Imran Khan (@KeypadGuerilla) November 29, 2021
After it faced massive criticism for its proposed survey of Churches and Bible societies in the state, Karnataka put on hold the survey and was reportedly "waiting for the verdict of the state High Court on a PIL in this regard". The Committee on Welfare of Backward Classes and Minorities had proposed the contentious "survey" in response to allegations of "forced conversions".
The Archbishop of Bangalore, Peter Machado, had also warned that data leaked after such a survey was likely to fan further persecution at the hands of extremists. Archbishop Peter Machado had said that this survey of Churches, as well as any anti conversion laws in the state will only empower radical mobs.
However, Karnataka Chief Minister Basavaraj Bommai had stated that the "anti-religious conversion laws" that are already in place in BJP-ruled Uttar Pradesh, Himachal Pradesh, Madhya Pradesh, and Gujarat, "will be studied to formulate a strong legislation in Karnataka." The CM had told the media that "a strong law will be brought into effect soon." The state has a stringent anti-cow slaughter ban in place since February, 2021.
Communal hate crimes are acts of violence against society at large: report
People's Union for Civil Liberties, Karnataka (PUCL-K), All India Lawyers Association for Justice (AILAJ), All India People's Forum (AIPF) and Gaurilankeshnews.com recently released their fact-finding report titled 'From Communal Policing to Hate Crimes: The Attacks on Ambedkar's Dream of Fraternity'. The report puts on record and analyses the communally fuelled incidents in Dakshina Kannada area of Karnataka. These events have unfolded between January – September 2021 and include incidents of communal policing and communal hate crimes. According to the authors, the need for such a fact-finding report arose from this massive escalation of communal incidents which were reported in the media. The fact-finding team of rights activists from different organisations also noted how accounts of communal policing were "practically justified" by Karnataka Chief Minister, Basavaraj Bommai. It is such communal policing that has often led to hate crimes, especially against the minority communities, women, and Dalits.
The latest mob targeting this Sunday is yet another example of how right-wing groups are now active in Karnataka. Here are some other ways they have targeted Chritians lately:
Singing Hindu bhajans in church as "protest"
Men belonging to Bajrang Dal and Vishwa Hindu Parishad (VHP) sat down and sung Hindu bhajans in the Bairidevarkoppa church in Hubli, and alleged that the church authorities were "conducting forced religious conversions". The Church has said no conversions were taking place. The group of men all belonging to right wing groups, allegedly forced their way into the church on a Sunday morning. They sat at the back of the church, without masks and sang a bhajan, rather repeating the chant "Sri Ram jai Ram jai jai Ram". The men were reportedly claiming this was their way of 'protest' and they alleged that there were forced religious conversions taking place there.
College forced to cancel naming park after Stan Swamy
The right-wing continued to target and vilify the name of Jesuit priest and tribal rights activist Stan Swamy even after his death. A proposal to name a park inside the St Aloysius (autonomous) College campus in Mangaluru 'angered' the right-wing so much that they created a major hate campaign that forced the college to call off the event in October.
Related:
Communal hate crimes are acts of violence against society at large: Karnataka report
Has Karnataka government put on hold survey of churches, till Pope-Modi meeting?