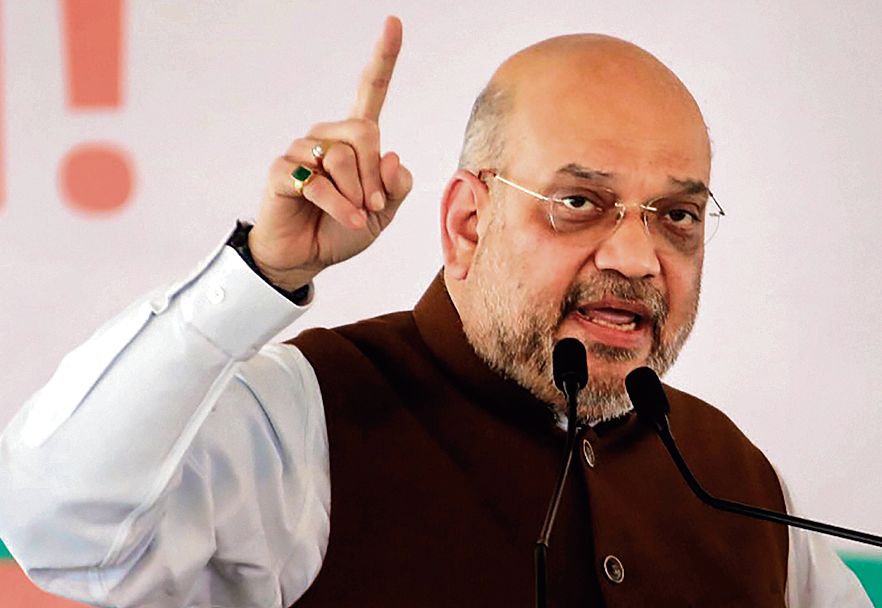 Union Home Minister Amit Shah at an election rally for the upcoming Assmebly elections in Gujarat, congratulated Chief Minister Bhupendra Patel for having demolished illegal mazars or Muslim shrines that had "mushroomed" in Beyt Dwarka which si a small island off Dwarka coast.
According to Rediff.com Shah said "I want to congratulate CM Bhupendra Patel for demolishing illegal mazars (a Muslim shrine or enshrined tomb) and other illegal constructions which mushroomed in Beyt Dwarka (a small island off the coast of Dwarka) over years. There were more mazars than the population,".
He also said, "All the Latifs and Ijju Shaikhs (two criminals from Gujarat) were already eliminated. Today, 20-year-old youths do not even know what curfew is like. We eliminated the appeasement-based politics and established the rule of law in Gujarat".
He has made similar hate speeches in the past during election rallies. Most recent among these were made by him during the run up to the UP Assembly elections early this year.
At an election rally in Azamgarh in March, Shah claimed that "Alia, Malia and Jamalia were used to infiltrate from Pakistan as long as there were governments of Congress and other parties in the country." Shah told the voters, that under Prime Minister Narendra Modi's government, "the Indian Army enters Pakistan and takes action against the terrorists". This phrase is a dog-whistle, meant to train the minds of voters to recall these as Muslim names, and the rhyme makes it easy for them to chant when taking an anti-Muslim, and an anti-Pakistan stance, which the right-wing ecosystem tags as one.
At an election in Atrauli he had said, "When Congress governed for 10 years, Alia, Malia, Jamalia from Pakistan invaded our country and beheaded our jawans. Then PM Manmohan Singh didn't do anything. But after the Uri and Pulwama attacks, PM Modi eliminated terrorists in Pakistan with a surgical strike in 10 days."
He had also invoked the same Alia-Malia-Jamalia chant in December 2019 in Himachal Pradesh, and before that, in 2017 in Gujarat, when he was Bharatiya Janata Party president. Amit Shah had said in a speech in Gujarat that "since Narendra Modi formed a government, no Alia-Malia-Jamalia dared to carry out communal riots in Gujarat." According to a column in the Mint that year, journalist Priya Ramani recalled, "It's not a phrase he invented. Prime Minister Narendra Modi used it in 2002."
Related:
Who are Alia, Malia, Jamalia, that Amit Shah keeps remembering?
Hate Watch: Twitter suspends Kreately Media's account after CJP complaints
Hate Watch: Suresh Chavhanke spews venom against Maulana Abul Kalam Azad
Hate-Offender Raja Singh granted conditional bail, investigations into offences continue