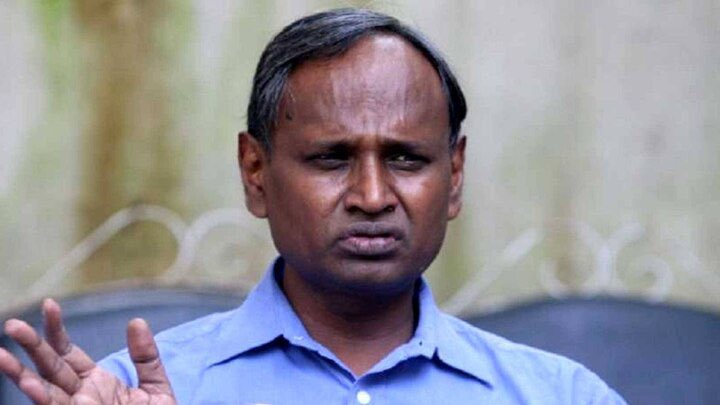 Santosh Ranjan Rai, the former national vice president of Bharatiya Janata Party's (BJP) youth wing, and a devout Rashtriya Swayamsevak Sangh (RSS) follower who has the usual "Nationalist |BJP Karyakarta" etc as his Twitter bio and a photo with the Prime Minister as his cover image, has now taken to making racist and casteist comments. His target was Dr. Udit Raj, who was a Member of Parliament (2014-19) when he was in the BJP himself.
Rai said "if there is a shortage of coal anywhere.@Dr_Uditraj Can be used in fuel…" targeting the Dalit leader for the colour of his skin. This vile comment is a prime example of discticimation, racism and casteism.
सरकार ने कह दिया है कोयले कोई कमी नहीं है फिर भी अगर कहीं भी कोयला की कमी हो तो @Dr_Uditraj का इंधन में उपयोग कर सकते हैं …. pic.twitter.com/zprPQAXFlQ

— Santosh Ranjan Rai (@SantoshRanjan_) October 13, 2021
Dr. Udit Raj, who quit the BJP and joined the Congress, where he is now a National Spokesperson, is an Ex-IRS officer, who quit his government job to devote more time as a Dalit rights activist, and later as a politcian. Since he quit the BJP, Udit Raj told SabrangIndia in an exclusive interview that he has been a target of many such focussed attacks on social media, and has received threats on a regular basis.
"I have alerted the party and I will also file a complaint with the police," he says adding "I am the most hated person by the RSS-BJP. You can see a two-year war against me on social media, and even a media boycott." According to Raj, "Apart from Rahul Gandhi, not many others tweet against Modi and Amit Shah directly. I target them directly." This he says, riles up both the party and the bhakts, and puts him on their "list" of people to vilify. None of the right-wing goons had dared targetted or racially abused him when he was with the BJP, all that is a thing of the past. He says, "They have conducted twitter trends against me two three times, they have put up hoardings against me in Narela area."
Udit Raj alleged that the BJP has even instructed the media to boycott him and not to call him for TV debates. He alleged, "ANI has blacklisted me. They said I tweeted against ANI, which I have not. [I feel] Amit Shah has sent a message that I am a hardliner. How much power they [BJP] have, that they can even control who appears on TV from the opposition."
Social media threats are just the tip of the abuse iceberg says the Dalit leader, who had creeated ripples when he joined BJP and won a Lok Sabha set in Delhi. "It was due to me and Ram Vilas Paswan that the BJP got a lot of Dalit votes. That has been dented after I have left." He says a verified handle such as Rai is just a sample of the hoards who regularly threaten him and hurl abuses, "I have received so many vile abuses".
The racist tweet was soon reported by many, including journalist who called it as one that contained "hate, racial discrimination, caste discrimination and desire for death" asking Twitter to "take strict action and his account permanently".
Hello, @Twitter this tweet include hate, racial discrimination, caste discrimination and desire for death. Please take strict action and his account permanently. Please have a look on your policy ?@verified @TwitterIndia @TwitterSupport @TwitterSafety @TeamSaath @jack pic.twitter.com/ESPgmGbDtn

— Meena Kotwal (@KotwalMeena) October 13, 2021
मैं @TwitterIndia से अपील करता हूं कि जातिवादी संघी @SantoshRanjan_ का अगले 24 घंटे में अकाउंट बंद हो जाना चाहिए। साथ में सीएम @NitishKumar जी, से भी अनुरोध करता हूं ये व्यक्ति अगले 24 घंटे में जेल में होना चाहिए। एक दलित नेता पर इस प्रकार की जातीय, नस्लीय टिप्पणी असहनीय हैं। pic.twitter.com/cvgXiQhv4n

— Hansraj Meena (@HansrajMeena) October 13, 2021
Related:
Muslim boy had come to do "recce": Yati Narsinghanand
Uttar Pradesh: Dalit school children thrashed, made to sit separately in Amethi
UP Dalit man who exposed SC discrimination in school being threatened?
Karnataka: Dalit family fined Rs 25,000 for 'purification ritual' after toddler runs into temple
A year on, Hathras victim's family awaits a house, pension and employment