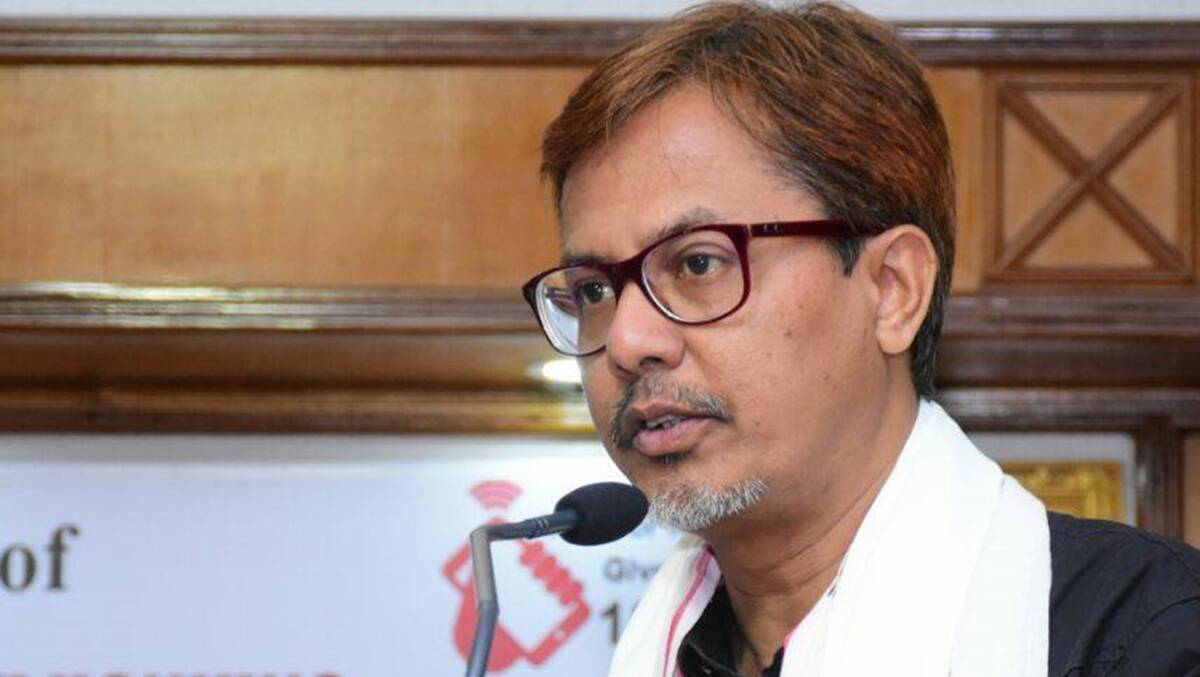 Shiladitya Dev | Image courtesy: The Indian Express
Once again, the epithet, Miya Muslim, has generated controversy and let loose a string of hate and targeted speech, that too emanating from some influential personalities in Assam. After being inaugurated on October 23, the district authorities in the Goalpara district of Assam on Tuesday, October 25 sealed a museum dedicated to the Miya Muslim community on allegations of wrongful use of the premises, officials told the media. The museum had been inaugurated just two days before, on October 23.
Two leaders of the community, including the person who set up the museum, were also detained on Tuesday evening. They have been charged under provisions of the Unlawful Activities (Prevention) Act (UAPA) and Indian Penal Code sections pertaining to criminal conspiracy and collecting arms with intention to wage war against the Union government!
These developments on October 25 were, predictably, preceded by a string of hate speeches made targeting Bengali Muslims and their culture. The first such, was made by controversial former MLA of the ruling Bharatiya Janata Party (BJP) Shiladitya Dev and then followed by another made by the chief minister, Himanta Biswas Sarma himself.
Shiladitya Dev, a Bharatiya Janata Party (BJP) leader who was previously the Member of Legislative Assembly (MLA) from the Hojai unleashed words that were inciteful, provoking the wider community in the name of 'Miya Museum'. Dev is a serial offender and even previous statements reported by Sabrangindia have been hate-ridden, made with a motive to fuel the communal tensions between communities. This was on October 24, the day after the museum was inaugurated. In Aug 2020, multiple FIRs had been filed against him by several groups and individuals for particularly inciteful speeches. At the time when he had been widely condemned by Assamese society he had dared
dubbed Assamese litterateur who happened to be a Muslim, an "intellectual jihadi."
He started his diatribe with, "Assam is filled with Miyas, so why there is need of Miya Museum, it should set on fire and set ablaze." This was a brazen incitement to targeted violence. He then continued, "After the CAA protest, one section of community wants Miya Museum in Srimanta Shankardev Kalakhetrya specially one MLA." This reference to one MLA, by Dev was meant to target Sherman Ali Ahmed. He also spoke of the origin of today's Muslim, "90-99 out of 100 Muslims in Assam have been basically converted from the Hindu religion; even today, some of them still have a planted Tulsi plant in the verandas of their homes in upper Assam." He also demanded that the authorities demolish the Miya Museum forthwith.
There is worse. Shiladitya Dev also alleged, "In the name of 'Grow More Food Project' in 1936, the then government brought the Bengali speaking Muslims to the state. However there was a hidden agenda which was to increase the Muslim population in Assam and annexe Assam with East Pakistan. In this process they enrolled their names in the National Register of Citizens (NRC) and so on." He also criticised, " The Bengali speaking Muslim whom I refer as Bangladeshi Muslim, prove that they wants to establish the Bangladeshi culture not the Assamese which is "Sonatani Culture" (Sanatani, upper caste Hindu) in Assam though they utter slogans like Jai Aai Axom (Hail mother Assam)." "Lungi Tupi (the lower garb and skull cap) cannot be their identity, and indigenous Muslim also do not wear that Lungi and Tupi." He alleged that Miya Muslim people trying to establish Arabic Culture in Assam!
Not stopping here, his hate rant goes even further.
"Few days ago one Ismail Islam went to Majuli and went to eat inside a kitchen of a Satra. Santana Dharmis worship cow and a cow eater went into Satra, this is awful. If he wants to revert back to the faith of his origin let him do so completely."
[[Ismail Hussain ( junior) a writer of Assam went to a Satra ( monastery-cum- centre of traditional performing arts in Assam; this particular one is a reference to Sankrian i.e who believed the philosophy of Srimanta Sankardev's naba boishnab dharma) in Majuli District where Ismail Hussain partook of food in the kitchen of the satra.]]
Dev also went on to say "Miya culture cannot be the culture of Assam so the Museum cannot be built here. The country was divided for Miyas on the basis of religion and, so if they want to build any such Museum then they should build it in Bangladesh or Pakistan. We won't have any objections then."
Immediate Background
The word 'Miya' unleashes a fresh round of hate and a controversial debate ensues once again, in Assam again. A newly established Miya Museum, set up in the Goalpara district of Assam is is located at Dabkarvita in Lakhipur area. The inauguration program was held on October 23, and was attended by vast sections of the including the dignitaries of All Assam Miya Parisad.
On October 25, the Miya Museum was sealed just day after the inauguration of it in Lakhipur of Goalpara district. The Museum was sealed by Rajiv Gagoi, the Circle officer of the Lakhipur. The official reason to seal it is yet to be known but it could be assumed that after the Statement of Assam Chief Minister Himanta Biswa Sarma it was enacted.
Miya Museum at Lakhipur sealed soon after CM @himantabiswa assured action.

— atanu bhuyan (@atanubhuyan) October 25, 2022
In a recent developments two professor from different colleges in Assam was arrested in allegedly connection with ban outfit. The Special DGP of Assam GP Singh tweet reads as follows: "Sri Mohar Ali of Goalpara & Sri Abdul Baten of Dhubri have been detained in connection with Ghograpar PS Case no.163/22, U/S- 120(B)/121/121(A)/122 IPC , R/W-Sec -10/13 UA(P) Act. Further investigation and interrogation would be carried out about their association with AQIS/ABT."
Sri Mohar Ali of Goalpara & Sri Abdul Baten of Dhubri have been detained in connection with Ghograpar PS Case no.163/22, U/S- 120(B)/121/121(A)/122 IPC , R/W-Sec -10/13 UA(P) Act. Further investigation and interrogation would be carried out about their association with AQIS/ABT.

— GP Singh (@gpsinghips) October 25, 2022
Chief Minister Sarma weighs behind the hate
Not only were these statements problematic but even Assam's chief minister Himanta Biswa Sarma appears to have also added fuel to the fire. This was on the day after Shiladitya Dev's rantings, on October 25.
He said, "I don't know what kind of Museum it is, there is nothing new except the lungi (loin cloth). All the others like plough or fish hunting tools are being used in Assam for centuries. They have to face the law as they took (snatched) these things from the Assamese people and put them up in 'their' Museum, if they want to keep these items there, then they have to produce a valid inscription."
Addressing intellectuals from Assam at a press conference on the issue, Sarma said: "Now is the time for Assamese intellectuals to think. When I (earlier) criticised Miya poetry they called me communal. Now there is miya poem, miya school, miya museum." He took on the very idea if a Miya Museum and said, "I was saying about these threads earlier. They have to answer to this government about the things they have preserved because they took the Gamosa (gancha) from Deshi people. After the holidays action will take place."
Not only were these statements problematic but even Assam's chief minister Himanta Biswa Sarma appears to have also added fuel to the fire. October 25, 2022)
Sarma also spoke about three important tasks, he stated, "Number one, They have to give historical data that plough is only used by the Miyas. Second part is from where have they got the money for this museum, they must reveal details to the police and police will investigate. Thirdly, intellectuals should now address this issue, I only faced flak earlier."
He further commented on the items on display at the Museum, "I understand the lungi is their original contribution but all others like fish hunting tools, we have already preserved those as part of Brahmaputra Heritage. Now they have to answer which one is their original symbol of representation? " He also alleged, "Deshi people saying that their Gamosa has been stolen from them and 'claimed' by Miya Muslims there."
He lastly spoke about the contentious issue of demography, that is "Muslim- majority districts! "You have already known about eight districts and their condition. If someone place something on their homes, how many houses can the government evict? So there should be a cultural, political protest against this attitude."
He ended his exhortation with suggestions for the wider Assamese Community, "Moreover, the Assamese community should think about the resistance to these tendencies; in the coming days we may face more such challenges. If you see the voter list of Barpeta district some 50 years ago, you will find out that there were historic places in almost all villages by name but everything has 'disappeared' now. I have spoken about the Barpeta Satra too, but many 'Assamese intellectuals' have criticised me. They (Miya Muslims) are holding 1/3 of all lands in Assam, the government can demolish one house but how many more can we do. There should be a spontaneous resistance from the people."
The issue and terminology, Miyas, be it for the 'Miya Museum' or to define a section of self-acclaimed Muslims in Assam had also generated much debate in Assam in year 2020 when Congress MLA, Sherman Ali Ahmed first proposed that a Miya Museum be established at the Srimanta Shankardev Kalakhetrya in Guwahati. He argued that Miya literally means 'Sir' or 'Gentlemen' and represents the Bengali Speaking Muslim especially, residing in Assam. The museum should be established to preserve the art and culture of the community, it was argued.
However, this thought was resisted by large sections of the wider Assamese community, who have often assessed the terms in a chauvinistic manner. They expressed their 'strong discomfort' with the idea. Now, recent developments related to the Miya Museum unleashed by the ruling party BJP and its leaders, seen as majoritarian and chaunvinistic, have further, again targeted the Miya Community. The slogan, predictably is, 'Assamese culture is in danger!'
In early 2021, as the State approaches the Assembly polls, Hemant Biswa Sarma said that the Bhartiya Janta Party (BJP) does not need votes from the Bengali origin Muslim community in Assam to win the elections, and accused them of "openly challenging Assamese culture, language and the composite Indian culture", as reported by the Indian Express
If these are not brazen incitements to violence against a targeted section, it is a difficult to assess what is. With the state and administration under him, Sarma is playing with fire.
Related:
I Am 'Miya' — Reclaiming Identity Through Protest Poetry
Don't need Miya Muslim vote: Himanta Biswa Sarma
Multiple FIRs against BJP MLA Shiladitya Dev's Hate Speech: Assam
Hate Speech on FB is BJP's weapon of choice in Assam: Report