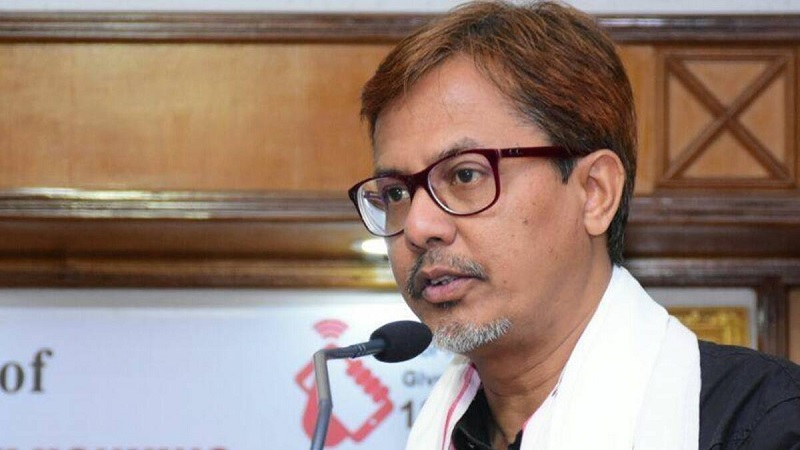 Image Courtesy:indianexpress.com
In a damning indictment of the devolving standards of television news debates in India, NKTV, an Assamese language news channel, appears to have allowed a panelist hailing from the ruling regime to make a series of anti-minority comments during one such live debate on its channel.
Shiladitya Dev, a Bharatiya Janata Party (BJP) leader who was previously the Member of Legislative Assembly (MLA) from Hojai, was part of a panel discussion on NKTV centered around the recent incidents of violence in Batadraba. However, he was allowed to make a series of statements against Muslims and even alleged that India was not their country, they were merely "allowed" to live here.
During this debate, Dev spoke in Assamese about the alleged influx of Bangladeshis into Assam. The gist of it as translated by CJP's Assam team is, "80 lakh Bangladeshi origin Muslims have illegally entered India," and that "During partition Muslims had created a separate country for themselves. They should be grateful they are being allowed to live in India."
Other panelists included Congress MP Abdul Khaleque, Raijor Dal spokesperson Gyanoshri Borah, All Assam Minority Student Union(AAMSU)General secretary, Imtiaz Hussain, and All BTAD Minority Students' Union (ABMSU)General Secretary Ashraful Hussain. The debate was hosted and moderated by anchor Paragmani Aditya. Though the purpose of the debate was to discuss the Batadraba violence and its aftermath, it quickly veered towards the topic of the National Register of Citizens (NRC), and the alleged infiltration by illegal Bangladeshi immigrants.
Dev began by tracing his own roots to Bangladesh, saying, "I didn't hesitate to admit that my father was originally from Rangpur district. But Muslims never admit to their origins."
Abdul Khaleque countered this saying, "Even my forefathers from that part, but that time it was undivided India. And on the basis of that you(Shiladitya Dev) can't label them as a Bangladeshis today." Now, even though Khaleque had merely stated a fact, and in fact proved Deb wrong by admitting to his own ancestor's origins, Dev accused him of advocating for Bangladeshis.
When Imtiaz Hussain countered this, Dev tried to suggest that Indian Muslims were somehow not at par with other Indian citizens. He said, "It is my nation, you (Muslims) are just allowed to stay here."
All this while, the anchor rarely intervened in any meaningful way. He neither asked Dev to tone down his anti-Muslim comments, nor did he ask any questions about how he arrived at the figure of 80 lakh Bangladeshi illegal immigrants. At one particularly heated point during the debate, he could be seen smiling quietly instead of asking the participants to exercise restraint.
The entire debate in Assamese may be viewed here. TRIGGER WARNING: Communally charged statements:
The big questions remain:
Why did the anchor not try to play the part of a good debate moderator and control the speakers?

Did any other channel employee, perhaps the show's producers, try to stop Dev? If not, why not?

Was Dev allowed to make anti-Muslim statements so that the channel could benefit from showing allegiance to the ruling regime by fanning "nationalistic" sentiments, all the while also bumping up their own TRPs?

Does the channel endorse Dev's idea of Muslims being a sort of second-class citizens who merely live in India because the majority community has "allowed" them to do so?
NKTV has a lot of questions to answer, because the conduct of the channel's anchor and by extension the channel itself does not showcase commitment to journalistic standards and guidelines set by various news broadcasting bodies.
As perthe codes of ethics and principles of self-regulation laid out by the News Broadcasting and Digital Standards Authority (NBDSA), that was previously known as NBSA, Broadcasters shall ensure that the news shall not be selected or designed to promote any particular belief, opinion or desires of any interest group. It also stipulates that Broadcasters shall ensure a full and fair presentation of news and shouldtake responsibility in ensuring that controversial subjects are fairly presented. As per their principles, TV News channels must provide for neutrality by offering equality for all affected parties, players and actors in any dispute or conflict to present their point of view. Caution should be exercised in reporting content which denigrates or is likely to offend the sensitivities of any racial or religious group or that may create religious intolerance or disharmony. Moreover, caution should be exercised in reporting content which denigrates or is likely to offend the sensitivities of any racial or religious group or that may create religious intolerance or disharmony.
In addition, the NBDSA's guidelines state, "News broadcasters must not broadcast any form of 'hate speech' or other obnoxious content that may lead to incitement of violence or promote public unrest or disorder as election campaigning based on communal or caste factors is prohibited under Election Rules. News broadcasters should strictly avoid reports which tend to promote feelings of enmity or hatred among people, on the ground of religion, race, caste, community, region or language."
Shiladitya Dev: Serial Hate Offender
Dev is a serial hate offender and CJP's sister publication SabrangIndia has reported on his many instances of hate speech in the past. In March 2018, he had blamed Bangladeshi Muslims for increasing instances of rape in Assam. He had also made this claim of Bangladeshi Muslims "raping our mothers and daughters" in a Facebook post. Dev has repeatedly used social media platforms like Facebook to make hateful comments, especially against Bangladeshis and Muslims. But Facebook had allegedly turned a blind eye to this and only took the posts down last year, after an article in the Time magazine highlighted his hateful comments.
His hate speech, that allegedly attempted to divide Assamese and Bengalis, had led to an FIR at the Silchar police station in 2018. A case was also filed in the same year in the court of chief judicial magistrate, Nagaon, against him for his frequent communal remarks on the National Register of Citizens (NRC) in the state. Dev had alleged that Hindu refugees were being shown as foreigners, while the names of Bangladeshi Muslims were published in the final NRC.
After unidentified gunmen killed five people in Tinsukia district in November 2018, state BJP president Ranjeet Kumar Dass had said provocative statements by some groups and individuals were to be blamed for the case. Dass had informed the media that Dev had been warned twice not to make any such statements or else the BJP would write to the parliamentary board for taking action against him.
Dev had also made disparaging statements against revered Assamese scholar Syed Abdul Malik in August 2020, calling him an "intellectual Jihadist". Malik a poet and former president of the Azam Xatia Xabha (AXX) is a highly respected leader and has a huge following across Assam, especially among indigenous people.
In fact, shortly after this statement, several FIRs were filed against Dev. While the minority department chairman Salman Khan of the Assam Pradesh Congress Committee (APCC), Asom Songrami Yuva Mancha president Amir Hussain and organisational secretary Sankar Thakuria lodged an FIR against Dev at Hatigaon police station, the All Asom Goriya Yuva-Chatra Parishad president in-charge Mokbul Hussain lodged another FIR at Jalukbari outpost. A case (388/20 u/section 153(A)/505 (ii) IPC) was registered at Hatigaon Police Station stating these facts.
Members of the Sadou Asom Goriya-Moriya Deshi Jatiya Parishad had also staged a sit-in at Dighalipukhuripar demanding his immediate arrest at a time when he was the sitting MLA. The Sadou Asom Goria-Moria-Deshi Jatiya Parishad had filed complaints at different police stations in Barpeta, Dhubri and Morigaon districts, while the Sadou Asom Goria Yuva-Chatra Parishad filed a report at Jalukbari police station in Guwahati.
Dev's comment against Malik was denounced by his own party men.BJP leader and Assam Minority Development Board Chairman Muminul Aowal condemned the statement and demanded a public apology from his party colleague. "What Shiladitya said, I oppose it and strongly condemned it," he had said at that time, adding, "If he does not apologise publicly, then I will always take a strong stand against him."
Related:
CJP calls out Times Now host's bias towards BJP spokesperson Nupur Sharma
CJP moves NBDSA against News18's fake story on bombing in Bengal School
CJP moves NBDSA against News18's "80 vs. 20" diatribe
Multiple FIRs against BJP MLA Shiladitya Dev's Hate Speech: Assam
BJP MLA's communal Facebook posts finally removed