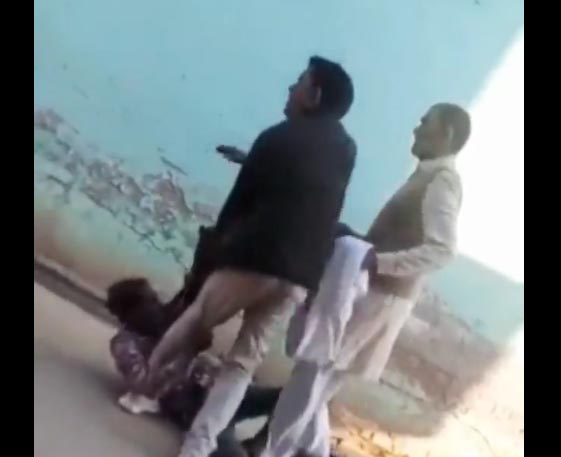 Image: Twitter
A video of a Dalit man identified as Jabar Singh alias Kala being beaten up by so called "upper caste" goons that surfaced from Muzaffarnagar district of Uttar Pradesh, has once again exposed caste based discrimination and oppression in Uttar Pradesh. The video shows the Dalit man being thrashed by the village head and a relative and then being dragged around by a scarf tied around his neck.
The victim, according to sources, had reportedly been at a community meeting and was scolding his own niece who he had told not to stand on the main road as all kinds of goons pass by. However, the local village Thakur intervened in the talk, and when told it was a family and the main meeting too was about a Dalit community matter and he should not get involved, felt 'insulted and offended'. He was so enraged that a Dalit man had argued with him in public and began thrashing him.
According to rights activist lawyer Suraj Kumar Bauddh who raised the issue on his social media account, the clip shows the thrashing, but the man was also abused and beaten further. "Would Sanjay Thakur have dared do this to another Thakur? Such attacks against Dalits are becoming common now and need to be protested against," he said this was an example of a deeper rot in the state.
Vill head Sanjay Thakur thrashed a SC man with shoes by putting a strap around his neck in UP's Muzaffarnagar.

This is horrifying. Pls look into this & ensure strict action against the goons. @dgpup @NCSC_GoI pic.twitter.com/Ly4t64t4Ej

— Suraj Kumar Bauddh (@SurajKrBauddh) February 21, 2022
Sanjay Thakur and his uncle Omprakash, are seen dragging the Dalit youth on the road by looping a scarf like "a leash" around his neck, as they verbally abused him and thrashed him with shoes. The incident was reported from Bihargarh village under the Bhopa police station area. Kala was reportedly objecting that the Thakurs do not interfere in matters of the Dalit fraternity, and that according to locals set off this attack.
According to activists, as soon as the video of this incident went viral, the police swung into action. However, they initially booked both the victim and the accused, and later reportedly released the victim. According to a news report, the Thakurs also abused Jabar Singh's niece who came to save him. The accused Sanjay and his uncle Omprakash, the husband of village head Mamtesh Singh Chauhan, have reportedly been arrested now.
Related:
Under fire from SC, UP gov't withdraws damage notices against anti-CAA protesters
Why is the Right-Wing so obsessed with the Taj Mahal?
Ghaziabad: Police beat up Muslim women protesters, claim 'scuffle', but viral video shows otherwise