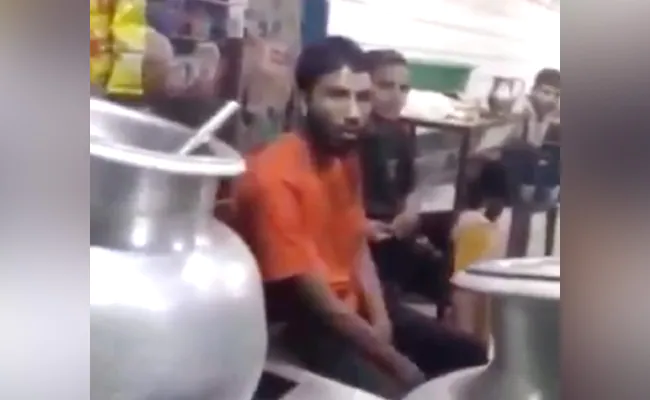 Days after Hindutva vigilante threatened a Muslim biryani seller in Delhi's Sant Nagar area, the police have reportedly registered a suo motu FIR, after a video of the incident went viral. The suspect had threatened the shopkeeper for opening his biryani shop on Diwali.
On November 6, Delhi Police reportedly started their investigation into the incident. According to news reports, DCP, North, Sagar Singh Kalsi said, "We have not received any complaint. However, the facts are being verified. And legal action will be taken."
The accused reportedly introduced himself as Naresh Kumar Suryavanshi, and said he was a member of the right-wing organisation, Bajrang Dal. Like other Hindutva vigilantes he took it upon himself to harass members of minority communities, in this case a Muslim shopkeeper. He reportedly told the workers of the shop that "Sant Nagar is a Hindu area" and goes on to threaten them from opening the shop on "any Hindu festival" else he will "set the shop on fire." As expected the scared workers shut the biryani shop down. According to news reports the video was said to have been recorded around 9 P.M on Thursday and was then circulated on social media.
Vigilante goon Suryavanshi also alleges that Muslims would come to that area to launch "love jihad" and "entrapping Hindu women and girls". He reportedly told the locals gathering around him that the Muslim biryani shopowner was feeding Hindus 'halaal' meat. According to India Today reports, the Delhi Police registered the case under Section 295A (deliberate and malicious acts intended to outrage religious feelings of any class by insulting its religion or religious beliefs) of the Indian Penal Code at Burari police station. However no arrests have been made so far.
Related:
Gurugram: Hindutva leaders conduct Govardhan Puja at namaz site
Gujarat: Citizens group may march to Raj Bhavan to protest "inaction by police"
Anti-Muslim hate on streets: Vendors beaten, forced to chant Jai Sri Ram, boycotted, dargah desecrated
Hate Watch: Actor Sara Ali Khan trolled for visit Kedarnath temple