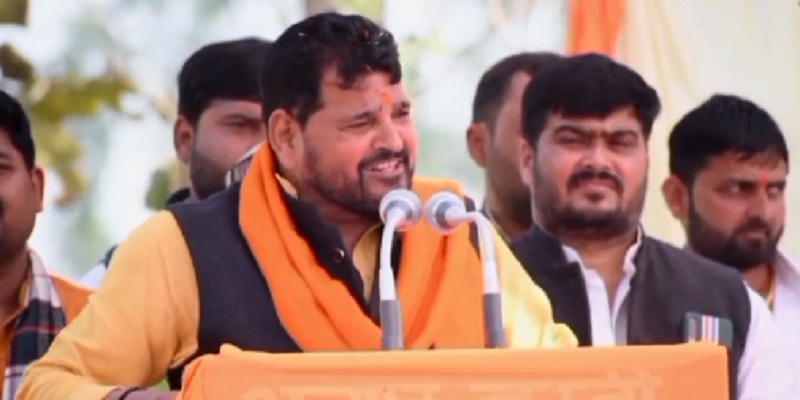 "Uttar Pradesh has trigger happy/ shooter Baba and bulldozer baba's government, your 'Inshallah' be damned," Brij Bhushan Singh, Bharatiya Janata Party's Member of Parliament in Lok Sabha from Kaiserganj, has continued his communal hate campaign unchecked for weeks now. These intimidating words –that clearly constitute hate speech–were spewed by Singh when he was addressing a public meeting in Basti, UP.
"यूपी में ठोंको बाबा, और बुल्डोजर बाबा की सरकार है, तेरी इंशाअल्लाह की ऐसी-कि-तैसी"

यूपी के बस्ती में एक जनसभा को संबोधित करते हुए बीजेपी सांसद ब्रिज भूषण सिंह के बिगड़े बोलpic.twitter.com/da7v4jHfdl

— Rajan Chaudhary (@EditorRajan) February 19, 2022
This is just the latest in the hate script followed by Singh whose polarising words have ranged from calling All India Majlis-E-Ittehadul Muslimeen (AIMIM) chief Asaduddin Owaisi "a descendent of Lord Ram" and his "old friend" to threats and insults aimed at the Muslim community in general. Singh reportedly said that the Hyderabad MP was a "Kshatriya" and then added that both Samajwadi Party (SP) chief Akhilesh Yadav, Owaisi were "fighting to acquire leadership of Muslim community". He said this while campaigning for his son Prateek Bhushan Singh, the BJP candidate from Gonda.
However, his hate words targeting Muslims have been more direct. Brij Bhushan Singh, was campaigning in favour of Ajay Kumar Singh, BJP candidate from Karnailganj, and addressed a gathering in Paraspur telling the voters if they voted SP that it would be like a "wedding celebration for Pakistan and a loss for Hindustan."
He has also added his dose of hate to the ongoing Hijab centred discussions. Singh equated hijab wearing Muslim women with terrorists and had reportedly said that the "hijab was the ideology of the Taliban. This is the ideology of terrorists" and that Congress leader Priyanka Gandhi has "also come out in support of Talibanis" He then targeted West Bengal Cheif Minister Mamta Banerjee claimed she told told Akhilesh Yadav to play "an open game". Sing claimed "300 BJP workers were killed in Bengal before the elections," and Banerjee has implied this to be the "open game" that should be played out in UP. He also claimed Akhilesh Yadav "withdrew the case of terrorists" in Uttar Pradesh.
Singh has also claimed that Mahatma Gandhi, "did not allow a Hindu country to be formed" even thought and that "there are 57 countries of Muslims in the country but not a single country of Hindus."
Related
Under fire from SC, UP gov't withdraws damage notices against anti-CAA protesters
Why is the Right-Wing so obsessed with the Taj Mahal?
Ghaziabad: Police beat up Muslim women protesters, claim 'scuffle', but viral video shows otherwise