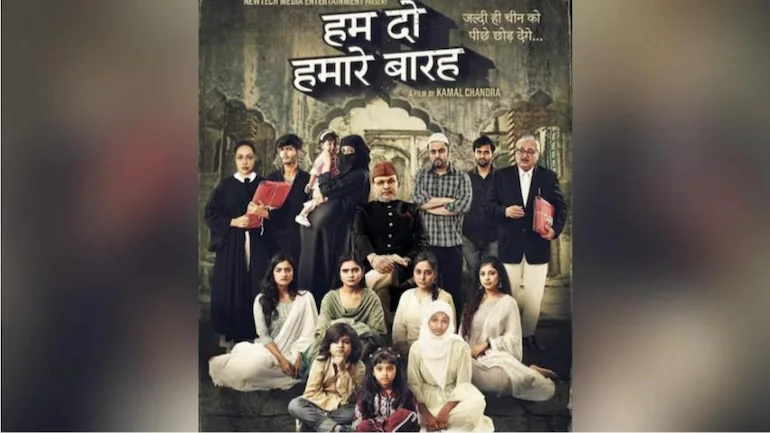 Recently, the poster of a Hindi movie titled Hum Do Humare Barah went viral on social media. The poster shows a man surrounded by his burkha-clad pregnant wife and children, and the tagline says "Jald hee cheen ko peechhe chhod denge (Translation: Will soon leave China behind)", insinuating India's Muslim population will soon exceed that of China.
This clearly reflects the Islamophobic fiction peddled by right-wing groups and individuals on Whatsapp and Twitter. The claim that Muslims are singularly responsible for India's billion plus population is clearly devoid of facts, given how the Muslim birth rate has been steadily declining in India.
According to research by the Pew Research Centre, between 1992 and 2015, the fertility rates of Muslims fell from 4.4 to 2.6. Moreover, the fertility gap between Muslim and Hindu women shrank from 1.1 to 0.5 children.
So far, the poster has attracted two distinct types of responses – either being called out for blatant Islamophobia, or being used as a tool to demand a population control law. Some of the tweets are also accompanied by memes or images with more Islamophobic content, sone of which can be quite triggering.
How does the censor board allow a film like this that depicts Muslims as the reason for population explosion and extends the relentless attack on the community. The brazen hate and Islamophobia when they use the image of a Muslim family and call it 'Hum do Hamare Barah'. pic.twitter.com/UFsRqGgF89

— Rana Ayyub (@RanaAyyub) August 6, 2022
#HumDoHamareBaarah is not jst a movie. It's the need of the nation. Bring Population Control Bill pic.twitter.com/7rsRIGECnm

— Indic Spectrum (@IndicSpectrum) August 8, 2022
Interesting New Movie #HumDoHamareBaarah

Need population Control Law. pic.twitter.com/HNHlAkPXq4

— Ishkaran Singh Bhandari (@ishkarnBHANDARI) August 7, 2022
#HumDoHamareBaarah bring population control bill #BoycottLalSinghChaddha #AryanKhan #LaalSinghChaddha #BoycottbollywoodForever pic.twitter.com/i1BrAams0m

— Praveen Nettaru (@PraveenNettaru) August 8, 2022
Population Jihad ! #HumDoHamareBaarah pic.twitter.com/AMmDkSf8Pz

— Indian Soldier (@ItsSanKum) August 7, 2022
Meanwhile, the filmmakers have defended their decision by using a tried and tested mix of gaslighting and deflection. In an interview to E Times, director Kamal Chandra said, "The poster of our film Hum Do Hamare Baarah is not objectionable at all. It needs to be seen in the right context. We assure you that we aren't targeting any one particular community through our film."
Lead actor Annu Kapoor too appeared to brush off concerns, telling a web portal, "Don't judge a book by its cover. Watch the movie and then you will understand what the makers have tried to say."
Related:
Hate meme touting questionable statistics – worrying or laughable?
The Kashmir Files: Calls for Muslim genocide ring out in cinema halls, hate brews outside