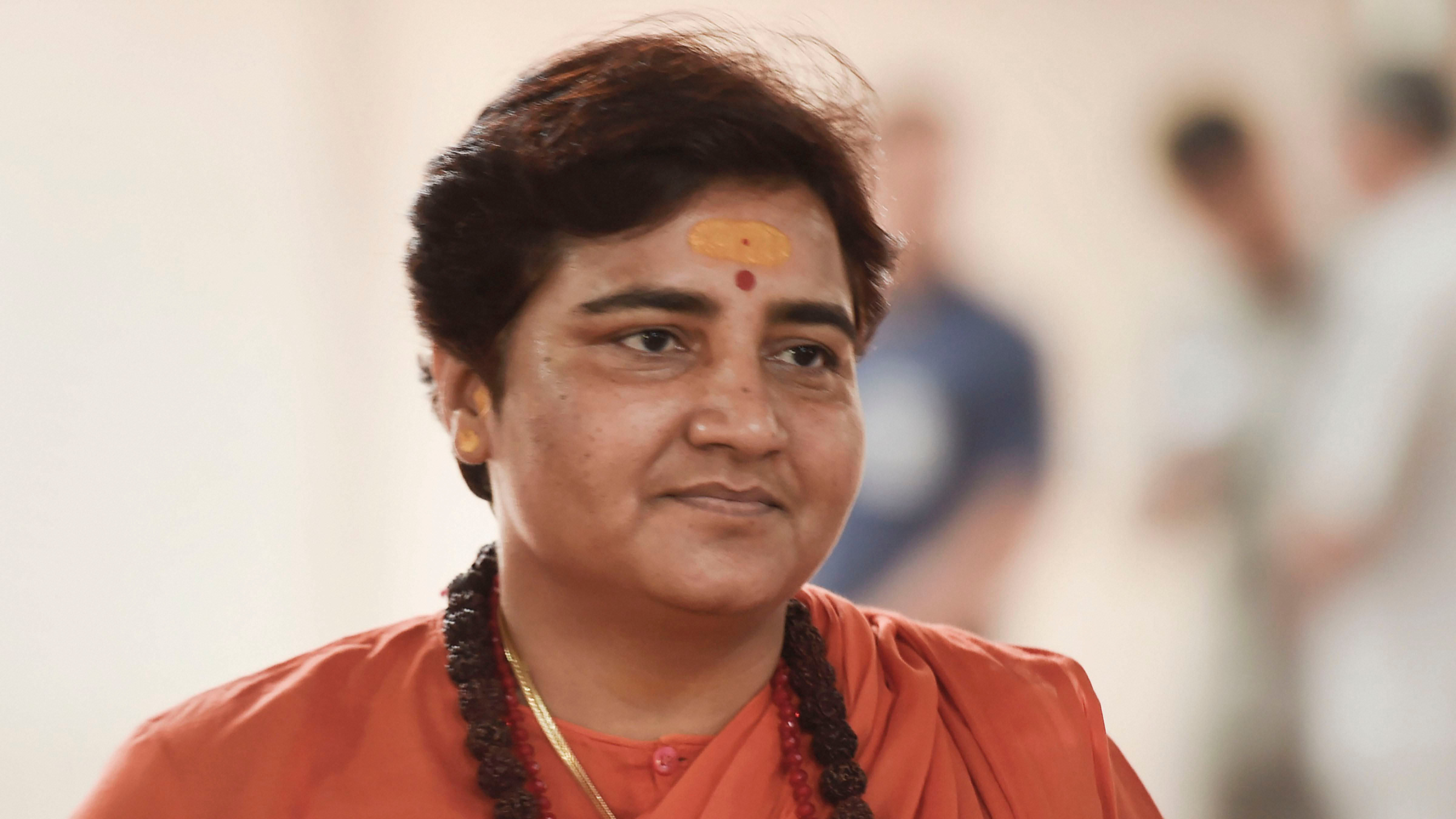 Image: PTI

Update: On December 28, Pragya Singh Thakur, MP of the Bharatiya Janata Party, was booked for the alleged hate speech that she gave in the Shivamogga area of Karnataka. On the basis of a complaint submitted by HS Sundresh, the Shivamogga District Congress Committee, the FIR has been lodged against Thakur, under the IPC sections 153A (promoting enmity between different groups), 153B (Imputations, assertions prejudicial to national integration), 268 (Public nuisance), 295A (Outraging religious sentiments), 298 (deliberate intention of wounding the religious feelings of any person), 504 (Intentionally insulting a person) and 508 (inducing person to believe that he will be rendered an object of the Divine displeasure).
The FIR against the contentious politician was filed a day after Saket Gokhale, a spokesperson for the Trinamool Congress, Tehseen Poonawalla and Citizens for Justice and Peace, a human rights NGO in Mumbai, each filed complaints against her.
Meanwhile, on December 27, Congressman Jairam Ramesh declared that he will be approaching the Supreme Court to take action against BJP MP Pragya Singh Thakur for her comments made at a gathering in Shivamogga, Karnataka. Mr. Ramesh also claimed that the MP's comments plainly aimed to polarize society and that the local police would not take action against her because the BJP controls the State's government.
---
Terror accused and BJP MP from Bhopal, Pragya Singh Thakur also known as Sadhvi Pragya, made some inciteful remarks while speaking at Hindu Jagarana Vedike's South Region annual convention held in Shivamogga, Karnataka.
"Love jihad, they have a tradition of jihad, if nothing they do love jihad. Even if they love they do jihad in that. We (Hindus) too love, love the god, a sanyasi loves his god," she says. She also said that Hindus should "answer those involved in love jihad the same way". She added that girls should be protected and taught the "right values".
In the video, that is being circulated on social media, Thakur can be heard saying, ""Keep weapons in your homes, if nothing else, at least knives used to cut vegetables, sharp…Don't know what situation will arise when….Everyone has the right to self protection. If someone infiltrates our house and attacks us, giving a befitting replay is our right." This comment was made in reference to the killing of activist Harsha in Shivamogga.
She also advised parents against sending children to missionary schools as they will grow in the "culture of old age homes and become selfish".
Terror case-accused @BJP4India MP from Bhopal Pragya Singh Thakur calls for killing of Muslims during her speech in Karnataka on Sunday during Hindu Jagarana Vedike's event. "Keep weapons at home. Keep them sharp. If veggies can be cut well, so can the enemy's head," she says. pic.twitter.com/AoDgOpNbXv

— Anusha Ravi Sood (@anusharavi10) December 26, 2022
Thakur is accused in the Malegaon blast of September 2008 where 6 were killed and over a 100 injured. She was arrested in October 2008 by Maharashtra ATS.
Related:
Christmas 2022: Hindu supremacist groups chant "Death to Santa Claus!"
VHP Leaders allegedly threatens to burn down Muslims in presence of Police!
Hate Speech: Kalicharan spews hate against Muslims in protest for "Love-Jihad" law, Maharashtra
Hate Offender: BJP MLA Raja Singh threatens Uttar Pradesh's Hindu voters