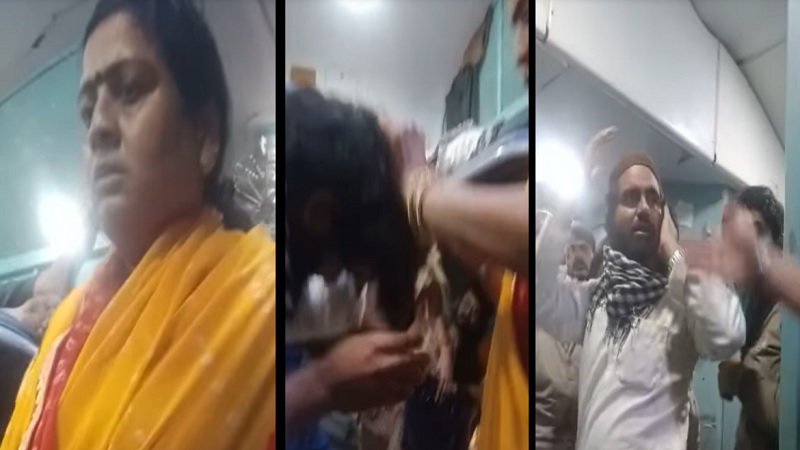 Image Courtesy:thewire.in
Yet another shocking incident of a hate crime against a person hailing from the minority community has come to light via a video that went viral on social media. In it, a Hindutva outfit leader is seen thrashing a Muslim man on a train.
"We will kill you next time you touch a Hindu woman," screamed the woman identified as Madhu Sharma, who is the 'national religion incharge' of a right-wing outfit called the Rudrasena. Members of the outfit have proudly shared the video of the woman, assaulitng a poor Muslim man who is heard pleading innocence.
No one in the crowded train coach intervenes as she accuses him, hits him and demands he wear his cap while he is assaulted. The man is only heard begging his innocence saying "Maine to dekha bhi nahi (I didn't even look)". Meanwhile, the woman screams, "I will kill you. Touch my feet" as she continues to slap him, and no one intervenes.
Madhu Sharma, is a Hindutva leader who is also known as Maa Madhura, reported the Wire.
In her Facebook bio, she claims to be a Bharatiya Janata Party (BJP) worker and has been associated with many right wing outfits such as the Karni Sena. According to Rudrasena, Madhu Sharma is a 'veerangana' or a brave warrior woman, and should be encouraged by divine powers to continue to do such 'devotional/ religious work' and inspire other "sisters and mothers" as well. The "devotional/ religious work" here according to them is assaulting Muslims.
*TRIGGER WARNING: ((DISTURBING VISUALS))
The video may be viewed here:
One thing that stands out about this incident is how the man's pleas for help seem to fall on deaf ears. This is also a bit reminiscent of what happened to Junaid Khan, a teenager who was lynched on June 22, 2017 on a Delhi-Mathura train while returning home from Eid shopping. Even then nobody attempted to help Junaid and his friends. In fact, after a seriously injured Junaid was dumped at the Ballabgarh railway station, the response form the Government Railway Police (GRP) and other emergency services was lethargic at best, leading to his death.
Related
Hate Watch: TN Police demolish Sudarshan TV's communal 'Fake News'
Hate Watch: Right-Wing group sing bhajans in Karnataka church as "protest"
Hate Watch: Street play on "Love Jihad" gets Sudarshan TV excited
Junaid Khan murder case: A chronology of events surrounding the case