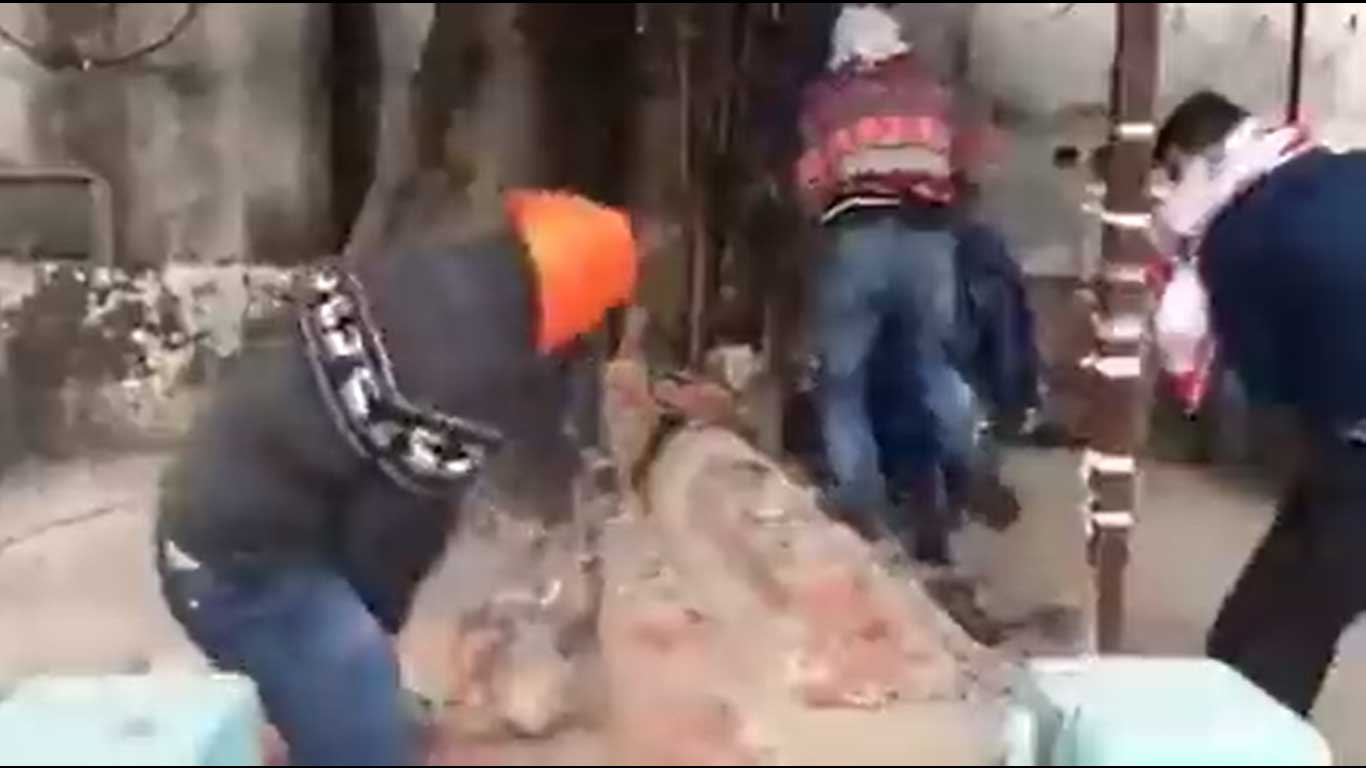 Members of a Hindutva group, reportedly Hindu Jagran Manch, went on a rampage at a Muslim grave revered as shrine in Himachal Pradesh, and broke it with hammers. The video of the vandalism has been shared on different Hindutva pages with music and lyrics that translate to "'I will kill ravan myself', a Ram who says this should rise, 'not one Kaurav will be left' a Shyam who says this should rise," are aimed to 'inspire' right wing youth to take to arms and destroy all that they see is 'wrong' or 'evil'.
The hammer blows are heard loud and clear in the video that was also posted by Harish Ramkali, a Hindutva goon who is building his image as a vandal group in Haryana. He takes pride in leading and encouraging many such acts in Haryana.
Hindutva goons made a video of breaking a shrine in Himachal and now this video with song is being shared on different Hindutva pages. Harish Ramkali (Hindutva goon who has vandalized multiple shrine in Haryana), while posting the video on his fb page, wrote, + pic.twitter.com/xKOHz7fkRO

— Meer Faisal (@meerfaisal01) January 8, 2022
Harish Ramkali of Bajrang Dal in Haryana posted on his Facebook account on December 23, "Any school who would make a child dress as Santa Claus without the permission of their family would have a case filed against them and be closed." On December 24 and 25, he added more posts and threatened that Bajrang Dal was visiting "such schools". Ramkali posts many such videos, and also videos of Hindutva groups armed with swords, axes, mces etc, taking out warning processions .
Ramkali's timeline now does not show the video of the vandalism of the Muslim shrine in Himachal. However according to Siasat Daily he had alleged "land jihad", and openly threatened to tear down "illegal" shrines, while he praised the "campaign" of the Hindutva goons of Himachal, against "Islamic Jihad". He posted, the video on the social media with the caption, "Land Jihad will not be tolerated in Devbhoomi. Every illegal Pir Mazar will have the same result. The Hindu heroes of Himachal will continue their campaign against Islamic Jihad."
It is not yet known if Himachal Pradesh CM Jai Ram Thakur has ordered action against the vandals who were clearly out to create communal tension. However he has reacted strongly to the security breach along the PM's route in Punjab and "demanded strict action" against those responsible.
Shimla | PM's security was breached in Punjab by some people, who possibly were there on the orders of the Punjab govt. Today, we gave a memorandum to the President through our Governor demanding strict actions against the people involved: Himachal Pradesh CM Jai Ram Thakur pic.twitter.com/S1USjFmhvB

— ANI (@ANI) January 9, 2022
Related:
Had a happy Christmas weekend? Have a look at how communal mobs celebrated theirs
Gurugram: Hindu Sena leader seeks to intervene in contempt plea before SC
Hate Speech: The worst words of 2021, we hope do not spill over into 2022
2021: A year of unprecedented communal hate crimes
Hate Watch: Did a Bajrang Dal member descecrate a Muslim shrine in Ballabgarh?