There's no rest for the wicked and right-wing social media hate-spreaders constantly posting about the supposed "danger faced by the Hindu community". Most recently, Twitter handle Hinduism and Science on January 21, 2022 attempted to talk about the threat to Hindu temples in southern states. However, Sabrang India found that the photo shared by the handle to be a part of the demolition order called by the High Court on Adheenam land.
Locating itself in "Ancient Bharat" the Twitter user shared the image of the demolished Muniandi temple in the Madurai region of Tamil Nadu with the caption, "Hindu Temples are not safe in Hindustan… Wake up south Hindus."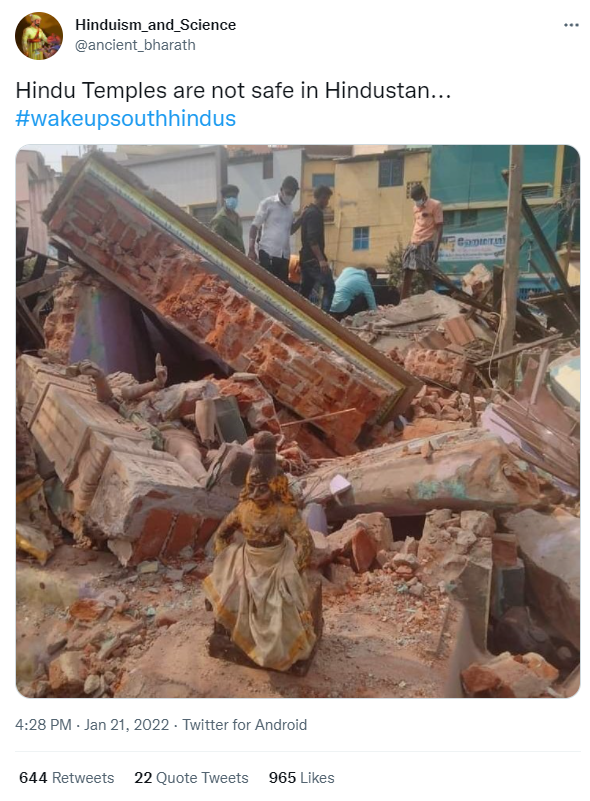 Unsurprisingly and unoriginally, the user connected the incident to the Mughal regime and the persecution of Hindus under an Islamic rule.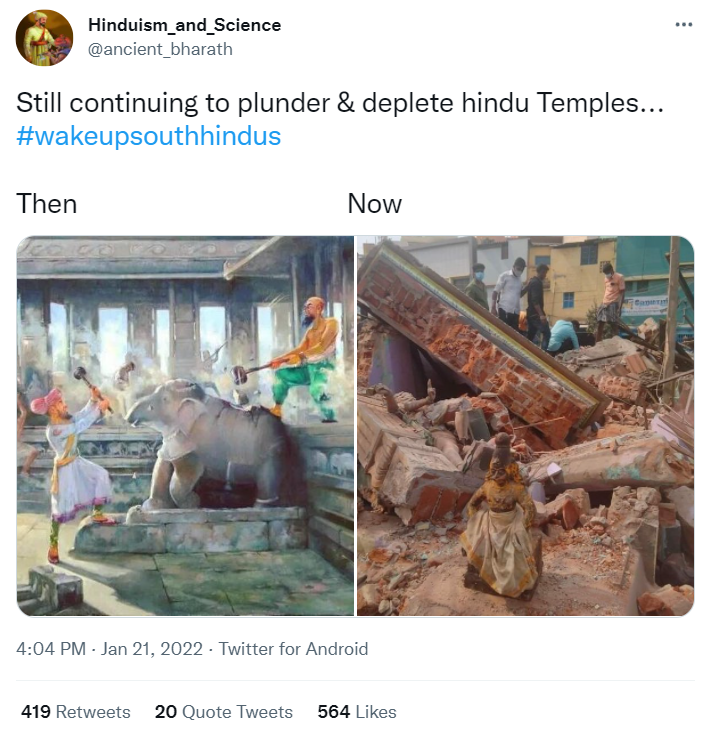 The handle failed to mention that the temple was not destroyed during a communal conflict but by Tamil Nadu's government authorities as per court orders. The Muniandi temple was constructed on encroached Adheenam land. The Madras High Court has repeatedly called for the removal of the illegal structures.
According to local Tamil media website Kamadenu, the work finally started in the region on Friday and the temple on the roadside in the bran market area was demolished as well. Right-wing organisations including the Vishwa Hindu Parishad called for protests decrying the DMK-led government for allegedly destroying Hindu temples and "creating an insecure environment for Hindus".
Aside from the unrest caused by the mass mobilisation, requiring police assistance, members of the Bharatiya Janata Party (BJP) also appealed for a "fight" via WhatsApp groups and social websites, said Kamadenu.
The call was apparently answered by Hinduism and Science with 12.3 thousand followers on Twitter, 9.33 thousand subscribers on its YouTube channel Mission Ram Rajya and 1.3 million followers on Instagram. Telangana BJP Executive Committee member N. Ramchander Rao and BJP Haryana's State In-Charge of Information Technology department Arun Yadav also follow the hate account. The account primarily focuses on Hinduism deities and showers praises on temples across India, especially in southern states.
Similarly, another Twitter user Gulshan Kumar with 240 followers called for a Twitter trend on Friday to "wake up South Hindus". However, other Twitter users have condemned such accounts for spreading misinformation.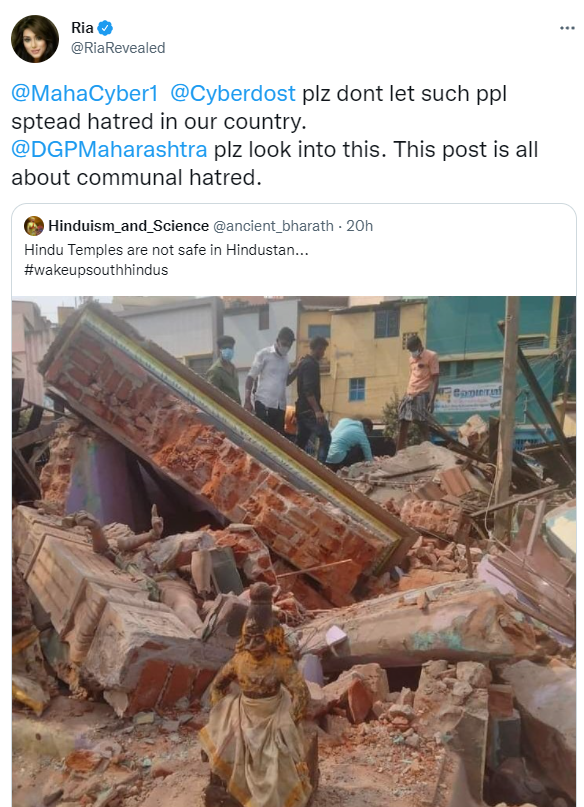 Some comments questioned the alleged sanctity of the demolished temples by asking "in which ancient period, temples are made out of cement[?] And we have [the] highest no. Of religious sites than the essential commodities structures."
The right wing hate spreaders are famously known for using old images of earthquake-impacted areas or government demolition projects to further their claims of attacks on Hindus. Doing so further the communal divide in India.
Related:
Release India Human Rights Impact Assessment report: Activists to Facebook
HRW World Report 2022 showcases India's worsening Human Rights situation
Hate Watch: Right-wing extremists attack Muslim man and non-Muslim woman for travelling together