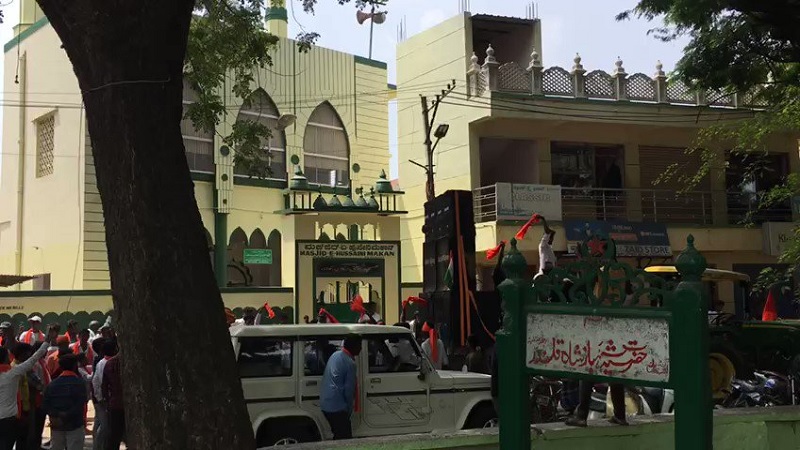 Image Courtesy:Twitter
The next Karnataka Legislative Assembly election is scheduled to be held in early 2023. However, as is being reported regularly, instances of communal confrontation, violence, and attempts to polarise have picked up speed already. Even a cycle rally, pegged as a fitness or sports event to celebrate "Azadi Ka Amrit Mahotsav" call by Prime Minister Narendra Modi has been punctuated by Saffron groups making their presence felt.
Karnataka based Bharatiya Janata Party (BJP) leader Tejasvi Surya recently organised a cycle rally from Bangalore to Kolar to celebrate the PM's programme as it were.
Cyclists from Kolar led by their energetic MP Shri @bjp_muniswamy joined the #Cycle2Freedom ride at Narsapura in large numbers.

Grateful to them for adding strength & joining the #FitIndia movement.#AzadiKaAmritMahotsav @BJYM pic.twitter.com/FuXnn8obpe

— Tejasvi Surya (@Tejasvi_Surya) March 27, 2022
However, when the rally reached the Hussaini Makan Masjid of Kolar they were met by chants of "Jai Sri Ram… Chatrapati Shivaji Maharaj ki jai" set to music that's upbeat and similar to the 'DJs' of north India. It is noteworthy that according to social media users, the slogan chanterse were people who participated in the rally. Now, on the surface, this might appear to be a harmless display of pride in one's religion, but what added a communal spin to the entire incident is that it took place right outside a mosque. That Karnataka is currently witnessing open targeting of Muslims, and Christians is a matter of record, and such an act should be a matter of concern to all.
Tejasvi Surya had organised a cycle rally from Bangalore to Kolar on March 21. When the rally reached the Hussaini Makan Masjid of Kolar the people who participated in the rally stopped and started doing this nuisance.

What is the message? pic.twitter.com/9UwiZlGbEm

— Mohammed Irshad H (@Shaad_Bajpe) March 29, 2022
To those who may argue it was spontaneous, they must remember it was not a surprise event at all, as the MP's office issued a press release that "450 riders" including him "rode the distance in under 5 hours" and that "S Muniswamy, the Kolar MP, also joined the ride from Narsapura on the border between the two cities". Surya said, "The Cycle 2 Freedom ride is a celebration of Azadi Ka Amrit Mahotsav called in by Prime Minister Narendra Modi," adding, "India's sporting culture and fitness lifestyle have undergone a sea of change under Modi's leadership. Be it the World Yoga Day, Fit India Movement or the Olympics campaign, the Government has encouraged community participation in making its sporting ecosystem flourish. The Cycle 2 Freedom ride is an event which brings the community together and encourages citizens to stay fit, healthy and active." The event was also streamed live on Surya's social media platforms.
However, the identity of the saffron scarf / flag swinging people chanting "Jai Shri Ram" outside the mosque is yet to be ascertained.
Related:
Kerala: Why was a 'Non-Hindu' Bharatanatyam dancer barred from temple?
West Bengal: Muslim mason allegedly lynched by Hindutva mob
Damned if you do, damned if you don't! Muslim man lynched for chanting 'Jai Shri Ram' in UP?
Post Poll Watch: Muslim woman allegedly threatened with triple-talaq after voting for BJP
BJP using The Kashmir Files to win Assembly elections: Sena MP Sanjay Raut
Uttar Pradesh: Dargah desecrated on the eve of Holi, Shab-e-Barat in Fatehpur