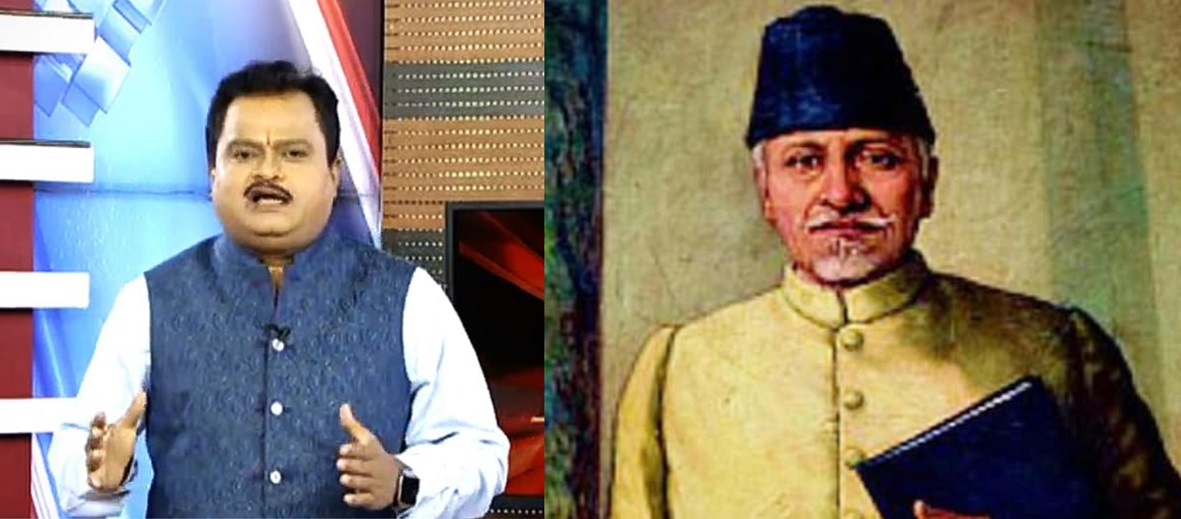 Sudarshan TV's Suresh Chavhanke, of notorious 'UPSC jihad' fame has been a repeat offender – peddling hate and Islamophobia at regular intervals on his electronic media channel, Sudarshan TV. His latest target is none other than Maulana Abul Kalam Azad, the well-nown freedom fighter and independant India's first education minister who was also known as a left-leaning rational Muslim. Since 2008, November 11, every year, is celebrated as the National Education Day in India to commemorate his birth anniversary. A twitter post was put up by the union minister for road transport & highways, Nitin Gadkari honoring Abul Kalam. However, the said twitter post was then re-shared by Chavhanke, along with vile, communal and instigating comments.
स्वतंत्र भारत के पहले शिक्षा मंत्री भारत रत्न मौलाना अबुल कलाम आज़ाद जी के जयंती पर उन्हें सादर नमन। सभी को #राष्ट्रीय_शिक्षा_दिवस की हार्दिक शुभकामनाएं। #NationalEducationDay pic.twitter.com/PFWO22fXg2

— Nitin Gadkari (@nitin_gadkari) November 11, 2022
Sharing this picture, Chavhanke wrote "how can someone become the Bharat Ratna or the Education Minister of India when they are not from India?" (jo bharat ke nahi the veh "bharat ratna" ya "bharat ke shiksha mantri" kese banaye gaye the?)
"How can a country, which has been hunted by the joint conspiracy of the British and jihadis, accept the National Education Day in the name of hunters?" (angrezo aur jihadiyon ke sanyukt shadyantra ka shikar kiya gaya desh, Shikari ke naam par rashtriya shikha diwas kese mana sakte hai?)
He then went on to tag Prime Minister, Narendra Modi, Education Minister, Dharmendra Pradhan, and the Rashtriya Swayamsevak Sangh (RSS), asking them to "consider changing the decision of the previous government (pichle Sarkar ka yeh nirnay badla jae)".
While this is not the first time that Suresh Chavhanke has indulged in hate speech with an intention to provoke communal disharmony, he has, with this November 11 post, surpassed all limits by attacking a man integral to India's freedom struggle. Maulana Azad who was a visionary made important contribtuions to education and rationality that are widely recognized. Azad had also stressed that primary education is a fundamental right for every citizen, without which they will not be able to perform their duties as a citizen fully.
The post can be read here.
Through his communally charged and demeaning comments, Chavhanke questioned Maulana Azad's legacy besides polarizing the whole issue. While re-sharing this post with the comments that were put by him, Chavhanke is deliberately making such statements that are communal, divisive, and incendiary and amount to hate speeches, with the knowledge that such incendiary remarks might stoke communal tensions and instigate violence. All this suggests that he has no respect for neither law nor the plural culture of India.
Repeat Offender
Notably, this is not the first time when Suresh Chavhanke has made the news for his Islamophobic and derogatory remarks. In at least three instances, courts have sought Action Taken Reports (ATR) in cases filed against Chavhanke, who is notorious for spewing venom against minorities using his TV channel 'Sudarshan News' and also on public platforms.
On 15th September 2020, Suresh Chavhanke was pulled up by the Supreme Court of India for his inflammatory television show on "UPSC Jihad" where he made contentious claims that Muslim aspirants were favoured for entry into the Union Public Service Commission (UPSC) to the disadvantage of Hindu candidates. The apex court had held the show to be offensive and having the potential to spread communal tensions.
In April this year, the SC has pulled up Delhi Police for filing an affidavit absolving Mr Chavhanke of any wrongdoing by administering an oath to a group of people to "die for and kill" to make India a "Hindu rashtra", or a Hindu nation. The video of the said oath was posted on Twitter by Chavhanke himself. at an event organised by Hindu Yuva Vahini in Delhi.
Chavhanke has also targeted film actor Shahrukh Khan for his Muslim identity. Chavhanke repackaged old conspiracy theories claiming that Shahrukh Khan is close to then Pakistani Prime Minister Imran Khan, and made unsubstantiated claims that he favors Pakistani cricket players. Chavhanke had also alleged that the superstar had spit on Lata Mangeshkar's remains at her funeral in February 2022.
Citizens for Justice and Peace (cjp.org.in) has repeatedly taken steps against Suresh Chavhanke, calling him out for his hate speech masquerading as news.
In September 2020, CJP had moved the News Broadcasting Standards Authority (NBSA) – now known as News Broadcasting & Digital Standards Authority (NBDSA) against Sudarshan News for airing a communally inflammatory promotional video for its show exploring a "controversy" on "infiltration" of Muslims in public services, while derogatorily terming it 'UPSC Jihad'. The complaint was forwarded to the Union I&B Ministry by the authority since Sudarshan TV is not a member of the National Broadcasters Association (NBA).
In September 2022, CJP had moved the National Commission for Minorities (NCM) against Sudashan TV editor-in-chief Suresh Chavhanke, this time for him derogatory, Islamophobic and hate-filled speech at a rally held on September 4 in Badarpur, Haryana. In the highly publicised, deliberate, malicious and hate-filled speech, Chavhanke urged Muslim women to marry Hindu men instead of Muslim men.
Suresh Chavhanke remains a free man despite being a repeat offender. Clearly he enjoys a high degree of immunity and protection from the powers that be. Even though his comments are inflammatory and break the law of the land, Suresh Chavhanke is given a free hand to demonise India's largest minority, stoking communal tensions and spreading dis-information in the process. It is clear that while facts, historical or otherwise, do not matter to Mr Chavhanke, blinded as he is by hatred; his unchecked, loud, over-the-top peddling of fake news serves a wider political hate agenda.

Related:
Courts seek Action Taken Reports from Police in cases against hate monger Suresh Chavhanke
Suresh Chavhanke back on the derailed "UPSC Jihad" fake news train?
Did Sudarshan News trick school children into chanting 'will kill to create Hindu Rashtra'?
Hate Watch: Suresh Chavkhane asks Muslim women to marry Hindu men
Hate Buster: Suresh Chavhanke spreads fake news about SRK at Lata Mangeshkar's funeral