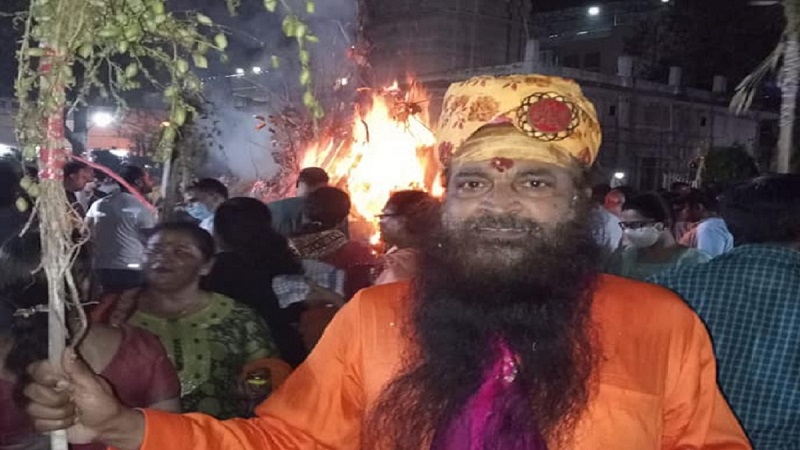 Image Courtesy:facebook.com
A man identified as 'Swami' Sanjay Prabhakaranand, a katha vachak or story teller, in this case religious discourse giver, has plagiarised and mangled a popular patriotic song film song Aao Bachcho Tumhen Dikhayen from the 1954 movie Jagriti, to create his own 'hate song'. He has been singing this anti-Muslim song that calls for violence and hate against Muslims, with a focus on West Bengal using the vile lyrics for a year now.
One such version uploaded on a YouTube channel called TV News Virus, has him singing this claiming "पश्चिम बंगाल में ममता सरकार के राज्य में जिस तरह से हिंसा की घटनाएं लगातार बढ़ी है ऐसे में एक संत महात्मा का यह पैरोडी भजन काफी कुछ हकीकत बयां करने वाला है वायरल भजन में सुनिए क्या है पश्चिम बंगाल के हिंसा का सच" (Translation: Mamata Government of West Bengal has witnessed an increase in violence, and this 'saint's' 'parody bhajan is citing facts).
The song, has one again resurfaced and is doing rounds of Whatsapp groups in the wake of recent incidents of violence in the state, where the victim was in fact identified as Muslim. "Kashmir na banne do hargiz logon Bangal ko, darron na..jaago… niklo, kaato Makkah ke janlaal ko… band karo bhashan lao rashrtapti shasan," he sings asking people to be violent towards followers of Islam and demanding President's rule. He then abuses West Bengal Chief Minister Mamata Banerjee as a 'churdail' or witch and calls her anti-Hindu and a lover of Muslims.
He is reportedly a resident of Delhi and in this song asks Prime Minister Modi to intervene in this "Dharma Yudh" and bring in President's rule in West Bengal. His songs and claims are shared widely on multiple YouTube channels and also on his own Facebook page: Swami Sanjay Prabhakaranand.
Aao Bachcho Tumhen Dikhayen, was a popular patriotic song from the 1954 movie Jagriti. It was written by Kavi Pradeep, set to music by Hemant Kumar and sung by Adinath Mangeshkar and Lata Mangeshkar. To fuel his hate agenda afresh, this version of the song where he destroys the innocence of the original, is now being circulated afresh. The original was once sung and performed during school functions on Republic Day, Independence day etc. originally filmed as a part of a scene where a teacher is taking young school boys on a school trip in a train and they sing this as the countryside flashes by from the window. The teacher sings about various national heroes across time, who hail from various parts of India. The song sought to inspire as well as share moments of India's history and unity in diversity citing various acts of patriotism and valour by women and men of different regions and religions. It also speaks about the diversity of the land itself from south to north and west to east, haling the seas, rivers, mountains and forests, all diverse and all together as a united India. The patriotic slogans of 'Vande Mataram" in the innocent voices of children sound both sweet and inspirational, unlike now, when that slogan itself is used by right-wing mobs as a war cry against minorities.
Related:
Kashmir Files hate project: Radicalising people, one show at a time?
Kashmir: Journalist Fahad Shah faces fourth FIR now under J&K PSA!
UP: Jaunpur police allegedly flog Dalit women