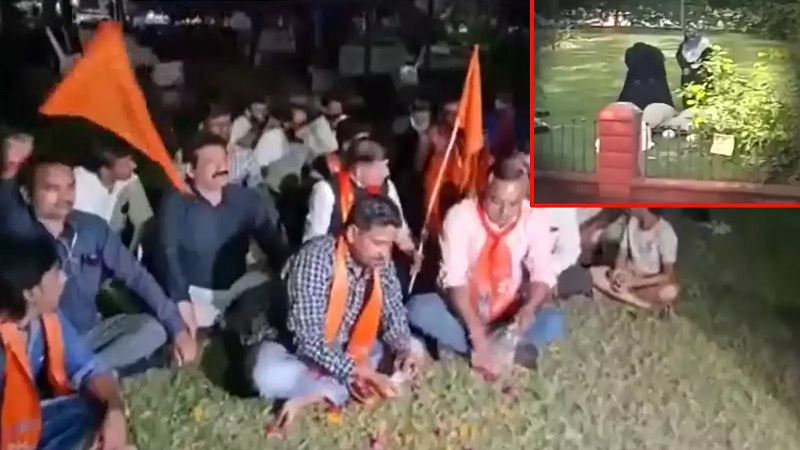 Image Courtesy:timesofindia.indiatimes.com
According to some members of Hindutva outfits, 'purification' rituals are needed after a space is used by Muslims, Dalits and whoever they may consider the 'other' or inferior. A 'purification' ritual was recently carried out in Ahmedabad, Gujarat, reportedly by members of the Vishva Hindu Parishad (VHP), at a park where namaz had been offered.
According to news reports, the Vastrapur lake garden was the site of a 'purification ritual' on Monday, November 15. Claiming credit was the Gujarat VHP, and its secretary Ashok Raval, who said, "VHP workers reached the garden to 'purify' the place. They chanted mantras and sprinkled 'Ganga jal'." Images of namaaz being offered at the site had reportedly prompted this action. It was reported that last week, a video showing four Muslim men and two burqa-clad women performing namaz at the garden of the Vastrapur lake, was shared on social media platforms.
Raval told the media that this 'purification' ritual was done "to create awareness among masses" and claimed that "a casual namaz eventually results in claim being staked on that piece of land." However, this seems more like a copycat group action inspired by Hindutva's cheerleaders such as Sanyukt Hindu Sangharsh Samiti, Kapil Mishra and others holding a Govardhan Puja at Gurugram's Sector 12A, site where till then Friday namaz had been taking place. For the past several weeks, right-wing groups have been protesting during the Friday namaz by singing bhajans and chanting slogans. Now, some Hindutva groups have insisted on building a volleyball court there so there is no vacant space left.
Meanwhile, according to news reports, Vastrapur police inspector Sandip Khambhla said no complaints had been made over the 'purification' incident which took place on November 15.
'Land grabbers' is the new anti-Muslim hate code?
Land grabbers' was also an allegation made about street vendors selling non-vegetarian food in Gujarat. The National Association of Street Vendors of India (NASVI) Gujarat Coordinator Gurunath Sawant informed SabrangIndia that cities like Ahmedabad have now declared that vendors within 100 metres of schools cannot sell non-veg food. The news comes shortly after Chief Minister Bhupendra Patel assured hawkers there would be no discriminatory action against non-veg food. For days, non-veg food sellers in Vadodara, Bhavnagar, Rajkot and most recently Ahmedabad, feared losing their well-established spots along city roads after relevant municipal bodies declared that non-veg food should not be sold out in the open. Officials like Revenue Minister Rajendra Trivedi even endorsed the move by likening such vendors to "land grabbers" and citing interests of pedestrians.
Pyramid of Hate
This 'purification' act needs to be seen in context of the Pyramid Of Hate. An act that belittles a religion, and the way they chose to pray. This, if not stopped, can lead to the next stage which is acts of prejudice such as name calling, social exclusion, targeting particular sections of the society by telling belittling jokes. The third stage is discrimination, where certain communities are subject to harassment, bullying, exclusion in housing, employment, education issues, based on their race, sexual orientation, caste, class, religion etc. And the most dangerous are the next two stages. The fourth stage in the hate pyramid is that of violence, of targeted hate crime which includes threat, assault, battery, murder, and terrorism. The fifth and last stage is genocide, a deliberate systematic cleansing of a community.
Related
Understanding the layers of "hate" in Gujarat's non-veg ban
Gujarat Minister likens non-veg food vendors to land grabbers
Hate Watch: Hindutva group raises slogans outside Muslim-owned shop in Gujarat
Hate Watch: Muslim man assaulted in crowded train, no one intervenes
Gujarat: Citizens group may march to Raj Bhavan to protest "inaction by police"
Anti-Muslim hate on streets: Vendors beaten, forced to chant Jai Sri Ram, boycotted, dargah desecrated