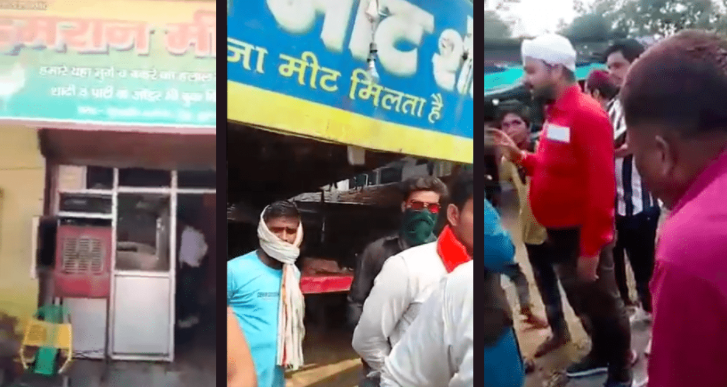 Navratri festivities are coming to a close, but for the hate mongering right-wing vigilante groups these last days are the time where their hate attacks peak. Most of the vigilantes have a standard operating procedure of 'raiding' shops selling meat, and forcing them to shut down. These attacks are most prevented in Gurugram a.k.a Gurgaon, and other parts of Haryana as well as in parts of Uttar Pradesh.
Over the years, this harassment has gone on, almost like a seasonal activity. The right-wing ignores the fact that even among Hindus, not everyone turns vegetarian during the nine-days of navratri.
Recently, in Gurugram, Hindutva groups once again went around demanding that meat shops shut down for Navratri. These groups came together under a 'coalition' named Sanyukt Hindu Sangharsh Samiti (SHSS), that had written to Gurugram's deputy commissioner before Navratri seeking that all meat shops be directed to close for nine-days. In addition they asked that "illegally-run meat shops" be shut down permanently. According to media reports, the letter said, "During the auspicious days of Navratri, lakhs of devotees visit Sheetla Mata temple in the city. Several meat shops that are operating illegally sell meat in the open. This hurts the sentiments of devotees and people who are fasting…"
In March 2021, divisive food politics got an "official stamp" when the Municipal Corporation of Gurugram (MCG) announced that all meat shops in the city would be closed on Tuesdays. The No-Meat-Tuesday decision was taken with a view to respect religious sentiments, mostly of Hindus, some of whom do not consume meat that day. According to the provisions of the Haryana Municipal Corporation bylaws, 2008, any municipal corporation across the state has the power to close meat shops on a single day of a week. Gurugram, which was once known as Gurgaon, has 129 licensed meat shops. There are more that operate without a license, these number around 150, said MCG officials cited in news reports. All of them will now have to shut down shutters on Tuesday.
Now, according to a report in the Indian Express, the right-wing group's letter to deputy commissioner, also mentioned, "Friday prayers by the Muslim community should only be offered at designated sites to ensure that public is not inconvenienced." A few days ago, some residents in sector 47 of the city protested holding placards "stop namaz in open spaces" and "offer namaz in mosque". The Police then asked the Muslims to offer namaz away from the designated site. This incident marked the third consecutive week where such protests have been carried out by the Gurugram residents, reeking of communal disharmony and intention to disturb public order and peace. The residents have even written to the deputy commissioner raising their concerns. The spot in Sector 47 is a designated site for offering namaz, and is among the 37 such sites where prayers can be offered in the open. Such arrangements were made in 2018 and have been followed since then, as some disturbances had taken place, and Muslim and Hindu communities had then reached an agreement. Yet, these residents refuse to accept this and demand written proof of such agreement and argue that they were not consulted for the same.
Now Rajeev Mittal, a spokesperson for Sanyukt Hindu Sangharsh Samiti, says that their memorandum to the DC said, "In the past few years, namaz has been offered in open spaces (parks, roads) on government land due to which the public faces inconvenience. We believe that Friday namaz should only be offered in a mosque, madrassa, Waqf board land or designated sites and proper permission should be taken for prayers in the open. Roads should not be blocked or occupied for this purpose. There have been some law and order issues in the past due to this issue and it could disrupt harmony."
Uttar Pradesh leads Hindutva's 'anti-meat shop' raids
Multiple social media posts by journalists Neel Madhav and Alishan Jafri, various Hindutva outfits have forcefully closed meat shops in Bulandshahr, Uttar Pradesh in the name of Navratri, as did some others in Faridabad, Haryana and Chhindwara, Madhya Pradesh. According to news reports, members of the Bajrang Dal in Behat town of Bulandshahr, had also submitted a memorandum demanding closure of meat shops on Navratri.
Hindutva outfits forcefully closed meat shops in Bulandshahr, Uttar Pradesh in the name of Navratri yesterday. Reports of similar incidents from Faridabad in Haryana and Chindwara in Madhya Pradesh have also surfaced. pic.twitter.com/FtKOWAHfZH

— Neel Madhav (@NeelMadhav_) October 8, 2021
Hindutva vigilantes continue their drive to shut down meat shops on Navratri. This time in Palwal. pic.twitter.com/lgAA8wHeIN

— Alishan Jafri (@alishan_jafri) October 12, 2021
The Dal's District Convener Harish Kaushik had "demanded that police should be deployed in various villages along the highway from Saharanpur to a Siddh Peeth temple to enforce a ban on meat shops opening during the period, so that the religious sentiment of Hindu devotees is not hurt." They also "warned" that "In case meat shops are not shut down, the Bajrang Dal will be forced to take to the streets." Soon the right-wing outfits took to the streets around the city forcing meat shops to down shutters. Often the shops were run by Muslims, who had no choice but to bow to the demands of the hooligans. The mobs moved around the city unmasked, as if sure that the police are unlikely to take any action against them.
उपरोक्त सम्बन्ध में क्षेत्राधिकारी एवं थाना प्रभारी को कड़ाई से निर्देशित किया गया है कि इस तरह बलपूर्वक कोई दुकानें बन्द न कराये तथा इस तरह के कार्य की दोबारा पुनरावृत्ति न हो।

— Bulandshahr Police (@bulandshahrpol) October 8, 2021
Related:
No Garba for non-Hindus: Right-wing in MP
The bizarre colour codes of Union Bank Of India
Ghaziabad: BJP MLA forcibly closes meat shops
Indore: Police file FIR against Muslim family that was attacked 'for not leaving village'
Hate Watch: Gurgaon's communal side; residents oppose Friday namaz
Delhi: After defacing Akbar Road signboard, goons flee at the sight of cops
Indore: Muslim bangle seller beaten by mob, denied bail in molestation case
MP: Dargah blown up, allegedly by Hindutva mob
HW: Video of minor Hindu boy being lynched, shared as case of 'Love Jihad'