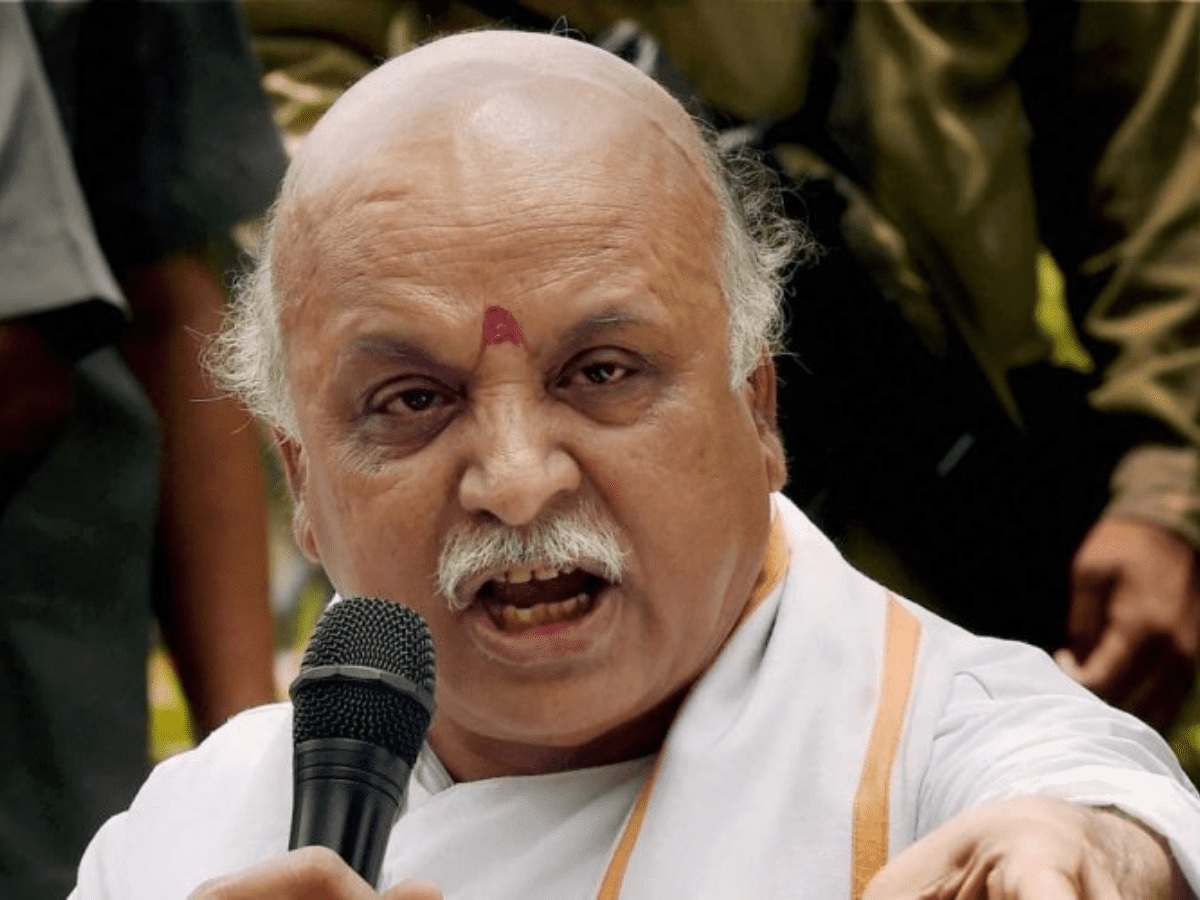 A video of Pravin Togadia, Hindu supremacist leader of Hindutva group, Antarashtriya Hindu Parishad (AHP), speaking at an event organized in MPS Science College, Bihar has been making rounds on social media. In this video, he can be heard giving an anti-Muslim hate speech and spreading his divisive agenda. In his speech, he can be heard making statements like "We will control the state power, and we will decide what the police and army will do. Then we will not have to fight." Through this speech, Togadia, the notorious hate-offender with the aim of provoking his audience and encouraging them to join the Hinduvta mission of establishing a Hindu nation, made misinformed and offensive claims against the minority community. The full speech has been provided below.
The speech:
"Yaad Rakhna, jab Pakistan bana aur desh bana, tab purre Pakistan aur Bharat mei keval 23% Musalman the. 25% bhi nahi the. (Remember, when Pakistan was created after diving India, the total population of Muslims in India and Pakistan was 23%. They were not even 25 %.)"
"23% ne desh ka ek tihahi hissa, 30% paar karega who mai keh raha hu. Iske peech mere paas most modern scientific evidences hai. (Out of that 23%, Pakistan was created as 1/3rd part of India. it will cross 30% I am telling you. To back this, I have the most modern scientific evidences.)"
"Ab Hindustan ka ek hissa Pakistan nahi hoga, ab purra Bharat islamic state banne wala hai, Darul Islam banne wala hai. Unka seedha plan hai ki ek bhi Hindu ka ghar nahi bachega. (Now, not just one part, but the entire country is going to become an Islamic state, Darul Islam. They will target every Hindu's house.)"
"Jo Sharuyaveer hoga who ladhta ladhta marega, aur kayar hoga woh convert ho jaega. (The one who is powerful will die fighting, and the ones who are cowards will convert.)"
"Mere bhaiyo, seedhe rajsatta par hum log kabza kar lenge. Aur rajsatta par kabze karke, police aur sena kahan kya karegi uska faesla hum log karenge. (My brothers, we will directly control state power. And after controlling state power, we will decide where and what work the police and army will do)"
"Humme nahi ladhna padega iss desh ke liye ladegi police aur ladhegi army. (We will not have to fight, the police and the army will fight.)"
"Aur rajsatta par kabza janashakti ke aadhar par karenge. Aur jis tareeke se mai mood dekh raha hu, agle maximum 10 saal mei yeh hone ki stithi mai dekh raha hu. (And we will control the state power on the basis of people's power. And the way I see the mood of the public, I see this happening in the next 10 years.)"
"Aap sabko purri taakat se unse ladhna hai, aur itni taakat se ki humare saamne maut mandra raha ho. Jab wayakti ke saamne maut mandra raha ho toh jee jaan ki baazi lagata hai. (You all will have to fight with full force, and with so much power as if there is death awaiting us. And when death awaits a person, they will bet on their life.)"
The crowd chants- Jai Shree Ram
"50 saal ke baad hum mei se kisi ka behen, betiyan, ghar nahi bachne wali. (After fifty years, our houses, our sisters and daughters, nothing will be safe.)"
"Yeh maut hi mandra raha hai. Aur humari stithi ko poorna vijay mei pratit karne ke liye humme kaam karna hai. (There is death awaiting for us, in order to completely change our future from death into complete victory, we will have to work.)"
Full video can be viewed here:

Location: Muzaffarpur, Bihar

Hindu supremacist leader Pravin Togadia spoke at an event in MPS Science College, where he revealed his plans:

"We will control the state power, and we will decide what the police and army will do. Then we will not have to fight," he said. pic.twitter.com/4Fkcvfnh1v

— HindutvaWatch (@HindutvaWatchIn) March 3, 2023
Related:
Hundreds can be seen repeating the communal and anti-Muslim oath administered by Pravin Togadia
Pravin Togadia urges Hindus to join AHP and Bajrang Dal, to prepare for a battle
Is the VHP above the law in this new age of impunity?
Another call for Hindu Rashtra, this time from Karnataka
Hate Watch: Notice served to BJP MLA Raja Singh for hate speech at Ajmer Dargah: Hyderabad
Hundreds can be seen repeating the communal and anti-Muslim oath administered by Pravin Togadia
Chavhanke indulges in hate speech again, encourages audience to take oath for "Hindu Rashtra" with him
Descendants of Tipu will not win, says BJP MLA in Karnataka
Will have issued orders to shoot intellectuals: Karanataka BJP MLA's unabated violent propaganda