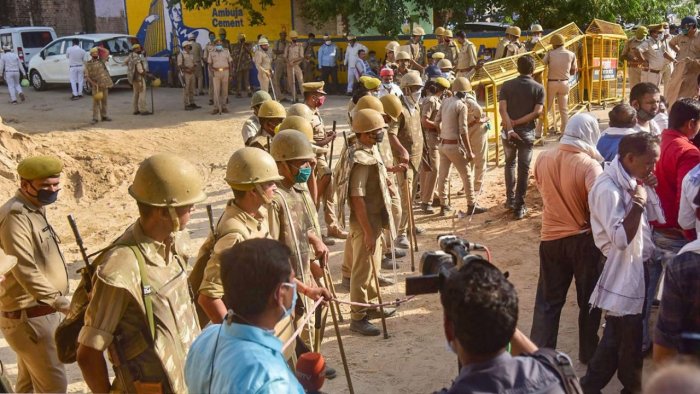 Image: PTI
They have nicknamed her 'bitiya' or daughter, and 'gudiya' or doll, terms of affection used to address young girls in north india. However, it has not taken too long for the partirchal mindset that thrives in these parts to begin a whisper campaign blaming and shaming the 19-year-old Dalit girl, who alleged that she was gangrapred by 'upper-caste' men.
Days after she succumbed to her horrific injuries inflicted as she alleged, by the 'upper-caste' men who raped her, the Uttar Pradesh Police have found a new element during their investigations into the case.
According to the police findings, as reported by NDTV, the Dalit victim was 'in constant touch' with the main accused. The police have stated that around 104 phone calls were made between the Hathras victim and the accused, thus 'establishing' that they were in 'constant touch'. This 'finding' comes close on to the UP police statement that 'there were no signs of rape' as reported in the victim's forensic reports.
However, this is not another 'fresh twist in the case. This seems to be yet another attempt to change the narrative and put the onus of defence on the victim, and her family. In the case of the 'Nirbhaya' rape case of 2012 in Delhi, questions had been raised on why the victim was out late at night with a male friend anyway. She was raped, brutalised, in a bus, and later died. The men were convicted, sentenced, and were eventually hanged to death, in March this year. The hangings were meant to send a strong message that rapes will not be tolerated in India, and it was hoped that it would deter such crimes in the future. Clearly that has not worked as expected.
According to an NDTV report, the Uttar Pradesh police have investigated the phones of the victim's family and the main accused. They found that the victim was in touch with the main accused, and Sandeep received regular calls from a number in the name of the brother of the victim, stated the NDTV report, adding that the phone calls started from October 13, 2019. Most calls were made from and to cell towers located in Chandpa region, barely 2 km from Boolgarhi, the victim's village, reported NDTV, adding that the call records showed 62 calls outgoing and 42 incoming calls totalling 104, between the two phone numbers.
Plus, as I keep saying, in rural India, it is all too common for dominant caste men to pressurise Dalit girls, women into sexually exploitative, violent situations under various pretexts. This is a village with a mere 4 Dalit households, and 400 Thakur ones.

— Kavita Krishnan (@kavita_krishnan) October 6, 2020
The victim had told her family that she was allegedly dragged by the accused to a nearby field and assaulted. The family alleged she was gangraped and strangulated. Soon after many theories, mostly along caste lines, started floating. The 'upper-castes' have now banded together to support the accused. Victim blaming, and slut shaming has also begun, before the police revealed the call details, it was Surender Singh is a Bharatiya Janata Party (BJP) Member of Legislative Assembly (MLA,) had hinted that the blame lay with the victim's family. According to this BJP man, it is the parents' duty to teach their daughters how not to be raped, by equipping them with 'moral values' that can prevent rape.
Now that the police has said the victim knew the man she accused of raping her, the blame game has begun. Some have begun to call it an 'honour killing'
Hathras victim's call records reveal that there was an exchange of more than 100 calls between October 2019 & March 2020 between the victim and the accused.

So what is being projected as a Dalit atrocity & gang rape could actually be an honour killing??#HathrasTruthExposed

— Priti Gandhi – प्रीति गांधी (@MrsGandhi) October 6, 2020
Related:
Stop blaming the victim: It is Surendra Singh who needs 'sanskari' tutorials
Hathras Horror: UP Police in damage control mode with multiple FIRs, arrests
Caste attacks on Dalits continue: Panchayat to support rape and murder accused!
UP Police breached the law in Hathras
UP Police now claim that Hathras Dalit victim was not raped!
Why are rapists and 'upper-caste' supremacists getting bolder in UP?
Hathras rape a case of Caste Supremacist Atrocity: AIPWA
Hathras Dalit girl rape: Why are Smriti Irani, PM Modi, UP CM Adityanath quiet?